If you are looking to engage in SEO and digital marketing for your business, but don't quite have the budget to kick things off, or your industry is not particularly competitive… then follow these 6 DIY SEO tips and you should see progress. I'm not going to guarantee number 1 rankings, as every industry is different, the SEO landscape is constantly changing, and your competitors are spending more and more money on their digital marketing every year; nonetheless, following these tips should provide you with the foundations of a good SEO strategy.
#1 Invest in a Great WordPress website!
You don't just need a website, you need a really good one, I cannot emphasise this enough! Having a killer website that looks good, has a great user experience and converts well is the foundations of a good SEO strategy. Don't settle for second best, your customers certainly won't be. Do your research and find a reputable website builder. The difference between a good website and a bad one is like the difference between a VCR and a DVD player. No one likes watching low quality films, just like no one likes browsing a low quality website!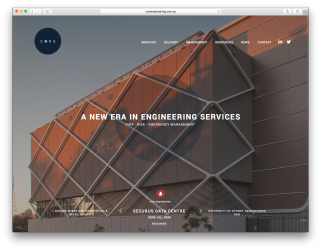 Sending traffic to a website that looks unprofessional, loads slowly, or is difficult to navigate will always increase your websites bounce rate, lower its conversion rate and will hurt your rankings. Google takes into consideration website user engagement metrics to help it determine where to rank each website. So if a lot of your website visitors are landing on your website and hitting the back button straight away, this signals to Google that your website is probably not a good result for the search term used. Likewise, if your visitors are spending a lot of time on your website, visiting multiple pages and cease their Google search when they arrive, then this signals to Google that your website was probably a worthwhile result for the particular search term used (Read chapter 6 of the Moz Beginners Guide To SEO for a fantastic summary of these ranking factors). Not only will a bad website fail to properly engage its visitors, it will ultimately reduce your ROI, which you can read more about in my previous blog.
#2 Install Google Analytics on your website and learn how to use it!
Like step number 1, this seems really obvious and is quite often talked about in blogs and advised by industry figureheads, but the fact is, most business owners neglect to use Google Analytics. If you are not using Google Analytics, then you will have no idea of how your website performs and no idea of how to improve things. Not having Google analytics is akin to running a business without an accounts department, you're never going to know whats working and whats not.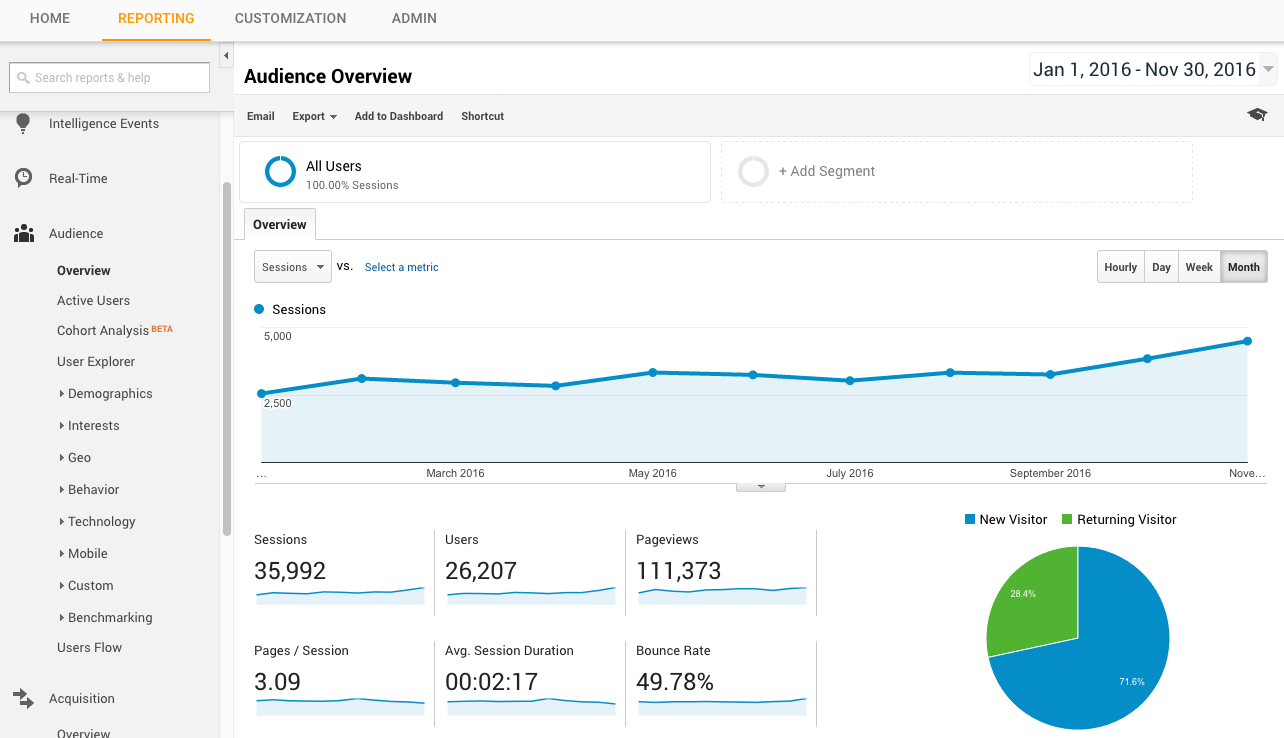 Google Analytics will tell you how to spend your money!
It has the ability to show exactly what is working and what's not in a number of different areas and it's not until you play around with it yourself will you fully understand just how powerful it is. If you don't already have it installed on your website, or you do and you don't know how to use it, then just "Google It!" you will find the answers you're looking for. I would love to tell you how to do it right now, unfortunately the steps to do so differ depending on how your website is built.
#3 Generate and submit an XML Sitemap
An XML sitemap is essentially the structure of your website that Google can use to easily crawl and navigate your site. Without it, the Google crawl bots only have the opportunity to stumble upon all your webpages. Don't worry too much about what it means, but just know that it is very important!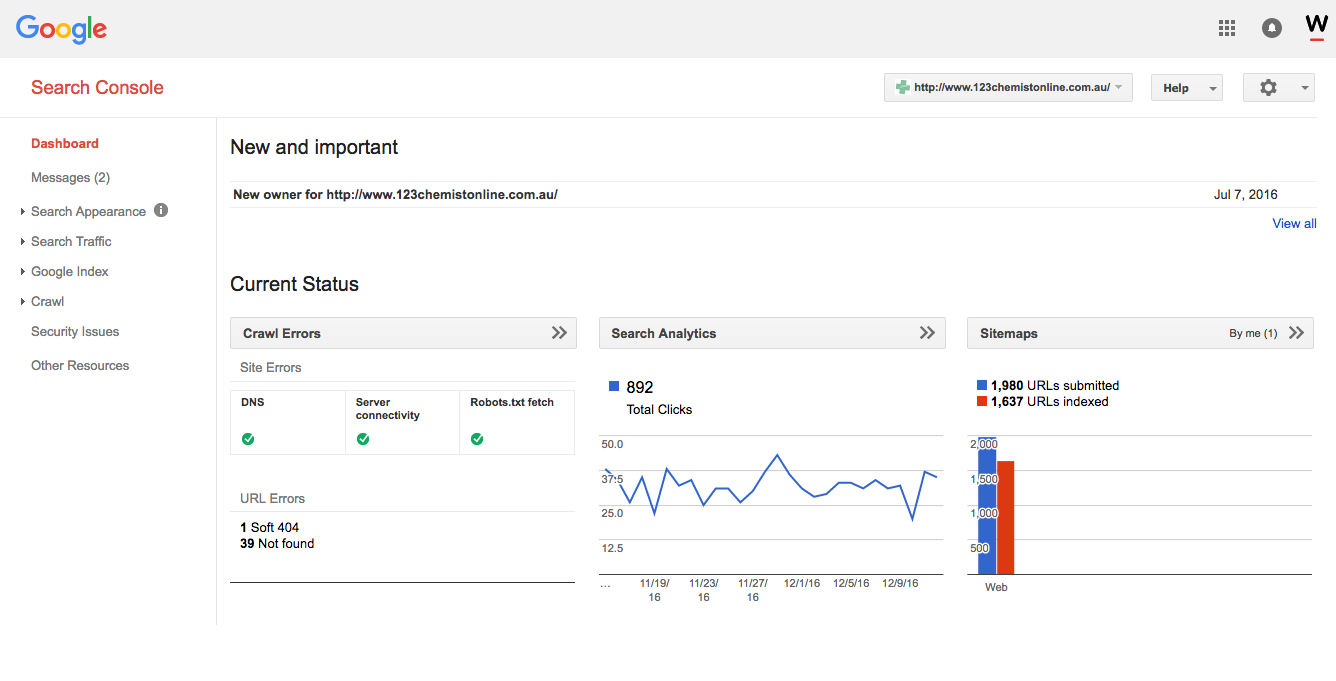 Start by adding your website to Google Search Console. GSC is essentially a dashboard that allows you to view info related to your website and also offers you a few tools which are imperative for visibility on Google Search. It's best to use the same Gmail account that you setup your Google Analytics with, as one of the verification methods is to sync with Google Analytics. Once you are on the main dashboard, you will notice it's all very complex jargon heavy stuff, but you only need to make a single change, so don't give up just yet!
Now go and generate an XML Sitemap and submit it to Google Search Console. This is easy if you own a WordPress website, all you have to do is download the Yoast SEO plugin and activate it. Now go to Google Search Console > Sitemaps > Add/Test Sitemap > Enter in sitemap_index.xml to the field provided > Submit. You will have to wait before your URL's have been indexed and not all will actually be indexed.
#4 Add the Yoast SEO plugin to your website
This free and easy tool provides a simple way to manage some of the basic SEO elements, including managing title tags, meta descriptions and social links. Title tags and meta descriptions tell Google and Google users what your page is about, so it's important to make sure they appeal to both. To get started, login to the backend of your website, go to plugins, search for 'Yoast SEO', download the plugin and activate it. The plugin will now be integrated into your website.
First up, enter in custom title tags and meta descriptions by going to the edit section of each one of your web pages. Scroll to the bottom and you should see the Yoast SEO area where you can define what you want your title tag and meta description to be. It will tell you if your title tag and meta description is too long or short. For an explanation of what a title tag and meta description is and how best to write them, refer to the links above.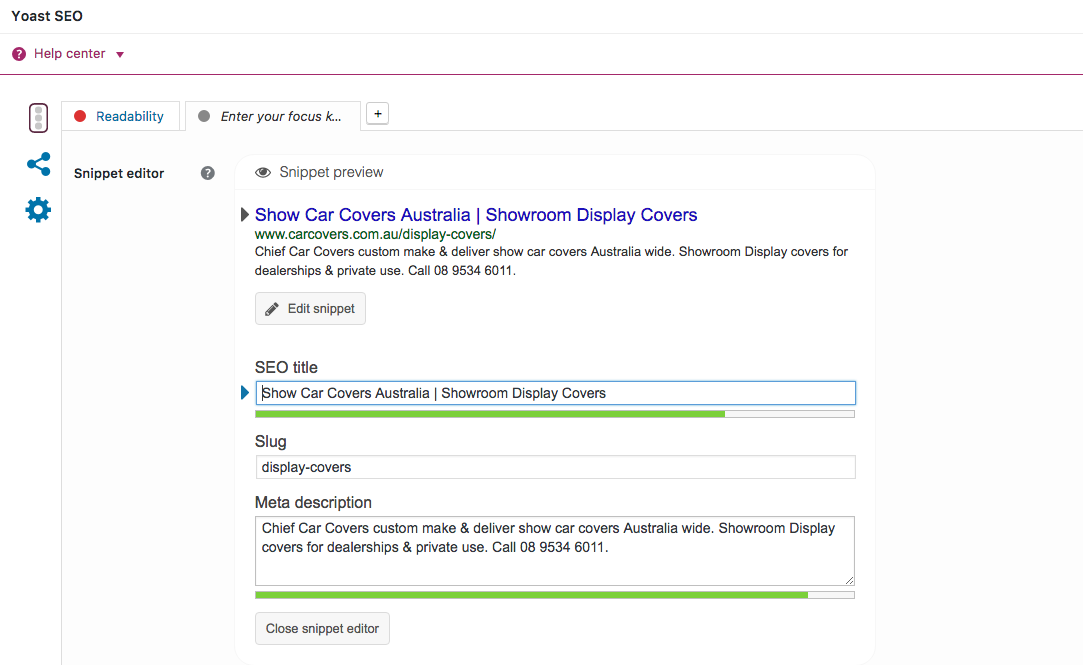 #5 Claim your Google+ business page, link to website and ask for reviews
Claiming a Google+ business page is so easy, but so important. It helps to verify your business and its address with Google, it helps you to show up in a Google search in the maps results and it allows you to control the contact information that people regularly use. To get started, you will need a gmail account, if you don't have one, you can sign up here. Then all you have to do is Google search your business name. Your business information should come up on the right and if it has not been claimed, then there will be an "own this business?" button which you need to click.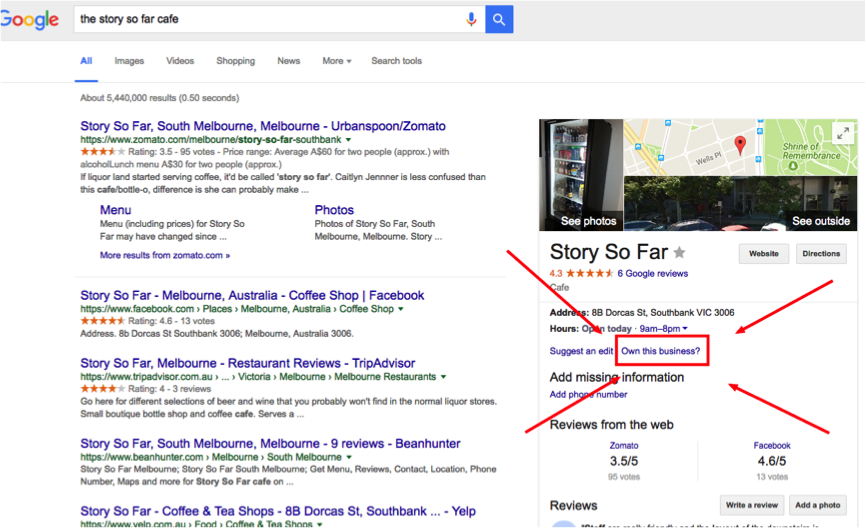 Now all you have to do is fill in your details and verify it all. The verification process is simply Google verifying that you do occupy the premises that you have specified. They do this by providing you with a pincode over the phone or by postcard. Hopefully you will be offered the phone verification option as it is instant, unfortunately this is not always the case and some of you will have to wait for a postcard to arrive before you can verify it.
Now that you have claimed your Google+ business page you can link it to your website, which acts as another form of verification. You will first need to copy the the right Google+ URL. Now this is trickier than you might think as Google continually changes how the Google+ platforms operates, so you will have to click through multiple areas until you find a URL that looks like this https://plus.google.com/105832302990136142175. Copy the URL, login to your website backend, go to the Yoast SEO plugin that you should have downloaded in the previous step and paste the URL into the bottom field labelled "Google+ URL:" (You can also add in all your other social media URL's into their respective fields). Now Click the Google+ button and paste the URL in here as well, click 'Save Changes' and you're done.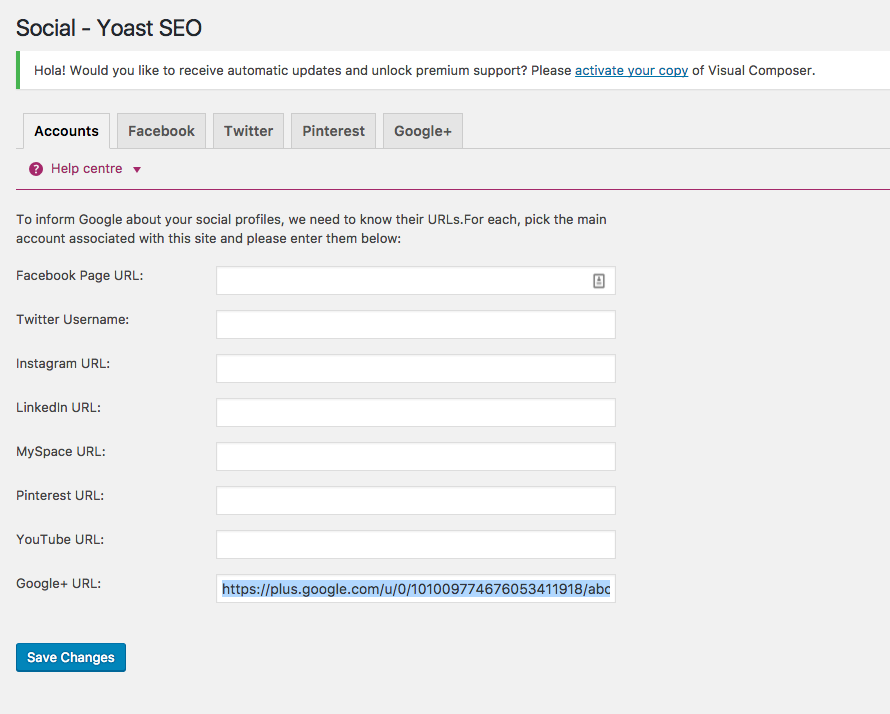 Once you have done all this, you need to improve the visibility of your Google+ page by getting loyal customers to leave a review. Find your business review URL by Google searching your business name and clicking on  the "write a review' button. Copy the URL and direct people to it so that they can leave a review.
#6 Claim and verify other business listings
Claiming and verifying your Google+ page is the most important, but it pays to have your business details in as many relevant and safe places around the internet as possible. You won't actually get much traffic from random business listings, but it is another chance for you to show Google you exist; it's essentially more verification. Start with a free YellowPages listing, Apple maps, Yelp, Bing business page and then move onto a list like this one.
If you are wondering how effective doing all this will be, you will need to check where you rank in Google using a private browser, complete all these steps and then check your rankings after 3 months. You should also look at your Organic traffic in Google Analytics to see if it has improved. Let me know how you go and drop me a line if you have any questions.