E-commerce websites have arguably the most to gain from quality digital marketing, with their 'buy online' nature providing the enhanced ability to convert traffic directly into sales. However, with E-commerce and SEO both constantly evolving, it can be hard to keep up to date with the best practices to increase traffic and thus conversions on your E-commerce website.
For the sake of this blog post, we're going to divide the perfect E-commerce website into 4 important sections:
Homepage
Category Page
Product Page
Blog
Discussing the current most effective methods, with examples.
Homepage
For E-commerce websites, your homepage is the first interface between you and your customer… your shop front, business card, first impression… representing the perceived image of your company. As such, it is important to ensure your homepage entices your audience – clearly depicting what your trying to sell, and is easy to navigate without any hassles or confusion.
Because you're trying to deliver your businesses personal image, there is some room for creativity and individuality in E-commerce home-page design (for most businesses, there is no point trying to mimic E-commerce powerhouses like Amazon), but it is also important to stick to some conventions in order to make the visitors user-experience as comfortable as possible, such as:
Clear links to category or product pages;
An easy to operate 'Search' tab, generally to the top left, and providing options to filter search results via category if you have a large inventory;
Important information for online buyers – such as shipping details, payment options, and trust seals or certifications, see example below:

It is also wise from a current SEO perspective to include some long-form content on your homepage, as Google can't read your mind if you don't include keywords on the page. E-commerce sites generally try to avoid long chunks of text to make the buying user experience more appealing, but it is increasingly important to include a blurb somewhere on the page, including some long-tail keyword and conversational phrases, as well as location focused information which lends well to relevant search queries. (Read our blog about the 'Changing Landscape of Search' to learn more about homepage content).
Category Page
Category pages are like mini-homepages for related groups of products. As such, they should also provide clear and easy to navigate listings of products within the category… people can't buy products they can't find!
Adding search filters to your category pages is also an increasingly common and proven effective way to help users find exactly what they are looking for – with one case study finding the addition of product filters provided an impressive 76.1% increase in revenue, 26% increase in conversions and 19.76% increase in shopping cart visits.
Including user reviews is another proven successful technique for E-commerce category pages. This E-Consultancy blog describes how user reviews…
Are read by 61% percent of online customers
Increase the likelihood for purchase in 63% of customers
Produce an average 18% uplift in sales
Are nearly 12 times more trusted than manufacturers descriptions, and
Provide significant SEO benefits as relevant keyword-rich content
See: MyProtein.com's category page below, which includes:
Breadcrumb index at top of page
Relevant, informative and key-word rich content
A list of sub-categories and flavor filters
Clear link to user reviews
Important information in accessible dot-point form
Prices and options to fast-track sales process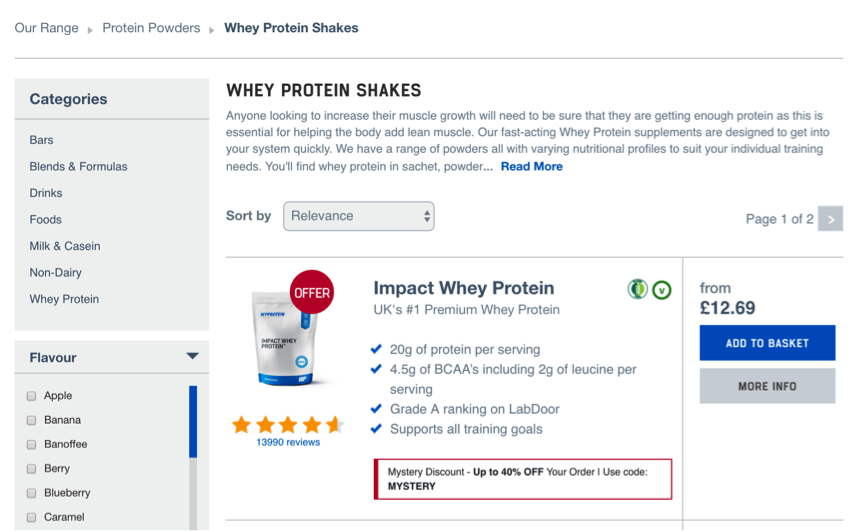 For an in-depth tutorial on building the perfect category page for your E-Commerce website, have a read of the Ultimate Guide to Ecommerce Category Pages… or contact one of our experts at Webfirm for a chat in words you're sure to understand!
Product Page
Choosing an appropriate way to showcase your inventory on your product pages is vitally important, as it can either entice shoppers to continue to the checkout, or click away from your online store.
The best product pages not only sell the product, but also include the latest SEO optimizations to draw more people to the product. For example:
Product Page Images – should be large and of high quality, with options to zoom and offer different angels of the product where appropriate… for the benefit of the users experience. But also should include relevant descriptions, alt-text, titles and captions to ensure maximum recognition from search engines as well as customers. (Read more about optimizing images for SEO)
Product Page Content – should be informative and well written, giving a thorough, helpful description of the product for online shoppers. But also, include important keywords in H1 and H2 headings, and avoid duplicate content from manufacturers websites, as search engines generally ignore this, (read more about duplicate content for SEO).
See: BestMade.com's Product Pages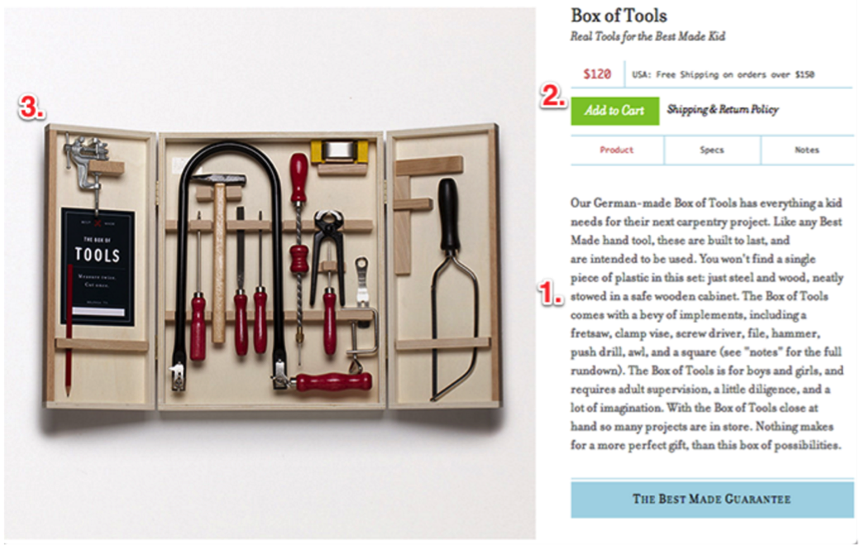 Which includes:
Informative, descriptive content
A clear call to action
High quality images
And: Johnny Cupcake's Product Pages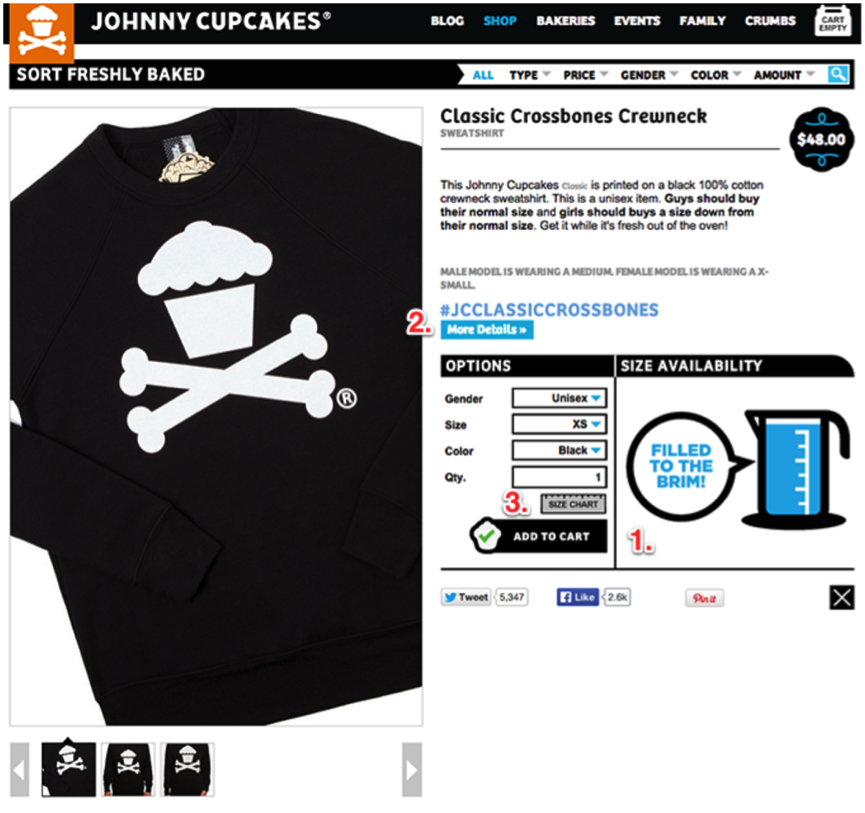 Which include:
Having images of real people wearing or using products is also extremely helpful for user experience. Product reviews (as mentioned earlier) is both important for visitors, and adds valuable content for SEO purposes, and providing informative shipping details is vital – with studies showing shipping and handling fees to be the number one factor driving shopping cart abandonment!
E-Commerce Blog
A blog is an important tool for E-Commerce websites to produce informative, interesting, sharable content that promotes traffic, conversion and search engine rankings. Our previous blog post about 'Why Your Business Should Be Blogging in 2016' explains this in more detail – but here, let's take a look at a great example of an E-Commerce Blog, in Home Depot's Blog: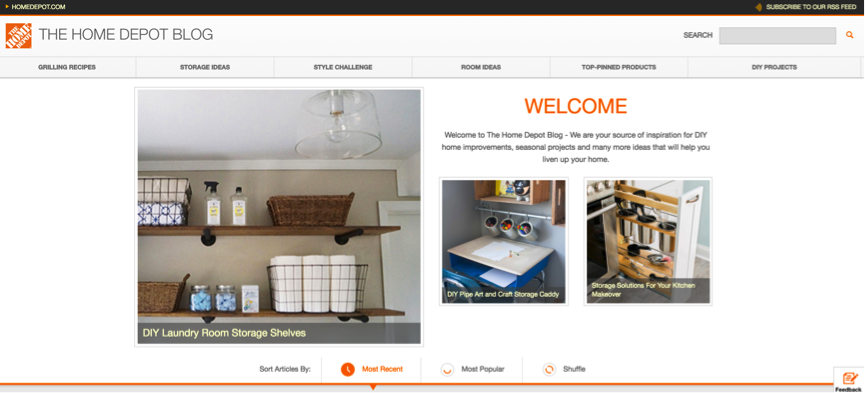 Apart from being well organized, easy to navigate and full of pleasant-to-read, informative and very sharable content… Home Depot's blog does a number of other extremely clever things that should be noted by all E-Commerce bloggers.
Encourage Social Media Sharing

All their blogs give options to share the article over a number of platforms at the very top of the article. They are clearly informed and proactive about the fact that the type of content they provide is extremely popular to share over forums such as Pinterest and Instagram.
Welcoming guest posts on their blog achieves two important things for Home Depot:
It builds up free content that is generally of a high quality – with bloggers putting in a lot of effort for exposure on a popular site such as Home Depot's. They can also pick and choose from a wide variety of applicants and select the best blogs.
It encourages sharing amongst bloggers established networks. These bloggers followers are most likely interested in DIY, recipes, home renovation and so on… if that's the topic of their blogs, which is exactly Home Depot's target audience.
List and Link to Featured Products
Providing lists to products featured in their articles is an important way to convert interested readers in to customers.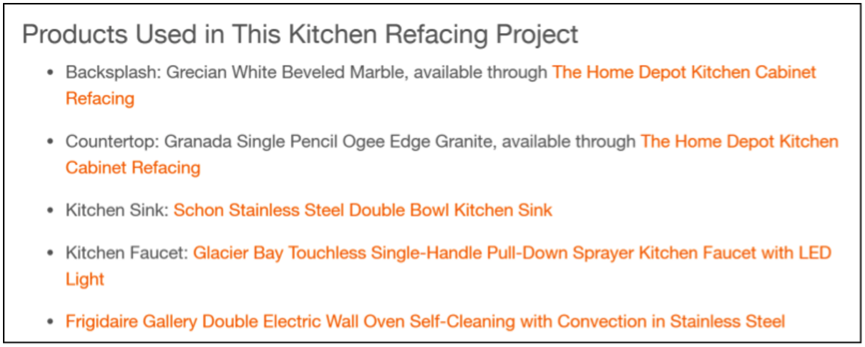 However, with a stroke of genius, Home Depot goes one step further and cleverly includes a printable list of products: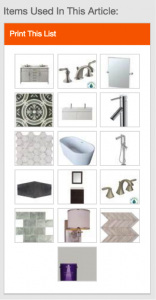 Understanding that many of their blog readers would feel more comfortable coming in to a store to physically see their products before they buy, as is often the nature of hardware shopping, they provide these easy references to bring in to the store.
In this blog we've discussed some of the best current digital marketing practices for E-Commerce websites… covering Homepage, Category Page, Product Page and Blogging.
If you have any further questions about optimizing E-Commerce websites, or are looking to acquire help getting the most out of your E-Commerce business… please don't hesitate to contact the experts at Webfirm today!