Get Smart (er)….. with Smartphone websites
If you don't already know, then I will activate the cone of silence and let you in on a secret… shhh… get your website optimised for Smartphones.
Although we all wish we had a CONTROL issued shoe-phone and most of us probably still do, times have changed…. a lot. Just as desktop Internet had its boom in the early 2000's, mobile website interaction is on an unstoppable increase. With the market for smartphones reaching fever pitch, we have been inundated with extremely advanced computer like handheld devices.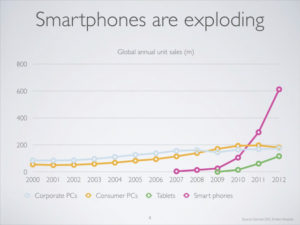 'That's good news 99, but what does it all mean?'
Well it is big news for your business, Google have now made changes to their search engine that mean you will actually gain more traffic if you have a mobile website.
Yes, you read correctly, even if you think people won't use a mobile site, Google strongly favours business that have both a mobile and regular website.
When these smart phones and tablets are coupled with super fast 3G and 4G networks there can be no doubt about the sharp increase in mobile website interaction. So its not such a farfetched notion to say that any website business's can increase their consumer engagement and conversion rate with a mobile website.
'Ahhh, the old Smartphone website trick'
The saying 'time is money' gets thrown around on the daily, although its never been more evident than with the behaviors of todays smartphone and tablet users. Think about the vast amounts of people who enjoy a leisurely browse through their favorite blogs and websites on their smartphones as they sit on trams, trains and busses each day, too and from work. Now think about all the people using Internet on their smartphones 'on the go' to book flights, find a hairdresser or a restaurant for dinner that night, or perhaps, to buy a brand new state of the art shoe-phone.
Whatever it may be mobile websites are an entirely different market that every business should be capitalising on. You don't want to be standing around dumbfounded like Maxwell smart saying "missed it by this much" while other companies reap the rewards of customer interaction between home and work.
So it is really important to detach from the idea that ordinary websites and mobile sites are the same thing.
'Good thinking 99, but I have a better conclusion on mobile websites'
Extra interaction to be had with a mobile website.
More tailored content.
Convert more visitors into actual customers, through increased conversion rates.
Running a mobile website on a smartphone is faster than running an ordinary website.
You can get location specific data from Google analytics.
Customers can click-to-call and find you using maps location devices on their phone.
Get Smart, smarten up your website for Smartphones! Call us for more info 1300 932 347 (Webfirm)
Image rights for featured image owned by Talent Associates