Google Year In Review
It has been a huge year for Google updates as the graph from Mediative suggests, 14 major changes were made throughout the year. What can we learn from it? Well, we can see a huge focus on creating an extremely high quality search engine and search results by forcing website managers to create quality content or risk being penalised. The hummingbird update shows us that Google is looking to create a more harmonious and intuitive experience for users. You will see the below four of the important algorithm changes and what it means for your business online.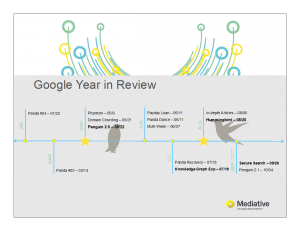 Penguin 2.0 Algorithm Update
Penguin 2.0 addressed the problem of poor link building strategies by initiating deeper scans of websites to check for spam in the form of mass link building on low quality sites, directories and blogs.
It also meant analysing internal pages as opposed to just the homepage.
If your website participated in this low form of link building then site rankings and reputation would have been affected since May 2013.
What does this mean? We need to continue to work on high quality content and link building with other quality content websites avoiding link building from low quality sites – Quality over quantity. Social Media engagement and linking are also becoming a big factor.
Knowledge Graph Expanded
– Google's search results beef up.
Expanding the knowledge graph (KG) resulted in more information available on a particular website in the search results.
Queries with KG entries increased by 50%
Delivering results that include a broader range of topics based on contextual meanings for any given search created a higher quality of search results.
if your website and keywords didn't match, or you were using spam techniques, it would have shown.
Does your website appear in the Knowledge Graph results? If not mediative suggest 4 key elements to work on including quality content, the use of relevant keywords, use schema.org to make it easy for search engines to understand your website and link building with quality partners.
Google's Hummingbird Update
Hummingbird has changed the way Google understands searches, moving away from interpretation of "typed searches" to understanding searches more conversational in nature.
A form of AI that understands more complex sentence structure meaning how you produce, optimize and promote on-site content will need to respond accordingly.
Revisit your existing content strategy and be in- tuned with your target audience, are there any changes to be made in terms of keywords
However, don't be to hasty to make changes, just be aware of the potential for more conversational keywords.
Secure Search
– Google's privacy algorithm update.
Secure search made it more secure to avoid electronic snooping, this came with a draw back..
Organic keyword referral data is no longer provided, meaning your analytics will no longer show which keywords are driving organic traffic from Google.
It turns the emphasis away from keyword effectiveness towards richer content more valuable content.
Its clear that Google are aiming to clear out websites that use poor SEO techniques to make way for websites that are rich in relevant content, that use appropriate keywords and build strong links with other quality sites as well as making use of Google+ and other social networks. Google seem to be dictating a lot about how websites are managed and ranked. Throughout 2014 Google will be no doubt focus on the same issues but with even more sophisticated algorithms and updates, fascinating to think what the Search Engine will be in another years time.
By Andrew Coventry