Google's Penguin update was initiated in 2012, acting to filter out websites spamming their search results, in particular, catching those dishonestly obtaining links with the intention to boost SEO rankings… whether that be through buying links, or building deceptive link wheels* to confuse Google's ranking algorithms into thinking a site is more valuable than it truly is.
*Link Wheeling is a process by which a website owner builds multiple other websites, with the intention of developing a complex link network that promotes one main site as the major link beneficiary. While this may have been considered genius back in the day, updates such as Penguin have outdated the practice by imposing penalties against such activities.
Similarly, buying backlinks may have been considered a quick and easy way to increase rankings in the past – but with Google explicitly stating this practice breaches their guidelines, Penguin Updates propose the very serious threat of being penalised for this misconduct.
Remember – Google views links as 'votes' of endorsement to your website… and buying votes is of course considered unethical.
Penguin 4.0
Google's latest Penguin update is the fourth installment, and has been eagerly anticipated since the last Penguin 3.0 update in October 2014. Why so eagerly anticipated…? Because the previous nature of Penguin updates has been periodic, meaning those sites penalised for spammy link practices would remain penalised until the next update, before being freed to pursue redemption. This will no longer be the case…
Penguin Finale
Penguin 4.0 marks the final update, as Google has announced that Penguin is now operating in real-time, as a signal processed within its core search algorithm. Therefore, instead of updating periodically, it will constantly update as Google's ranking algorithms continuously crawl the Internet to determine website ranking values.
As such, Google will cease to announce future Penguin updates, and will devalue penalised websites as opposed to demoting; announced by Google's Webmaster trends analyst Gary Illyes in the Facebook conversation below: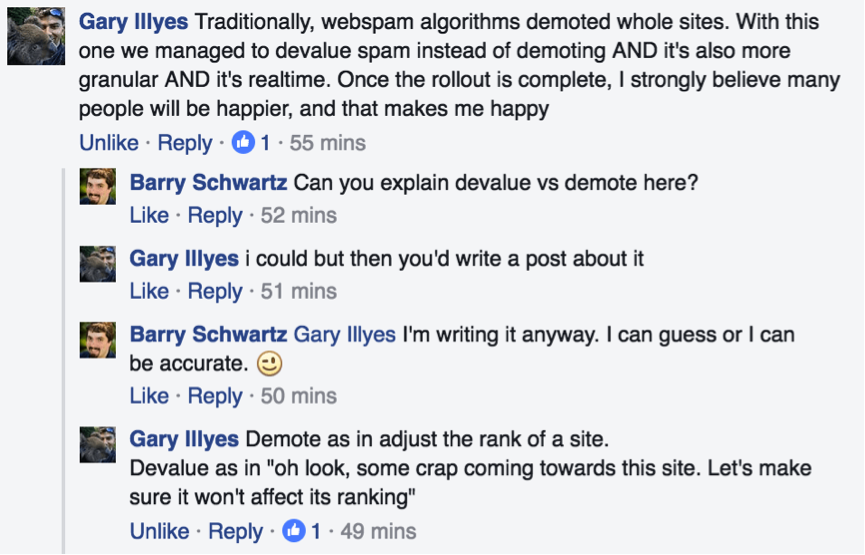 What's this mean for YOU…
It must be stressed that the importance of links has not diminished at all… Google are just trying to regulate the way in which we obtain them. As mentioned above, with links working like votes as an indicator to a websites worth, Google needs to be sure that these links/votes are genuine.
So, what Google is looking to encourage by incorporating the Penguin filter into their core search algorithms is: websites that obtain links naturally, by creating high quality, unique, compelling content… discrediting the plethora of link buying or phony link building services being offered in the current SEO marketplace.
"The best way to get other sites to create high-quality, relevant links to yours is to create unique, relevant content that can naturally gain popularity in the Internet community" – Google Support Guidelines.
For further information or assistance in building a network of valuable links, with the latest Penguin update in mind, contact the Digital Marketing experts at Webfirm today.