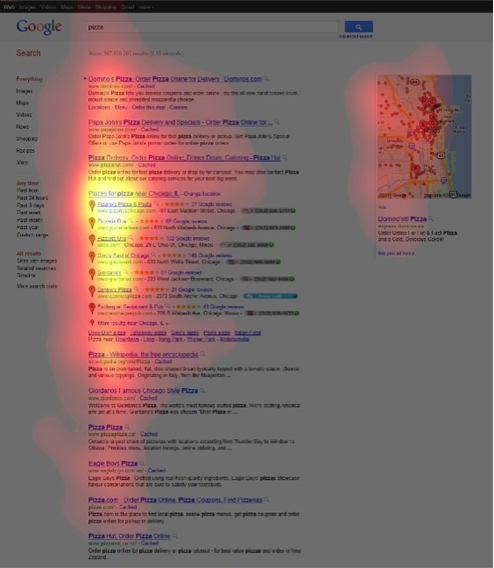 When being on top is important, like vegemite on toast, its interesting to see that not only are top three results in Google commanding all the attraction from your wandering eyes, Google Places also commands just as much attention, and in some cases more.
The format for Google's Search Engine Results Pages (SERPs) seems to have hit the spot, the little black spot in your eye that is.  Results from a Google Places eye-tracking study, recently released by SEOmoz, suggests that Google Places results are having an outstanding impact on local search results. It suggests that in some cases even if the Places listing falls within the middle of the page it actually draws more attention than the top three results.
Surprisingly the eye tracking showed there was an intense amount of focus on the map over to the right of the page as well.  Where 'location' is one of the prime motivational factors in these types of searches, having a tinny red dot with a small letter on little map can mean the differences between success and failure. Particularly with the increased accessibility of mobile technology like iPhone's and androids, the importance of local searches through these devices are only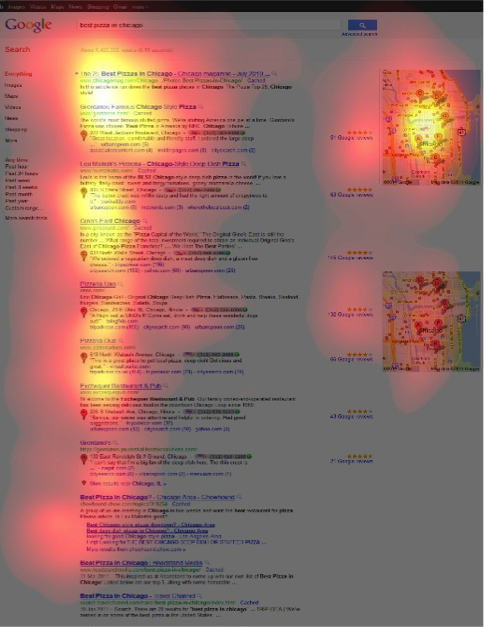 trending upward everyday. Those small to medium sized businesses who fail to recognise this opportunity are missing their chance to capitalise on high levels exposure in Google's search engine, contact Webfirm before its to late.
Other results showed the top seven places were the most viewed results and the map to the right of the page again gained just as much attention as the top 4 results. Those searching locally want to see more than just a list of websites as their eyes are drawn to results that suggest a local identity, which they increasingly associate with a little map and Places results.
Google always places a priority on the user search, and as they move away from the 10 plain listings formula and populate the SERPs with more and more information, it is important to remain familiar and competitive within this space. Users trust that Google will bring them the nearest and most relevant local results and at the end of the day users trust Google first and foremost. The only way to get any users to trust your business is to make sure Google trusts you too. It's a circle of trust that you need be inside of.
Webfirm can look after all your local search needs. Talk to us today, email us info@webfirm.com of phone us on 1300 932 347.