2014 is here, so what are your business new years resolutions? The most important thing to consider for your business online is to continually adapt. That means adapting to perpetually evolving consumers needs/behaviours and of course technology. For us, we are going to be focusing heavily on the ways in which consumer behaviours and technology affect your business online and to give you some idea on where your business stands and where you can improve heading into 2014.
Social Media
Tweet, follow, share, +1 and like me..
Social media is no new thing, however we predict that 2014 will prove to be a breakout year for social media platforms. Why? Well we have seen a huge rise in business taking advantage of the extremely affordable avenue that is social media, including Facebook, Instagram, Twitter and YouTube. It is only now that businesses are managing their social media campaigns in an effective way, and we predict that in 2014 more and more businesses will begin to adopt effective techniques to get the most out of their social media. What we want to make clear is that its pointless just having social media, you really need to make sure you have relevant followers and that you are providing them with regular and interesting updates.
For Facebook the most important advice we can give you is to figure out what your aim is. That means you need to identify what you are using your Facebook page for. Are you intending on creating brand awareness, steering potential customers to your website, providing customer service or feedback or perhaps just to entertain. If you take a look at one of the numerous food trucks on the streets of Melbourne such as the Taco Truckwhich is a great example of using Facebook to your full advantage. They use their Facebook page to inform people where there trucks will be located for lunch and dinner. On the other hand the Captain Morganspiced rum Facebook page, you will notice that they are using their Facebook page as a fun way of cultivating brand awareness and personally I think they do a great job. However, it can be deceptively difficult to manage a successful Facebook page, especially if you have other forms of social media to think about. Enlisting the help of a social media campaign manager can be very useful in assisting you to achieve high numbers of followers and incorporating regular interesting posts that strikes a balance between informative and fun. It is of course important to assess whether your business is in need of a huge social media push in the first place, although in almost all cases the answer is yes. Ask yourself who your target market is? And will you be able to reach them and offer them anything of value? You need to decide what your company is trying accomplish through each social media medium.
Mobile Websites
Aka Optimising your website for Mobile devices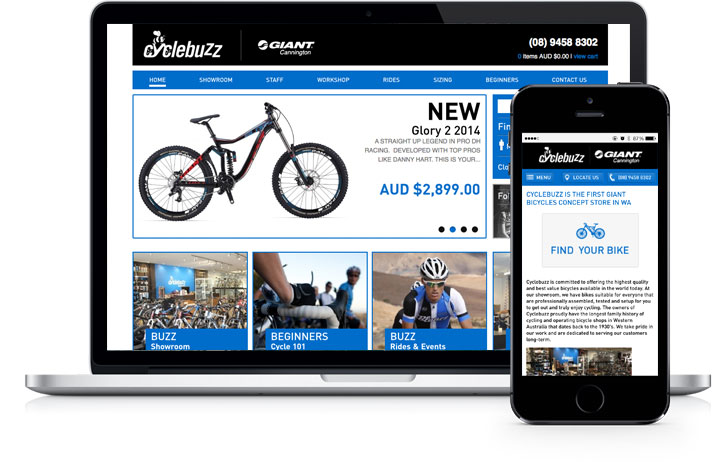 We at Webfirm talk a LOT about optimising  your websites for mobile devices, although not without good reason. As I said before, consumer behaviours and technology are changing. Consumers need things fast, faster, fastest and they need it now, now, now. Consumers have come to expect a lot from mobile devices, even rivalling the expectations of a PC. Additionally consumers are conducting more research and buying more products through mobile devices then ever before. Why is all this happening? Technology! In the case of mobile devices technology we have seen incredible improvements to the speed, ability and overall user experience. The iPhone 5's and Samsung galaxy's are an incredible testament to this. We can literally do everything on them. Naturally then, consumers adapt to this and we see a change in their behaviours. We see them spending more time researching (this includes finding phone numbers, store locations and products and services) online and purchasing online because not only is it now possible, but the technology is allowing them to do it easily and fast. Therefore it is absolutely necessary to optimise your website so that it is usable for mobile devices, if you haven't already, then your are seriously shooting yourself in the foot.  This is really 2013 advice, so for 2014, if you haven't already optimised for mobile devices, then get a move on. If its beyond your capabilities then hire a specialist, it's considerably cheaper than producing an app.
 Running an ordinary website on a mobile device is extremely painful! You know it, we all know it, and so does Google.
You want more reasons to optimise your website for mobile devices? Well the new Google Hummingbird algorithm update will take into account whether your mobile website runs efficiently and will rank you based on it's performance. So if you don't even have a mobile website then it will dramatically affect your rankings on a search result. In addition it will affect your ordinary sites rankings
Content Marketing
Bla bla bla bla bla….
Content marketing is your chance as a business to show your consumers that you are not just there to make money. You can prove to your customers that your business is an authority on the subject resulting in credibility and brand trust. Another important aspect of content marketing is that is a fantastic way to build relationships with other companies with a mutually exclusive goal. A sort of 'you scratch my back I'll scratch yours' sort of scenario, where by you link content to one another and gain credible recognition from Google.
If you are posting blogs or articles about a particular field or subject then you should be getting recognised for it shouldn't you? Well with the use of Google authorship and Google+ you can. Google+ is becoming increasingly important and I suspect by the end of 2014 it will be crucial. It works by people clicking the + button on content (much the same as a 'like' on Facebook), the more +'s you get, the more recognised and credible your content will be to Google, which will ultimately help with your SEO and your overall brand image. It is also important to note that the amount of content is an important factor for how Google will rank you. Longer articles upwards of 500 words are best, as it shows a commitment and authority on the subject. Leave the smaller pieces of information to your Facebook page.
Pay attention to Google and your SEO
Keep your eyes on the prize!
What can we expect of Google in 2014? Well judging by the implementation of Google's algorithm change, aptly named hummingbird, due to its speed and precision, we can make some speculations. Google seems determined to enhance user experience in a number of ways. Firstly, they are focusing on creating a user experience that is natural and conversational, meaning searches will become more human in character. This means it will have an interesting effect on SEO and the keywords that you use for your business… they may need tweaking. That doesn't mean go and change your SEO and your keywords just yet. It will take a while for people to change their search habits and for Google to collect data on conversational search terms. However, keep this in mind throughout 2014.
Google is placing a huge importance on quality content and quality websites.
Secondly, Google loves quality these days, so its important that you don't just slap keyword after keyword within horrible content….. Google sees everything! Well, almost everything. Judging by the penguin and panda updates, Google has made it clear they are putting a huge focus on spamy content aimed at shamelessly increasing SEO and traffic. Our strong advice, don't doit!, it wont help with your sales or your credibility and Google will be alerted to it and penalise you for it.
You want my DIY tips?
The best advice we can give you is to focus on creating quality content (informational and less sales-based) posts that are internally linked and externally linked back to other credible resources including social. Have this content posted on other blogs then like share and re-tweet the content, give it as much online exposure as possible. It will be an integral part of SEO in 2014 and it is something that we are certainly focussing on.
Some extra things you can do that are simple yet incredibly useful. These include creating a Google places for business account so your business can be listed in conjunction with Google maps, very easy, very important. Create a Wikipedia page for your business, this is another chance for you to spread your online presence in a particularly well-regarded fashion. Lastly, and I know this all may seem like common sense but encourage customers to review your business, you will gain extremely valuable information on where you went right and where you went wrong as well as helping to narrow down who your target market is. What I would suggest however is to elicit customer feedback in a way that allows the consumer to dictate what he or she will reveal, make it simple, visible and fun if possible.
Summary of SEO in 2014
If you haven't got a website that operates on mobile devices then make that a huge priority of your digital development in 2014.
Get a google + account and focus on creating compelling high quality content that you can spread around the internet via blog or article post and work on building back links with trusted friends.
Take full advantage of your social media outlets. Rethink what you are attempting to achieve through each medium. Perhaps your Instagram is based solely on being creative and inspiring while your Facebook is a means for customer relations and feedback. think about who your consumers are and think about what they like.
Lastly, pay attention to everything new in online marketing, it doesn't necessarily mean using or applying everything you read. However I do mean keep a close watch on changes.  Keep an eye on Google and their algorithm changes and updates, as they affect your SEO. Keep an eye on technology, new phones means new consumer behaviours. What about Google glasses? What impact will they have on your business moving forward and what other digital possibilities await us in 2014? Only time will tell.
If it is all too much for your to handle and you would rather focus on your business then employ a team of online marketing specialist. The will get it done better, faster and easier. Call us if you think this is you 1300 934 347
Good luck!