Ideally, a prospect visits your website or online store, finds what they're looking for, and checks-out, satisfying their purchase… but realistically, conversions on first visit are only the case with around 2% of website visitors! The other 98% of website traffic are not so easily converted, and generally take some time to consider the purchase, do some research, check competitors websites, and may never return to your site. This is where retargeting comes in to play…
What is retargeting, and how does it work?
Retargeting is digital marketing method that focuses on enticing users back to a website they have previously visited. Retargeting uses cookie-based technologies to 'follow' prospects who have shown intent by visiting your website, and serve them with advertisements when they are browsing the Internet at a later date, in an attempt to re-engage their interest.
Ever noticed advertisements for products you have previously searched popping up online at a later date? Well, there's generally little room for coincidences in the digital marketing game…
The cookie-based browser codes used to detect interested visitors and place on-going advertising reminders are anonymous, undetectable and don't affect your websites performance.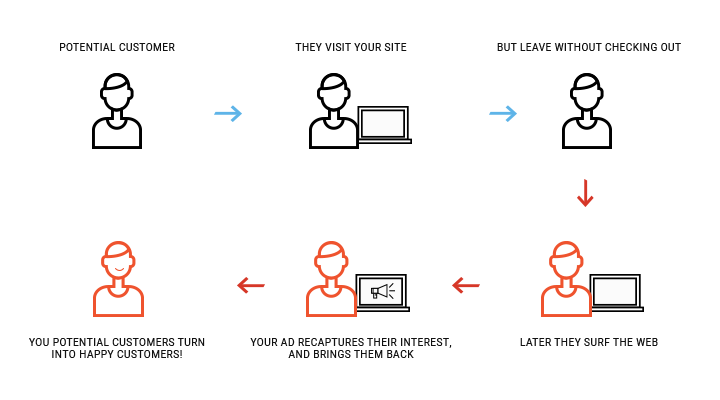 Engaging leads
Research shows us that it takes around 6 – 8 different touches of engagement for a prospect to be 'sales-ready', and retargeting is designed to nurture prospects through this process. Today's time-poor and Internet savvy users may come across your website before doing product and market research, and then easily become preoccupied with another online activity… Retargeting aims to recapture their attention, and reinvigorate their interest in your particular product or brand by subtly serving an advertisement next time they are surfing the web, or browsing popular social media platforms.
Increasing conversions
By re-engaging these prospects throughout the sales process, you undoubtedly increase your chances of conversion, with one study showing website visitors who are retargeted with display ads to be 70 percent more likely to convert.
Different retargeting strategies can be developed to target visitors to your website who are at different stages of the sales process, by advertising wider brands, or specific products, and campaigns can be set to terminate upon purchase, as to not deter repeat customers with spammy advertisements.
For further information on retargeting digital marketing technologies, or assistance in executing a successful retargeting campaign, contact the experienced Digital Marketing experts at Webfirm today.