Google Adwords is also commonly referred to as Pay-Per-Click.
Pay-Per-Click (PPC) is the method of advertising your business on Search Engines, like Google.
Search Engines are one of the most popular services on the Internet today – with 40.7% of all Internet usage being searches on Search Engines. With PPC advertising, you pay for your ad to show up on search engine results pages when someone types in a keyword phrase that is relevant to your product or service.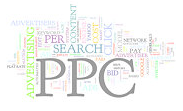 What makes SEA so effective is when someone searches using the keywords you've selected for your campaign, in a search engine, your business will appear as a sponsored listing. It delivers prospects to your site when they are already in the purchase process, as they are actively searching for information on your product or service, which means your conversion rates on your website are likely to be higher.
While SEO (Search Engine Optimisation) is a fundamental and long-term traffic generation strategy, PPC is the most immediate and controllable form of search engine marketing. Research has shown that having your ad displayed on the same page as your organic listing increases the chance of a click by up to 30%.
PPC is a great tool to help a business to get targeted traffic to their website in a short time frame – with pay-per-click advertising, your website can be getting traffic, leads & even sales in days or weeks instead of months!
PPC is fantastic for seasonal sales or branding campaigns, and compliments your SEO campaign wonderfully. Webfirm PPC doesn't just display your ads on Google, using Webfirm's integrated advertising platform you get access to 97% of the places people search online.
Webfirm is one of Australia's leading search marketing companies and we have significant experience using different pay-per-click techniques and use specialised tools and processes that will deliver cost-effective solutions for your business.
Webfirm will monitor the ads and search terms that are getting you results and will adjust your campaign accordingly. All our SEA packages incorporate detailed site visitor reporting and improvement initiatives. As the ad campaign can be tracked in depth it provides you with a measurable ROI.
Webfirm SEA doesn't just measure online conversions, it also measures phone calls made in response to your ads. You also have the option of recording these phone calls so you can login and listen to them any time you like.
Webfirm's Pay-Per-Click Advertising packages are priced based on media spend plus a management fee, PLUS all our packages have NO set up fees.
So how does it work?
With Pay-Per-Click Advertising, you pay for your ad to show up on search engine results pages (SERPs) when someone types in a keyword phrase that is relevant to your product or service – similar concept to SEO, but it will appear as a sponsored listing.
These keywords compete against other advertisers (via an auction process) for their ads to show (which typically means high competition markets cost more per click than low competition)
With PPC, you bid on selected keywords relevant to your business, and when someone does a search, your ad can show up in the search results. If someone actually clicks on your ad, it takes them through to your website.
Typically, Google Adwords are charged on a "Pay Per Click" (PPC) or "Cost Per Click" (CPC) model, rather than traditional advertising, which is typically charged by the number of possible eyeballs seeing or hearing it.
PPC can be very cost effective & highly targeted, simply because it doesn't cost you anything to run and show your ads until someone actually clicks on them. People don't click on PPC ads unless they're actually interested in what the ad offers. This means you're attracting potential clients who are not cold – they have already shown some interest in what you offer by virtue of taking the time to actively search on a Search Engine, like Google, and actively click on your ads.
Pay-per-click campaigns have great options to improve the performance of your ads – geographic targeting, time of day & which days your ads are shown, the language of the searcher (perfect for campaigns targeting non-English speaking people in other countries) and so forth. These can make sure the very best prospects see your ad.
Benefits of Webfirm Pay-Per-Click Advertising Platform
No campaign setup fees
Monthly campaign reviews with your Campaign Manager
Access to the online reporting platform
Track phone call as well as online conversions
Target specific geographical areas at specific times of the day
Target hundreds of keywords within one campaign
Continual campaign optimisation (to ensure maximum ROI).
For more information about Pay-Per-Click Advertising, please do not hesitate to call Webfirm on 1300 WEBFIRM (1300 932 3476) or email us at onlinemarketing@webfirm.com.