Observe people in any public space these days and there's a good chance you'll see someone browsing the web on a smartphone, such as iPhone or Android.
While waiting for my train on Flinders Street,  I decided to search for a a dentist to whiten my teeth using a smartphone, 10 mintes passed by and I looked up to see if my train had arrived. Looking around I realised that almost everyone was consumed by their iPhone or smartphone. Whether they were looking for some information about a car they were about to purchase, looking for a plumber, checking the weather or using an App, I realised that people are consumed by these devices, more than ever before.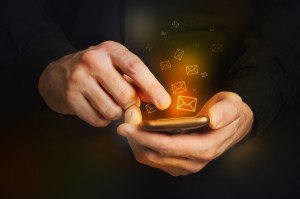 After doing some research we have found that:
One of the biggest growing markets in Australia is smartphone devices. Well over 51% of Australian consumers own a smartphone in which they are engaged in some sort of online use. We also found that more than half of all the Australians that are online have accessed the Internet via a mobile device.
Another interesting fact is that women are spending more time then men accessing the Internet using their mobile phones.
People are becoming more tech savvy, and are using the Internet on their mobile devices. This trend is rapidly increasing, which provides the opportunity for all business owners to take advantage of this medium. With 51% of Australian consumers using their smartphones everyday to purchase or search online for local businesses, it is then clear where the opportunity for small business owners lie… in a small pocket size device.
Having a mobile friendly site will not only provide a better experience to the visitor and a possible consumer. Making sure that all the content is readable and pictures are downsized so the site is faster uploaded is vital.
Next time you are on the train or walking to work or going to lunch while in the city, take a good look around and see how people are behaving and how often you see someone one their phone. Seize the opportunity.
For information on how to mobilise your website contact Webfirm today 1300 932 346!