Firstly, what is SEO? It stands for Search Engine Optimisation and its goal is to improve the quality, readability, but most of all the visibility of your website within the search engines. SEO is, therefore, a very particular science as its implementation will induce search engines (mostly their algorithms) to position, index and evaluate your website.
So, you're familiar with the concept of SEO and what it does?
Great! Now it's time to build upon that foundation. This article will provide concrete SEO technical actions that will optimise your website visibility on search engines.
We thought to provide you with a list of the most common SEO issues you need to fix on your website to immediately improve your ranking and your visibility.
Step 1: Create unique and accurate page titles
Search engines use title tag to determine the subject of your landing page. Title tags appear on top of the search results and help users to decide if they want to click on your link. This is the MOST important SEO factor.
Length:
Ideally up to 60 – 70 characters

Prominence:
Use keywords in the first 50 characters

Use CTA after the keywords

Capitalise each word

Separator:
Use pipes | to separate word types
Step 2: Make use of the meta description
Meta descriptions are confirmed to have no benefit to rankings, they do offer benefits to the user and can improve click-through rate.
Length:
Ideally up to 155-160 characters

Prominence:
Use important keywords within the first 50 characters and use semantically related words.

Calls to Action:
Click here now

Click here today

Find out more now

Sign up today
Step 3: Improve your URL's structure
Be sure to use your primary keyword in your URL as this is another opportunity to inform Google about your target keyword. However, do not delete an existing URL to create a new one. When you delete a URL to create a new one, make sure you implement a 301 redirect. While there are several types of redirects, a 301 redirect is permanent. These 301 redirects ensure search engines are aware the page has been permanently moved to a new location.
In doing this, Google and other search engines will assign the link value of the old URL to the new URL. This means you can maintain the link authority that has been built on your previous URL.
Step 4: Header (H1 tag)
The H1 is the principal title of a landing age. There are 6 levels of headers: from H1 to H6. The H1 is the most important. You can only have one h1 per landing page. The other headers are used as a way to indicate the subtopic of your article, but they aren't as important as the H1.
Step 5: Image alt tags
Alt tags, short for alternate text, is an HTML code attributed to an image. This text appears within the square space of the image when it doesn't load. Its intent is to help search engines to understand the theme of the image.

Develop an external linking strategy
A linking strategy intends to gain backlinks to your website which is crucial to achieving high rankings. If you're not convinced, just google it! You'll find out that no one has access to the algorithm but everyone knows for a fact that linking strategy is an important part of your SEO strategy to improve your position in organic search results.
Building the backlink profile of your website is very often the longest and most complex part of your SEO strategy. Several strategies exist to obtain links and the strongest one so far is to create an infographic. Their purpose isn't to uncover unknown data but to centralise elements of information under one specific topic and present it in an aesthetically pleasing format for the user.
Find out a good topic: it needs to be either very fun or very informative.
A great example is the infographic History Lesson In Aussie Spirit. This infographic, which is a little bit quirky, is going to appeal to many websites that would be likely to share and publish the content. It is also compatible with most CMS and therefore is easy for the websites you contact to publish it, meaning you would gain a new link.
Create the design: an efficient infographic has 6 to 10 key features. It needs to be concise and not include too much information. I personally recommend working with a professional graphic designer.
Implement schema markup 
On top of writing high-quality content, there are multiple ways to inform Google and other search engines about your website's content. A structured data markup schema is another way to help search engines understand the information on your landing page, which will allow them to deliver richer search results.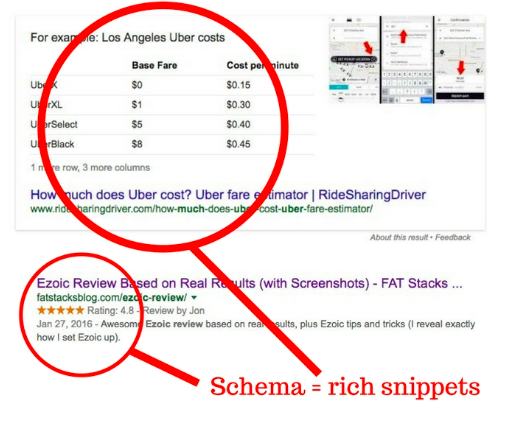 A schema markup is a piece of code that you implement on your website to help search engines' robots understand your landing page's purpose. It is micro-data that you will need to insert into the HTML code. This data isn't visible by users, but it organises information so crawlers can read it.
See it this way, humans intuitively use visual elements to help them identify the relationship between different parts of a landing page to quickly comprehend the key information. Robots don't treat content the same way. They can't see the visuals and just see a bunch of words, more like a word cloud. That is why schema markup is important, it provides a structure for the robots to follow.
The entire list of templates for you to structure your micro-data is available on the official website Schema.org. You'll also find a blank example to adapt to your needs, so you can see how best to integrate your content into your schema markup.
I would also recommend you check your schema before putting it on your website. To do so, use the Google structured data testing tool.