Mobile-first indexing is being widely discussed these days by SEO agencies as Google rolls out its new effort to make the mobile browsing experience more enjoyable.
Still, there remains a lot of confusion over what this will mean for retailers and other business owners. How will the transition impact traffic to your site? Will it influence your conversion rate?
Only time will tell. But thankfully, there are a number of things you can do to prepare your site for the Google shift.
What Is Mobile-First Indexing?
But first, let's take a look at what is Google's new algorithm entails.
For some time, Google has prioritized the mobile experience. Sites with well maintained mobile versions of their site will appear higher in Google search results.
The new index will take this a step further.
Google and other search engines don't actually search the entire internet for relevant search queries. That would take too long. Instead, Google sends out bots that are called "crawlers" across the web.
These crawlers visit sites, analyze the content, organize the results, and save them into a database known as the index.
This brings us to the first reason you should focus your site on mobile first indexing.
1. Maintain Your Google Ranking
Until now, the Google crawl bot has always looked at and index the desktop version of websites first. With mobile-first indexing, the crawlers will now begin with the mobile version of a site.
If there is no mobile version Google will index the desktop version instead.
The good news is that even if you don't have a mobile site, Google will still include you in its index. But you will not receive the same priority as mobile friendly sites.
If you already have a fully responsive site, you probably won't notice any impact from the new indexing system.
Instead, you should concentrate your time on things like load time, navigation, and page speed to make sure your mobile site is optimized for your users.
If you do have a separate mobile site, you will want to make sure that it has everything that the desktop version of your site has.
Depending on the disparities between the two sites this could mean a lot of work. But ultimately, it will be worth it if you want to maintain, grow your Google search ranking.
2. People browse more from their phones
So, why has Google made this change?
The simple fact is that more people are browsing the web from their phones. In fact, according to a 2015 report from Consumer Technology Association, around the world more people own a cell phone than a toothbrush.
The global mobile population is approximately 3.7 billion unique users. Indeed, mobile devices account for 49.7 percent of web page views around the globe.
A 2016 survey showed that about half of mobile shoppers use their smartphone or tablets to purchase products for convenience and 46 percent use the mobile platform in order to save time.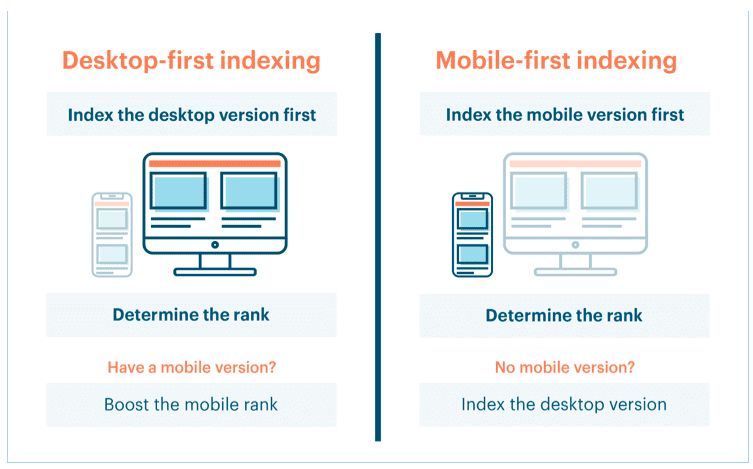 Image – Dizzain
3. Increase sales
That also means more people are buying products through their mobile devices.
Google's own 2017 report found that 89 percent of people are likely to recommend a brand after a positive experience on mobile.
According to BrightEdge, 51 percent of customers say they use their mobile devices to discover new brands and products.
The same report also showed that 69 percent of smartphone users say they are more likely to buy from companies with mobile sites that easily address their questions and concerns.
In fact, the average value of global online shopping orders placed using a smartphone was US$104.63 in the third quarter of 2017.
Just look at this year's Black Friday in the United States. Adobe tracks transactions across various retail sites, and the company says that $6.22 billion was spent online throughout the day, with more than a third of those sales coming from mobile devices.
At this point, if your site isn't mobile friendly you're simply leaving money on the table.
4. Provide the best experience for your customers
With that much traffic and ecommerce sales being dictated by mobile, it is also important to remember your customer.
Users want a clean and friendly experience when they're browsing from their mobile devices.
Cluttered sites, slow loading times, and lack of information are frustrating for users. Ensuring that their visits are pleasant and problem-free will make for happy customers.
And happy customers tend to be return customers.
That means creating a site that honours the way users interact with their devices.
For instance, users know how to use their various gestures on their phones and tablets. Things like double tapping and pinching in order to zoom into an image.
A study from the Baymard Institute found that shoppers prefer to be able to inspect products thoroughly and are concerned about small details.
Users interested in buying a product but who couldn't study it by zooming in didn't feel comfortable buying the item and often abandoned the sale.
This also means creating things like descriptive and well-labelled forms; a "save shopping cart" feature; and intelligent auto suggestions, auto-detections, and address lookup.
These are all examples of features that will make visitors to your mobile site feel more comfortable and secure in making purchases.
Creating a positive experience for your customers is paramount to making conversions. People do not want to buy from sites that frustrate them or seem untrustworthy. By maintaining the mobile version of your site you will increase the likelihood of repeat customers.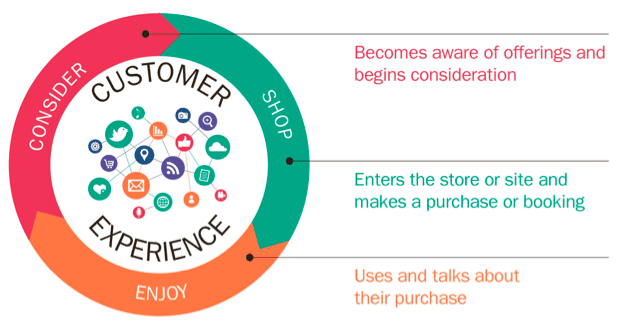 Image – Raconteur
Conclusion
Ultimately, there are many reasons to focus your site on mobile-first indexing. But no matter how reticent you may be, the change is coming and there's nothing we can do to stop it.
It is important to foster a positive relationship between you and your customers. After all, there can't be a business without people buying your products or services.
Embracing the new indexing system ahead of time will ensure that your business remains solvent and successful well into the future.
---
–