Lasting, Tailored Strategies from Webfirm's Local SEO Specialists
If you're digital marketing savvy, then you'll no doubt be all over SEO as a concept. But Local SEO is a different monster entirely. Whilst traditional SEO focuses on general visibility online, as well as a range of issues with your website optimising it for visibility across the board, Local SEO is all about being seen in your local area, and tapping into a huge potential customer base that is searching for local businesses- YOUR local business.
It's About Time You Got Seen in your Local Area!
Here's what's included in our special Local SEO recipe:
Briefing sessions with a local SEO specialist so we gain a deep understanding of your local business
Map tracking to understand how far away from your business location your visibility has grown
Leveraging your competitor's strategy to use to your advantage
On-site SEO optimisation and technical development
Optimisation of your Google My Business profile by an SEO specialist
Optimisation of other off-page signals to drive the authority of your business
Your business needs a Local SEO strategy- one which works in tandem with your broader SEO strategy to ensure that you keep your local audience in mind. A specialist draws on strong relationships with local websites and directories, and knowledge of Google Maps and Google My Business. Our Local SEO team will help you in getting into the map at the top of a Google search when someone searches for your services near your business location.
Here's the general picture.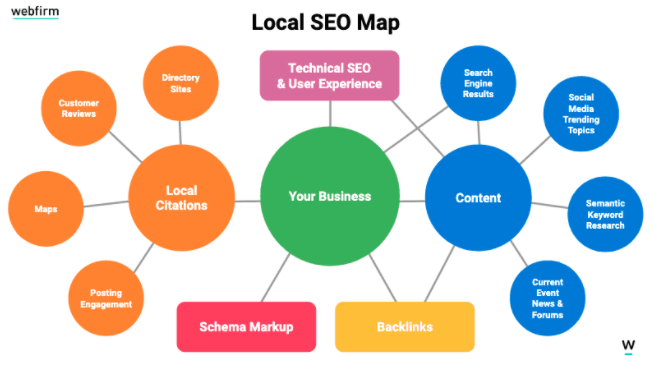 Here are some of the many benefits of a local SEO approach…
You'll attract local customers while they search for the services you provide.
Your brand will gain the trust of local customers by providing them a physical store address and other relevant, local info
Target a specific geographical area
List your business on Google Maps which helps greatly to attract more visitors.
Here at Webfirm, we live for strategy, and we breathe SEO. Our team of SEO specialists are perfectly poised to deliver local results for your business.
Increase your traffic today!