Client Overview
Perth Bin Hire have been operating for 25 years in Perth and its surrounding suburbs. They provide an environmentally friendly waste removal service to the residential, industrial and commercial sectors.
Operating in an highly competitive industry, it is important for Perth Bin Hire to stay ahead of the game and make sure that they outshine their competition. In doing so they have chosen to engage the Digital Marketing services of Webfirm for the last 10 years.
Situation
Perth Bin Hire's main focus is to drive traffic to their website and in turn book one of their waste removal services. They also want to increase their Google rankings for specific keywords while protecting their branded key terms. Gaining more page likes on their Facebook page was also priority.
Solution
Webfirm's solution encouraged them to invest in three main channels to support their objectives.
Paid Media
encompassing both Google Ad words and Social Media campaigns to protect brand identity and raise awareness of their overall brand and of course getting the page likes they were after.
Search Engine Optimisation
This was also implemented and seen as crucial to stay competitive in the organic market, while simultaneously allowing Perth Bin Hire to stay ahead of the relentless daily updates to Google's search algorithm.
Content Creation
Writing blog posts and writing website content was also recommended as an integral element in the growth of Perth Bin Hire's brand.
To tie it all together a strategic reporting method was implemented, partnered with an Account Manager who could communicate the progress of the team.
Results
Content strategy;
This saw 4 new pages built out relating to 'Commercial Waste Management'. After completing an in depth Keyword research session, we found that there was an untapped market searching for the services offered by Perth Bin Hire, only they weren't covered on their website. After implementing the new content 'Perth Bin Hire' are now ranking 3rd for the service 'Food waste Disposal' and 1st for 'Construction Bin Hire'.
Targeted Keywords;
With 11 of them ranking number 1 on Google, Perth Bin Hire have been steadily defending their current position in the SERP.  Ranking number 1 for high volume search terms such as Bin Hire Perth, Hire Skip Bins and Bin Hire isn't an easy task but a strong content strategy lead by Keyword research has helped them continue to prosper in the waste management space.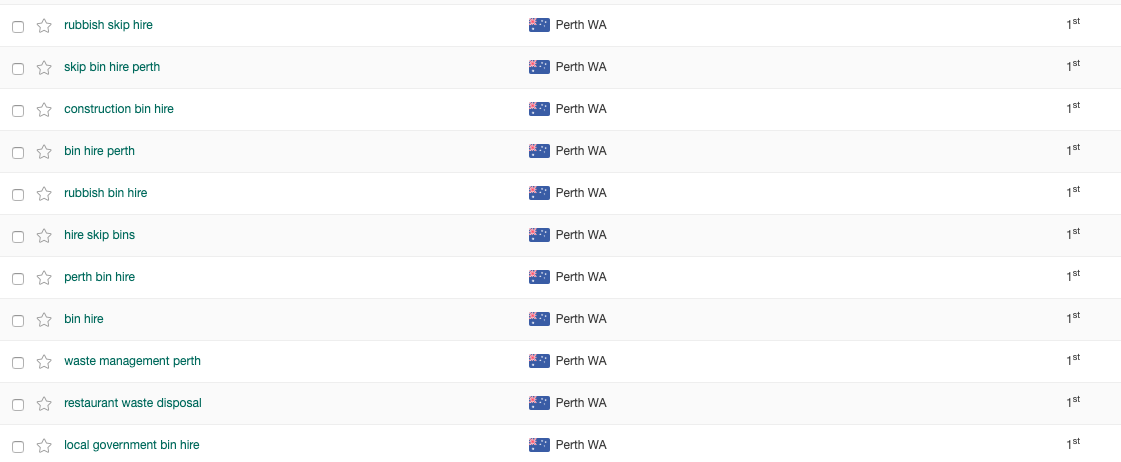 Organic Traffic
January 2016: 1,013 sessions from Google
January 2017: 1,089 sessions from Google
January 2018: 1,691 sessions from Google
January 2019: 2,008 sessions from Google


Social Media
In the last 12 months Webfirm have helped Perth Bin Hire grow their likes on FB by an impressive 80%. This was thanks to a well thought our Social campaign that included the onset of paid weekly posts to their FB page.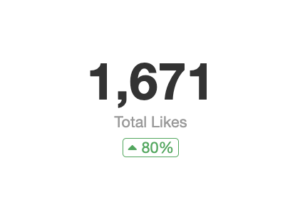 Hear Directly From The Client
Webfirm have taken care of our digital marketing needs now for almost 10 years. Obviously, the digital marketing world is extremely competitive, and we have had numerous competitors vying for our business over the years, but we can honestly say we have never been tempted to change. This is due to the excellent personalised service Webfirm has provided. For us, having been in business for years before it became the norm to have websites, SEO, Google Ads, Facebook etc it was imperative to engage people we could trust to take care of our needs.

People who are expert in their field, who don't oversell, who are prepared to advise when changes or upgrades are needed, who are accessible and listen to concerns and who are willing to learn about our industry so that we can have more meaningful conversations. The fact that I speak to my Account Manager, Social Media Manager and Copywriter at least once a month is extremely reassuring. These are real people – a real team who are looking after our interests in what otherwise could be a very impersonal, daunting digital world.