What's your Local SEO approach? Local SEO is a primary focus of many of our agency's SEO portfolio (find out more about how we can help you!)
Considering roughly 45% of all Google searches are for local services, products and conveniences, you could be missing a huge opportunity to take advantage of optimising for local search…
Hear our SEO Specialist Nik Ranger chat with Brodie Clark, Peter Mead for SEMrush. Points covered off include:
Effectively utilising Google My Business features
Focus on your off-site signals (hint: links)
Gather reviews, in the right places
The content on your website matters
Don't forget your citations
What is Local SEO?
Local SEO is the promotion of your business, products and services in your area, attempting to generate (first): traffic to your website, and second: face-to-face visitors to your store business by targeting localised search terms and focusing on providing results that are relevant to a searcher based on their current location.
It can apply to businesses of many different sizes, all that have goods and services which will benefit from being found in localised searches.
Think of local SEO as a hammer, and local citations as the scalpel.
The difference in strategy being; the latter pays particular attention to location-specific search terms. E.g.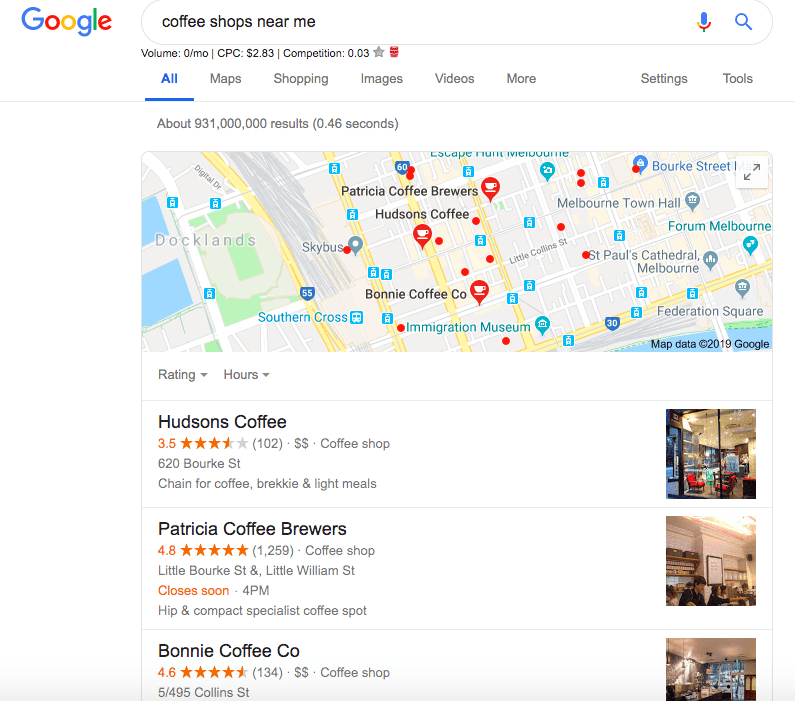 What makes a Local SEO campaign?
The aim: to get that edge. (see Al PAcino//Any Given Sunday 1999)
Local search marketing is not a one-stop marketing job. It will require constant analysis and keeping abreast of your competitors in order to stay near or at the top spot…but the rewards for doing so can be massive.
A Local SEO campaign consists of a few key things. Namely: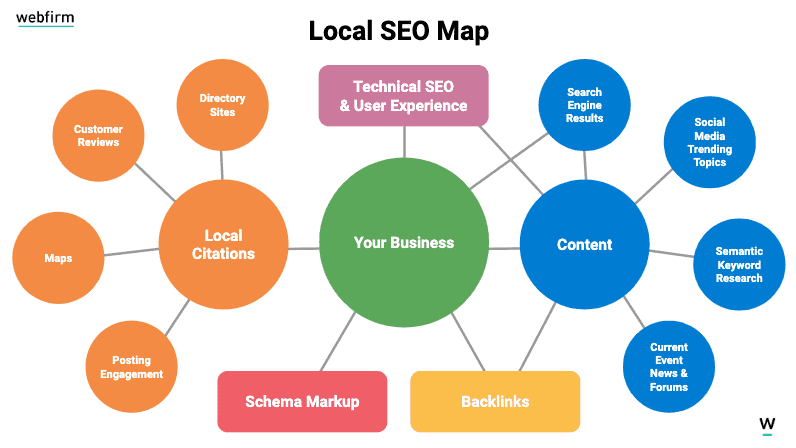 Local Citations
Google My Business is one of the best local SEO tools available, and it's free to use. This tool helps you create your business profile, which can help more people look for your business. Your profile would contain every important detail of your business, such as your contact details, address, business hours, and even images.
Most of your business's local competition might also have Google My Business profiles, but there are a lot of them that do not use it properly and lack some important information that users are looking for.
Having an optimised Google My Business profile will generate a huge amount of local traffic and gives you a one-up on the rest of your competition.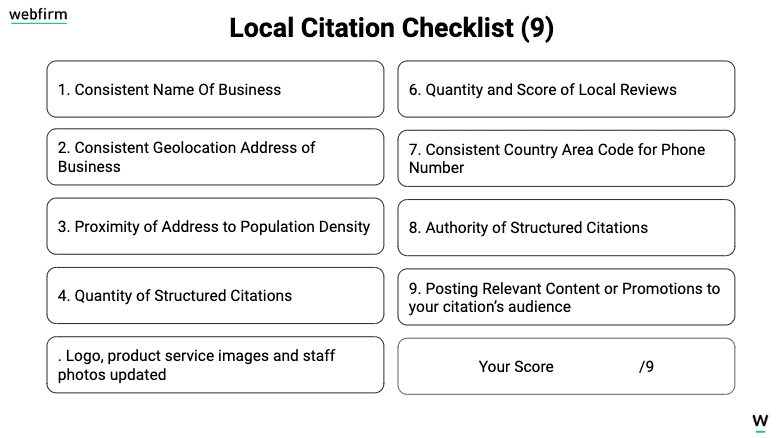 True Local (DA 67): Since 2006 True Local has made searching for Australian businesses easy by incorporating reviews, photos, and location consideration into their search results. Their information comes from both businesses and third party content suppliers to ensure that users receive a comprehensive business report.
StartLocal (DA 60): As a specifically local business directory and search engine, StartLocal is currently boasting over 7 million visitors each year. As a business owner they can also offer you the opportunity to be put in front of 20 million or more viewers instantly.
Yelp (DA 64): Yelp does more than connect users with great local businesses; it also allows you to find events, talk to other Yelpers, and make better decisions with over 102 million reviews. Yelp can also be used as a mobile app, allowing prospective customers to search business listings on the go!
Local (DA 51): Having begun in 1999, Local is a veteran in its industry. It was once a popular printed business guide until it had become one of the very first online local business directories. With this much experience in the industry, Local is definitely a safe choice for business searches and listings alike.
AussieWeb (DA 57): AussieWeb prides itself on being "Australia's best free local search directory!" Businesses simply add their details into AussieWeb and people will begin to find them.
dLook (DA 63): With over 1.7 million business listings available online and plenty of great reviews, dLook is certainly a reputable business guide. There are options to pay money and receive premium content, but even businesses with a tight budget can benefit from the dLook's free performance analysis and option to add special offers onto their listing.
Word of Mouth (DA 64): As Australia's no.1 business review site, Word of Mouth gives good businesses the merit that they deserve—and the bad businesses a shunning. With over 509,000 customer reviews, it certainly achieves its goal of helping consumers make better business choices.
Local Business Guide (DA 51): Local Business Guide's goal is to help businesses promote themselves on high quality listings without receiving a hefty bill. On top of their extensive listing details, Local Business Guide gives users the option to post product listings and press releases/articles to further promote their business.
Brownbook (DA 62): "The Global Business Listing Database" optimises their business listings for major search engines, providing businesses with an improved site ranking.
Australian Guide (DA 50): Australian Guide not only provides business listings, but it also gives blogs and websites the opportunity to advertise their page too.
POIDB (DA 45): POIDB lets you plan out things to do and destinations to see by searching their online database of local services and businesses. Members also have access to discounted products and exclusive deals.
Bloo (DA 48): bloo aims at becoming the online business directory of choice by monitoring trends and keeping up to date with the latest technology. They keep 'true bloo' to this goal by continuously innovating and providing users with more value for their money.
Fyple (DA 50): Fyple provides in-depth listings of over 1 million companies. Leave a review, add your business, find phone numbers and discover websites for absolutely no cost at all.
Yalwa (DA 52): Find, rate, and share millions of business listings with Yalwa. By advertising a diverse range of industries you'll be sure to find the business you need. All customers need to do is search and browse!
Come On Aussie (DA 49): Come On Aussie's tagline 'Australian Websites on Show' says it all. Browse or advertise local Australian websites to either find the product/service you need or to advertise your own!
LocalStore (DA 52): By utilising their mobile website, high search engine rankings and user-friendly search functions, businesses can begin to see their online presence improve as easily as connecting with Facebook. With the option to edit your free listing at any time, LocalStore is a great place to search for up to date listings and to add your own!
BusinessListings (DA 52): By providing comprehensive profiles of Australian businesses, BusinessListings succeeds in connecting the ideal clients to the right product/service providers. This business directory is a great way to attract free online sales leads or find the right business for your needs.
Wampit (DA 43): Rich content business advertising is wampit's specialty. By coupling content submitted by business owners with integrated licensed data, wampit has set itself apart from other business directories that only allow basic details in their listings. With over 250,000 unique monthly visits, it's hard to argue against wampit being a leader in the industry.
Hotfrog (DA 60): Hotfrog will not only let you post a standard business listing, but it also provides insights as to which keywords are most successful and an opportunity to advertise coupons for your business.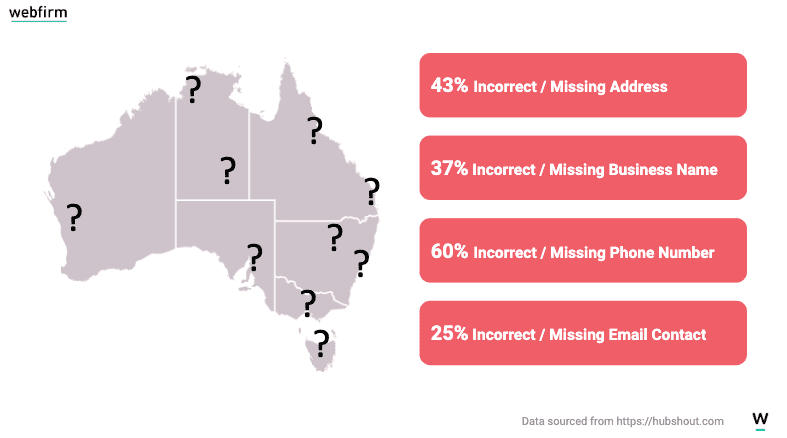 With all of these business directories to choose from, you're sure to find a great place to advertise your business or find the service you need in no time.
Reputation management
Reviews are a vital aspect of your perceived legitimacy as a business for the searcher. Good reviews build better trust and increase your authority on the internet, so engaging with your customers and even asking them for a good review if they've enjoyed your services is always a great idea.
But (and perhaps just as important), responding to negative reviews is also a great way to further build trust with your audience, as it demonstrates that your active engagement with your customer base- another strong trust signal!
It's also a good idea to employ the help of monitoring tools that track your business' reviews, not just so that you are aware of them when they are posted, but also so that you can respond to them promptly.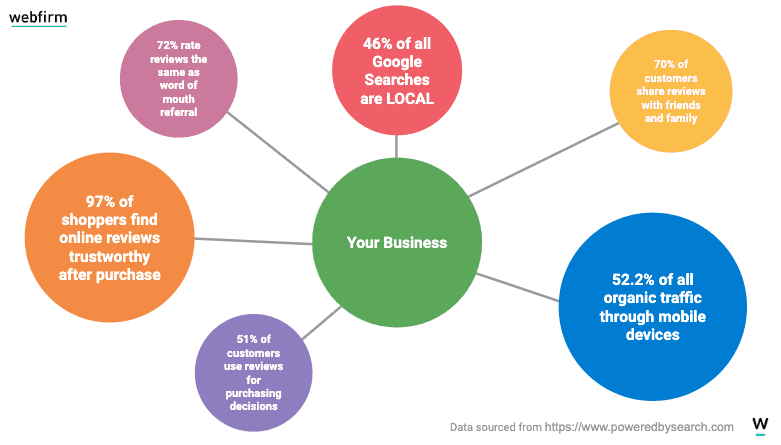 Focus on relevant, local content
Create quality content that provides quality information that benefits the users and helps generate possible leads. Many choose to add a blog section to your business website- this is a rather simple way to help generate more traffic, as it can be used to store and promote relevant business information and updates, and as well, users who are searching for a certain keyword.
Local SEO strategies have become more dynamic than ever, with emphasis on improving your local search listing, to using social media and link building to build your client base. Using these simple but effective SEO strategies would definitely give you that massive advantage in promotion and visibility in the end, and would leave your competitors out in the water
Not convinced? Well, now that you've had a taste of our scintillating hors d'oeuvres, sit down for the main course; SEMRUSH's Local SEO (Lobster) Thermidor of a Webinar featuring our very own SEO Specialist Nikea Ranger. Link here!
Details below.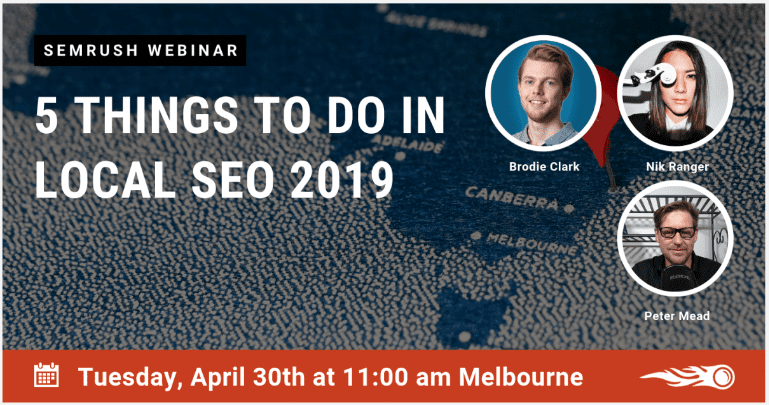 Local SEO Specialist Brodie Clark discussing what makes Google's local algorithm tick. Main points will include:
Effectively utilizing Google My Business features
Focus on your off-site signals (hint: links)
Gather reviews, in the right places
The content on your website matters
Don't forget your citations
Nik Ranger on:
What "Listing Management" is and aims to do
Where to find it in SEMrush and How to use it
The value of the tool – how it impacts your local business
Feedback from top SEOs around Australia
Melbourne Local SEO Agency
Forget about the old Yellow Pages, local customers search local businesses online. The question is, will they be able to find you?
Once upon a time, people would search for swimming pool builders and would need to sift through hundreds of results looking for one that's near them. Luckily, local search has changed this and makes finding relevant, local businesses easier than ever. If you're operating a geographically constrained business, local search will be your best friend!
But, local SEO is just as important for national and multi-location businesses because people will still want to know where their local Maccas is or where they can find the closest branch of their bank.
At Webfirm, we can offer local businesses a tailored approach to their SEO services, ensuring you get more website visitors, a greater level of user engagement, and of course, more conversions.
When you entrust your local search marketing to us, you'll get:
Your business listed with all the important local business listings/directories
A coveted top position on Google's map results, so when someone types in "insurance broker Melbourne", your business pops up on the map pack
Optimisation for specific suburbs and localities for your products/services
Your search traffic enriched with highly-qualified local customers
Elimination from your search traffic of geographically disqualified customers
Techniques attuned to the latest local search engine algorithms in use by the major portals, such as Google
Design and execution of paid advertising campaigns with full transparency are available at additional costs
To learn more about our local SEO services and how we can help you get a leg up on your competition, contact us today!