This is a 2017 update to an article originally posted in June 2012. A lot has changed since we originally asked 'What is Google Places?'
Google Places for Business has been renamed into Google My Business.
Google Street View has integrated smoothly with Google My Business by allowing businesses to showcase their interiors with 360 Virtual Tours.
The layout of Googles Search Results has undergone multiple changes.
So what is Google Places… or more correctly, Google My Business, in 2017? A Google Business page result will appear at the very top of Google when people are searching for local businesses into Google Search. Having a Google Business page is essential for exposure, aside from having a mobile responsive site with click to call functionality, it is another way to reach your audience with Google's unique results.
Now let's say Ben is potential customer for a Cafe in Melbourne. He wants to find a Cafe located near him and searches 'cafe Melbourne' into Google.
The result.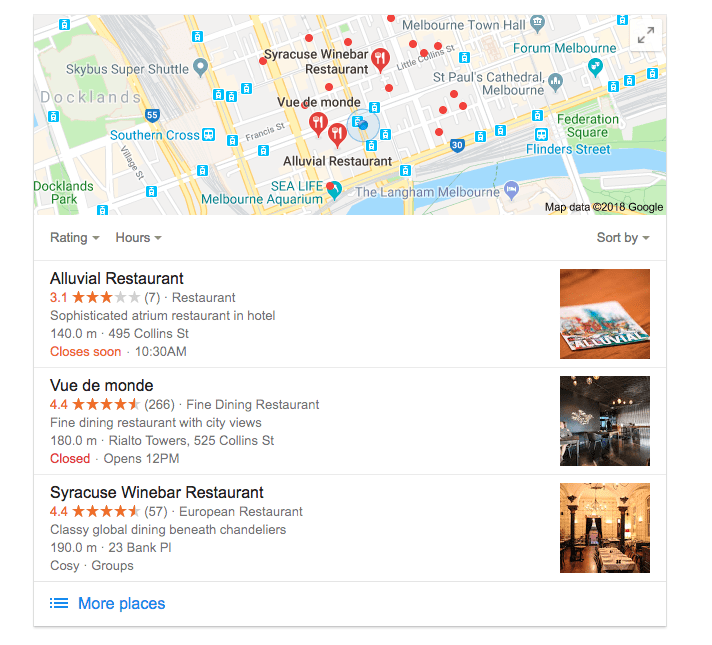 The result above will not only appear for Cafes appear but for a range of local businesses including: plumbers, restaurants, hotels, landmarks, museums and more. Depending on how optimised the Google My Business page is, business owners can showcase their reviews, address, opening hours, prices and business features (e.g. Free Wifi). The best thing about this listing is that it is completely free. However, like anything on Google, it will only feature your business if your Google Business page is search engine optimised.
Now that our friend Ben has decided that "St Ali Coffee Roasters"cafe because it has great reviews and it's close by. Here Ben sees the business details of the cafe, including phone number, opppening times, popular times, reviews and more.
The result.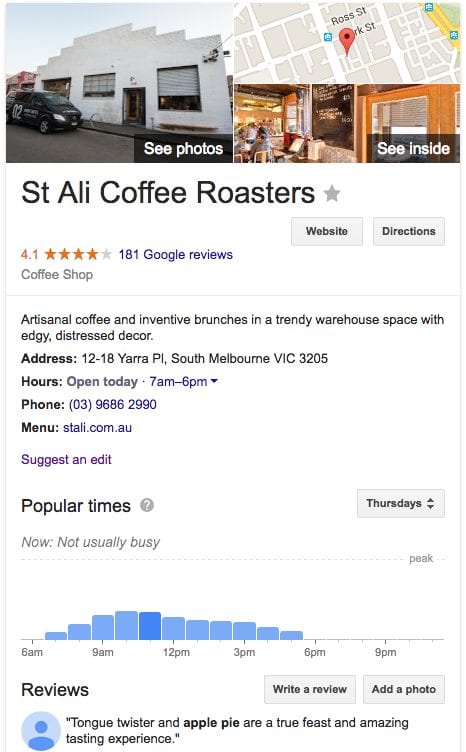 We can see in the result above that Google allows business owners to showcase their business on Google with details such as address, phone number, menu and more. Not only can potential customers find out all they need to know about your business before they visit but an optimised Google My Business Page will even let them know when are the most popular times to visit your business.
Now say that Ben has found out all the information he can about St Ali Coffee Roasters; the location, the phone number, the busiest times. But it still isn't enough for Ben, he wants to see what the interior of the Cafe looks like before he decides to visit. On the Google Business page listing he presses "see inside".
The result.
Just like on Google Street View, Ben can take a 360 Virtual Tour of the inside of St Ali Coffee Roasters. Magnificent.
If you think that your customers would benefit from a Google My Business listing of your business, Webfirm can create and optimise your Google My Business so that your customers have a similar experience to Ben. We'll make sure you page is targeting the key categories and keywords that your audience is using, as well as making it stand out with relevant photos of your business and services, and find reviews from real consumers to help you stand out amongst your online peers.
If you're interested in working with us on your GMB project, check out our SEO services here.