Say you jumped on Google and typed in 'digital marketing Melbourne', in the hopes of finding a local SEO company to assist you with your website needs.
You're scrolling through a bunch of companies, which, let's face it they all look pretty similar. So, how do you know which ones are trustworthy and which ones aren't?
Reviews, of course!
In fact, according to a recent survey by Bright Local, 84% of people trust online reviews as much as a personal recommendation, and 90% of consumers will form their opinion on a business after reading as few as ten reviews.
Do you do this? If you do, it's easy to see why online reviews play a big part in developing business reputations.
Why are Online Reviews Important for Your Business?
Reviews on Google, Yelp and even Facebook give consumers a unique insight into your business from the perspective of past or current clients.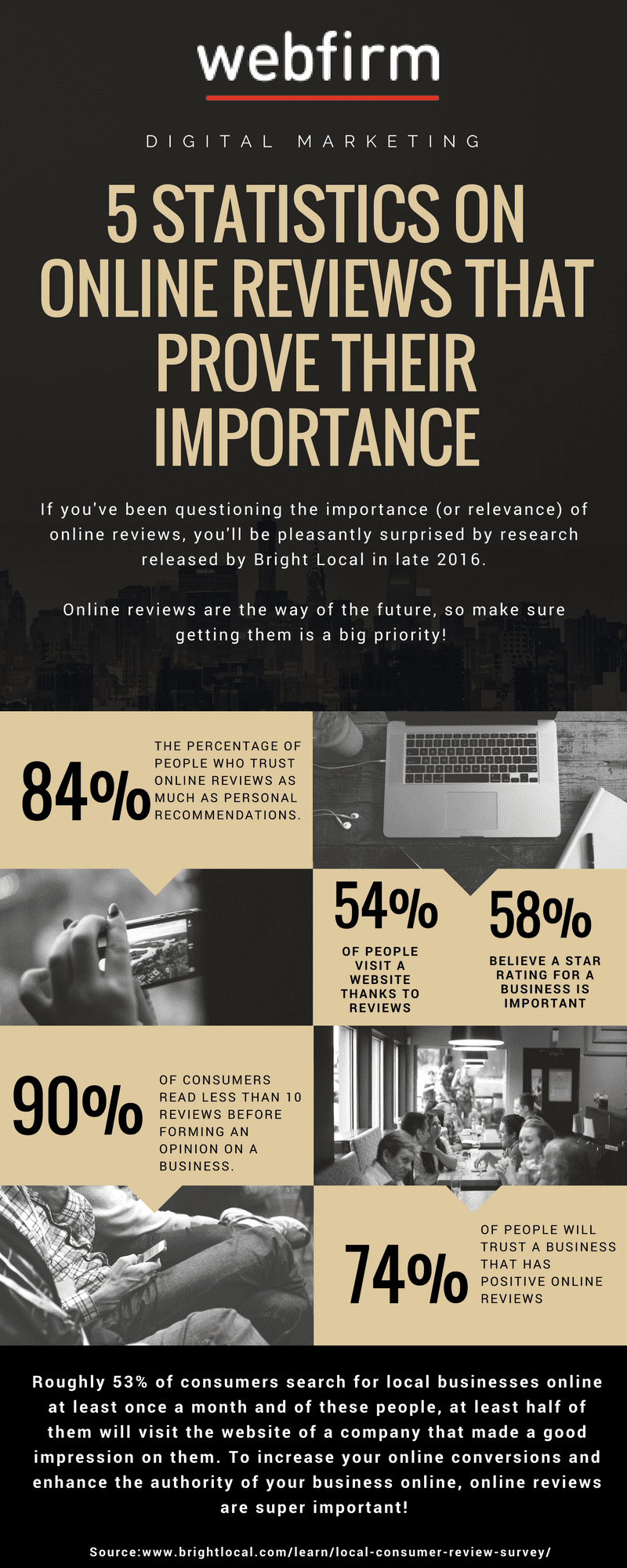 Online reviews will stand out in Google listings, make your business look trustworthy, and, this is the big one, they'll help you attract more customers!
Reviews Can Help Drive Conversions
Research has found that 54% of people will visit a website after reading a positive online review.
So, if you want to attract more leads, signups or sales (which we're assuming you do), reviews will help you do this. If you have a number of positive reviews, people will feel more comfortable doing business with. According to Marketing Land, 90% of people make buying decisions based on online reviews.
A Lot of People Will Choose a Business Based on Their Reviews
If your business has glowing five-star reviews, but your competitors have a sickly looking Google rating of only one star, which company do you think consumers will choose?
In most cases, they'll go with the company with the positive ones.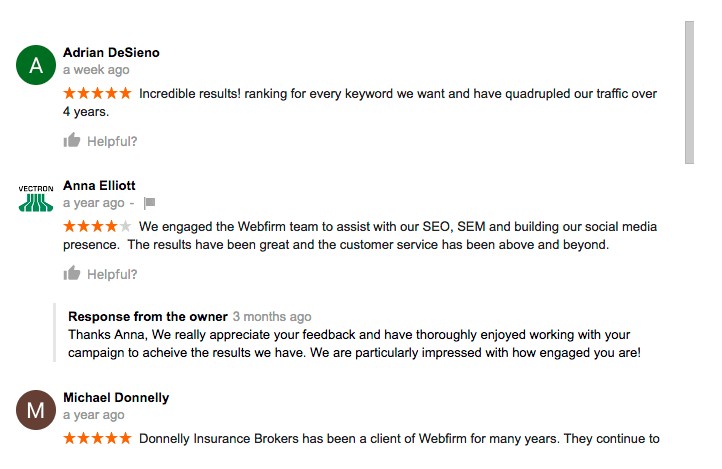 * Positive reviews will encourage people to do business with you.
Can You Ask Your Customers for Online Reviews?
Yes and no. Ultimately, it comes down to the review site you're looking at. For example, Google encourages businesses to actively ask people for reviews, while other sites frown upon it.
For instance, Yelp discourages users from soliciting customer reviews, as the company believes it compromises the integrity of the site.

However, Google actually encourages business owners to ask their customers/clients for online reviews:

Before asking customers to review you on a particular site, check out their relevant terms and conditions to make sure you're not breaking their user policy.
But, if you want to rack up a decent collection of online reviews, but don't want to ask your clients directly to leave them, follow these handy tips for getting good online reviews.
Aim to Keep your Customers Happy
This one's a no-brainer. If you want good reviews, make sure your customers think highly of you.
Unfortunately, people are more inclined to leave a review if they were unsatisfied with your service. It's inevitable that someone will be unhappy, but where you can, take steps to correct the situation, or at least make an effort with the client so they don't walk away angry.
Choose the best Review Sites for Your Business
There are a lot of review sites clogging up the Internet, but not all of them will be relevant to your specific business.
The best way to find the review sites you should be targeting is to Google some of your keywords, and take note of any review sites that land on the first page of your search results.
Also, try doing a generic search for your company with and without the word 'review' on the end and see which review sites come up naturally. These sites are a good place to start, so build up customer engagement by responding to any pre-existing reviews, and if one of the sites has a lot of bad reviews, direct your attention on raising your rankings on that particular site.
Once you know what sites you want to focus on, make sure your business profile and contact details are all up-to-date and correct, so potential customers will be able to track you down.
6 Tips for Encouraging Your Customers to Leave a Review
Add links to review sites on your website
Put links to review sites in all of your staff member's email signatures
Include the URL or name of review sites on your business cards
Send out an EDM with instructions on how to leave an online review/asking for client feedback
Add a message about online reviews at the end of any of your email marketing campaigns
Simply ask your loyal customers, or ones that you know were happy with your business to leave an online review
Make it a Continuous Thing
Did you know that 73 % of consumers think reviews that are more than three months old are irrelevant?
This is because a lot can happen in a business within a few months. Your business might be under new management, have new policies, or be staffed with a new team. This means old reviews aren't necessarily reflective of your business now, which is why receiving reviews on an online basis is so important.
What Happens if You Get a Bad Online Review?
Most businesses with a lot of online reviews have at least a handful of bad ones. In fact, this can actually be a good thing. If you have a hundred positive reviews and not a single negative one, your potential customers might get a little suspicious about the authenticity of your reviews.
So, if you get a couple of reviews that are less than flattering, don't freak out! However, when you get a dud review, make sure you respond to it professionally. You can find some handy tips for responding to negative reviews, here.
Online reviews will complement your digital marketing and web design efforts, ensuring your online presence is appealing and appears trustworthy. So, to drive as many conversions as possible from online traffic, make getting positive reviews a priority.