In August last year, Google released a new feature for Google My Business listings – Questions and Answers. It was initially only available for mobile Android users; however, it's since become widely accessible by users on all devices across the globe.
Needless to say, when it was first announced we were pretty stoked! In theory, Questions and Answers allow businesses to open a direct line of communication between them and their potential customers, while also providing extra information on their products and services.
Six months since its release, it's emerged that 25 per cent of businesses have questions waiting for them, which got us thinking, how many questions are being asked and how many businesses are actually responding? We did a little study of our own to find out.
What is the Questions and Answers Feature?
Before we delve into our results, let's take a moment to talk about what Google Questions and Answers is, and how it can be utilised.
Essentially, when users are logged into their Google account, they can jump on a company's Map Pack result or Google My Business listing and ask a question.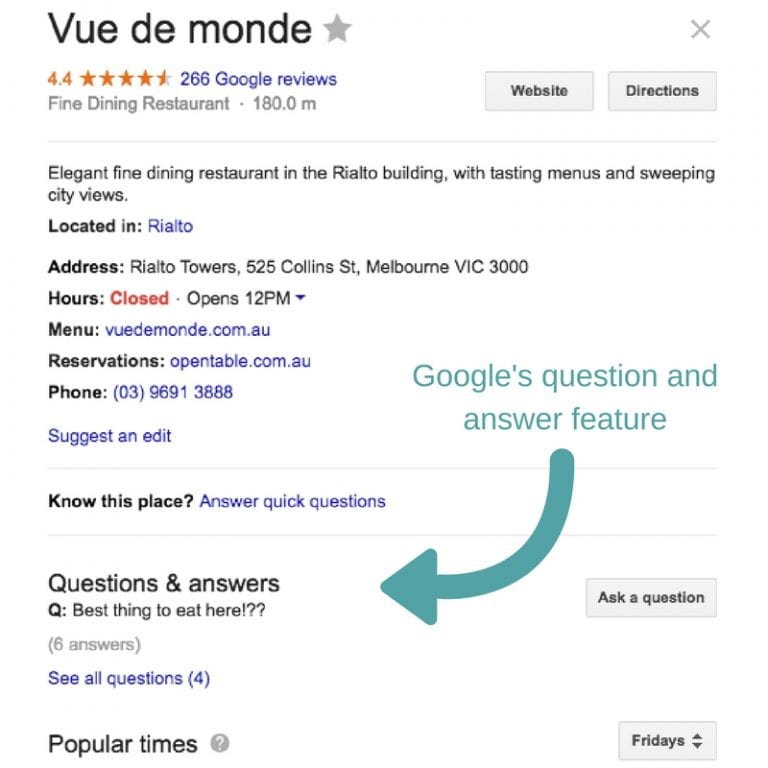 When a question has been asked, anyone, whether they're a local guide, random person, or affiliated with the business, can answer the question.
Pretty straightforward right?
The idea behind this is that instead of having to call up a business, a potential customer can just quickly look up the business on their phone or desktop and ask anything from "do I need to make a booking" to "are you open on public holidays". It was Google's intention that this would provide extra value for users, and that once a common question has been asked/answered, people will have a greater understanding of the businesses products and services.
In an ideal world, it would be the staff, owners or the marketing department of a business that would be monitoring the questions, and providing valuable answers.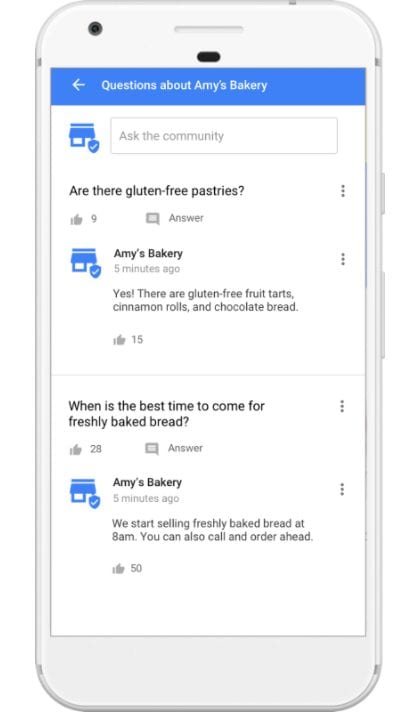 In reality, local guides or past customers are allegedly answering most questions. Is this true? We conducted our own little study to find out.
Are Businesses Taking Advantage of Google Questions and Answers?
We typed a popular keyword into Google, restaurants in Melbourne. From here, we took a look at the top 10 business results in the map pack.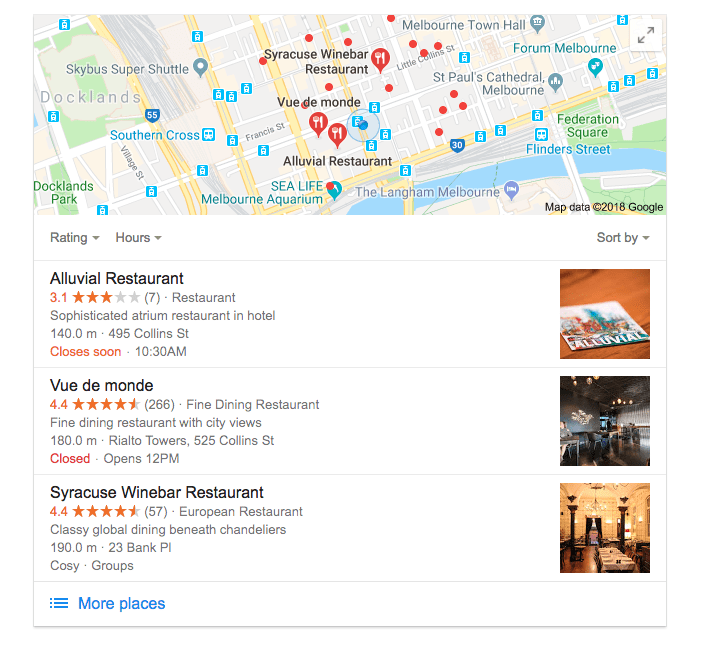 We then looked at how many questions had been asked of each business, how many answers had been provided and who was responsible for answering the questions.
From this, we were able to determine that of all the businesses that had been asked a question, none had been answered by a person directly affiliated with the business.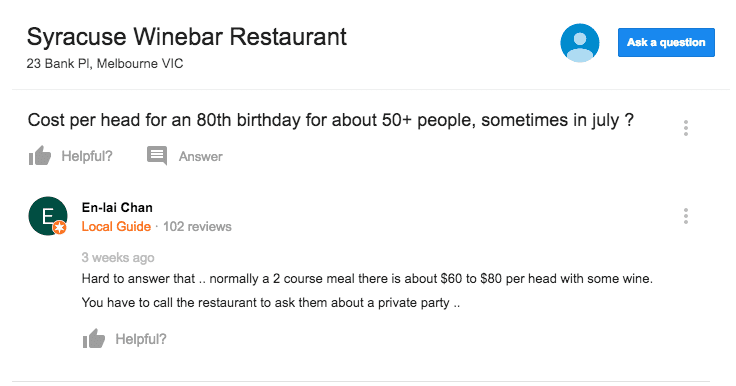 Out of the 10 businesses reviewed, there were a total of 10 questions. These questions had a 90 per cent answer rate, with only one business having no answers despite the businesses high ranking on Google, and overall positive reviews.

Each question averaged between two and five responses, with many of the answers providing the same information as the one before them.
So, what does this mean? While this is only a very small sample size, it does indicate areas of potential improvement.
For instance, imagine someone asks the question "is the food good?" A local guide or random user could easily jump on and say, yes, or it's okay. A business, however, has the potential to take the response to the next level. Instead of providing a simple statement answer, you could mention the restaurant's rating on well-known sites like TripAdvisor, mention key menu items that are usually positively received and encourage them to come and visit to try the food for themselves. Not only will this answer the user's question, it will also motivate them to come in, as the owner has taken the time to personally respond to their query.
Essentially, by taking an active role in answering questions on your Google My Business listing, you could be opening up an extra sales channel, while also enhancing your brand's image.
Moz recently conducted a similar study, albeit on a larger scale, over in the states and also found that while there were questions and answers floating around, businesses weren't contributing to the conversation.
There are cases where a question has been asked, and five people have responded with simple answers like "yes". This is taking away from the initial goal of the Google Questions and Answers feature, as it's been created as an extra knowledge base, but isn't being utilised in a beneficial manner.
Presently, the only way for business owners to be notified of new questions is by manually checking their listings. While it might be unrealistic for users to expect businesses to be monitoring their listings 24/7, by regularly checking and responding to any user queries, businesses could potentially open up new business leads.
Want to know more about how Google My Business, Map Packs and Google Questions and Answers work? Get in touch, and we'll give you the low-down!