SEMrush, the world's leading competitive research service for SEO & online marketing, hosted its inaugural Australian Search Awards at the Sydney Opera House on October 23, 2018.
It was a huge honour to be a part of the SEMrush Search Awards, because often we don't take the time to recognise each other and give ourselves a proverbial pat on the back for our work. The awards celebrate the success of our Australian professionals, and recognises campaigns that have demonstrated exceptional growth and revenues to their clients.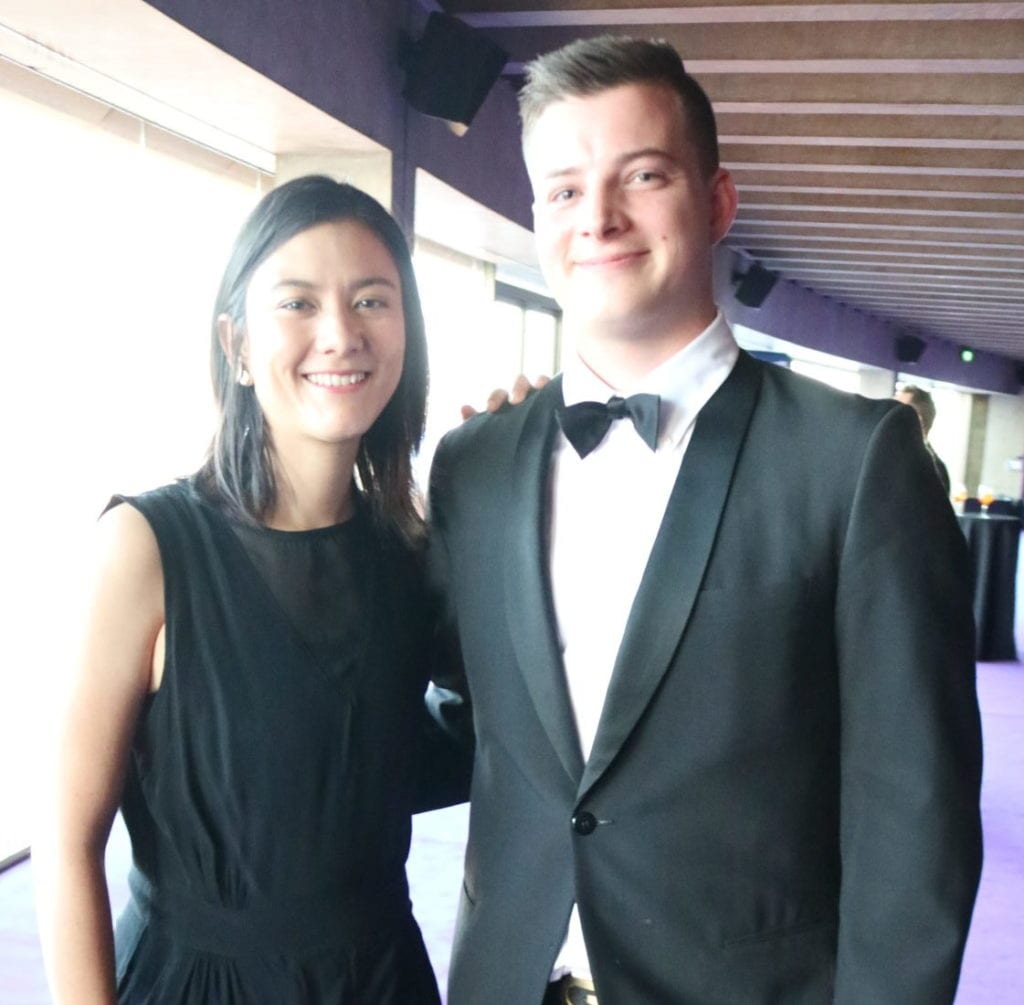 Brilliantly conceived by their Global Marketing Manager, Olga Andrienko who worked tirelessly with her team with Nicky Wake from Don't Panic Events with Judith 'deCabbit' Lewis as Head Judge leading an amazing lineup of international and Australian judges. It was a great milestone for Australian Search.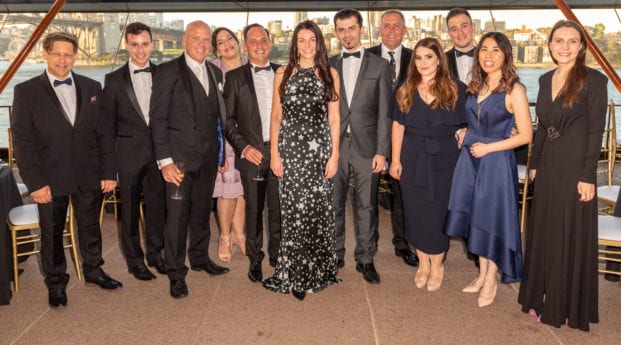 From the food and wine, to the Sydney Opera House venue, to having Osher Günsberg (The Bachelor, Australian Idol) and now the inaugural SEMrush Awards host the evening, they took every measure to lavish and throw their support behind our community.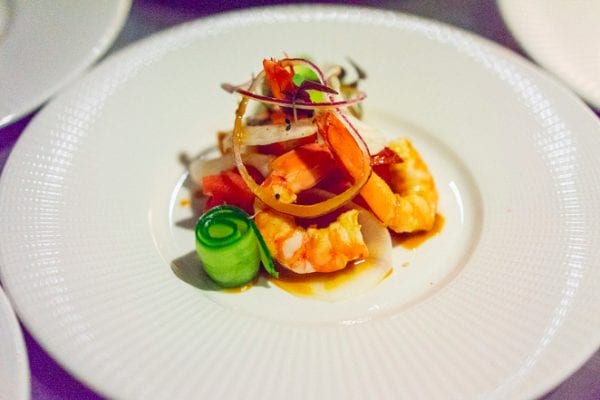 Who are SEMrush?
SEMrush is a software as a service company based in Philadelphia that sells marketing analytics software subscriptions founded by Oleg Shchegolev and Dmitry Melnikov. SEMrush, as a company is expanding beyond search with software challenging the status quo. They themselves are the 2017 and 2018 winners of the Best SEO Software Suite, and it's easy to see why. Since the adoption the SaaS model, their product has expanded releasing a staggering 2-3 new tools to beta each quarter, using feedback from their clients to shape half of all of the updates. This has lead to dominating the US Search Awards and the UK Search Awards bringing together SEO, PPC, Digital and Content Marketing experts with tools that change the game for data first, competitive analysis.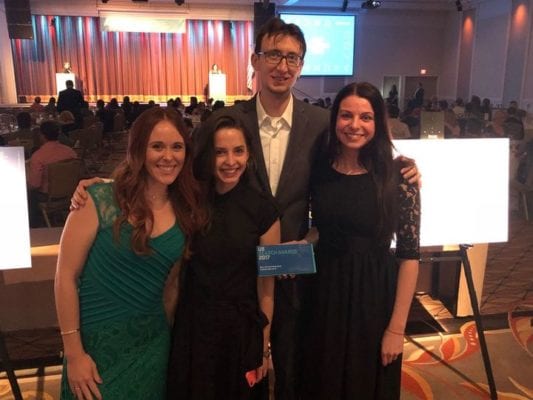 Not only are they recognised as a serious online visibility and content management platform, as a company they've raised 40 million to bring competitive intelligence and search analytics to more than two million digital marketers. Which says a lot about their company direction. Their proprietary database supports more than 125 countries through many signals and data sources, utilising machine learning algorithms. These comprehensive data sets include search engine marketing (SEM) data such as one of the world's largest backlink indexes, user behaviour data, social media performance metrics, and brand mentions. SEMrush's software combines and analyses these signals to provide users with actionable insights.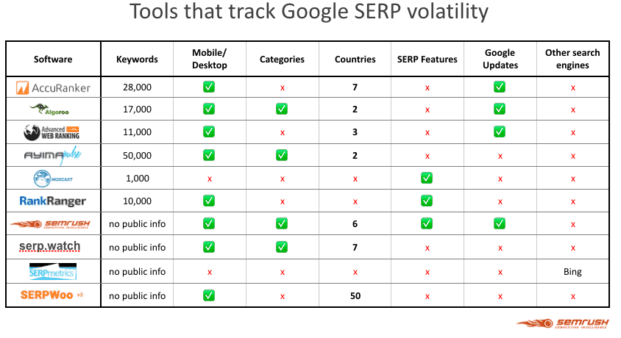 And now, they've got the Australian digital marketing community in their sights by hosting the very first SEMrush Search Awards here in Sydney, Australia.
Award Category Finalists and Winners
This gala dinner and presentation will acknowledge Australian marketing campaigns that have achieved exemplary growth and revenues.
BEST USE OF SEARCH – ECOMMERCE
Bohemia Group & Best&Less – Diversity in Search
I Still Call Australia Home – AU Gifts Ecommerce Campaign
Impressive Digital X Billy J Boutique: Dress for Success [WINNER]
Living Online
Overdose Digital & Adore Beauty – Breaking the Boundaries of Ecommerce SEO
StudioHawk & Lifespan Kids – Jumping to the Top
Whitehat Agency – Happy Way – Protein Powder Marketing Campaign
Yellow Octopus – 'Not Safe For Work'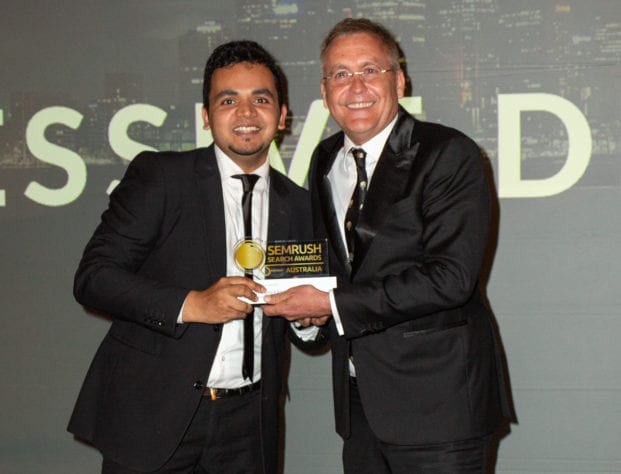 BEST USE OF SEARCH – FINANCE
American Express & CX Lavender – Project Gaudi New Zealand
Croud & Credit Savvy – How a savvy strategy doubled monthly sign-ups
DataCraft Digital & health.com.au – PPC Campaign
Optimising & Mortgage Broker Melbourne – High Quality Link Acquisition
RateCity & Prosperity Media – SEO Growth in a Competitive Market!
Resolution Media & ANZ – Your Money, Your Way SEO Campaign
Web Profits & FIIG Securities – An Underdog Story [WINNER]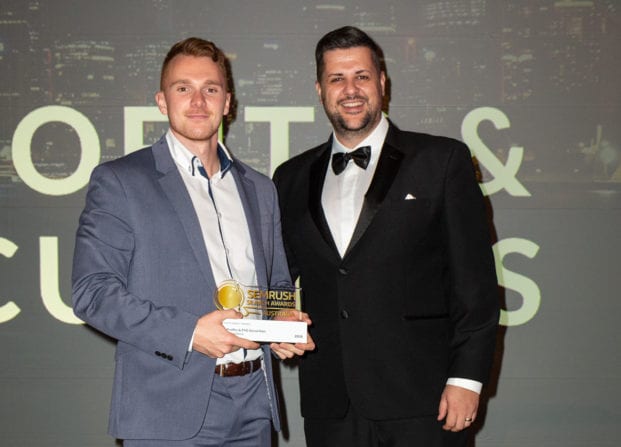 BEST USE OF SEARCH – NON-COMMERCIAL SECTOR
PN Digital – ABBTF 'Education on Becoming a Bricklayer' [WINNER]
World Vision Australia – Holy Grail Of Search – Child Sponsorship Search Campaign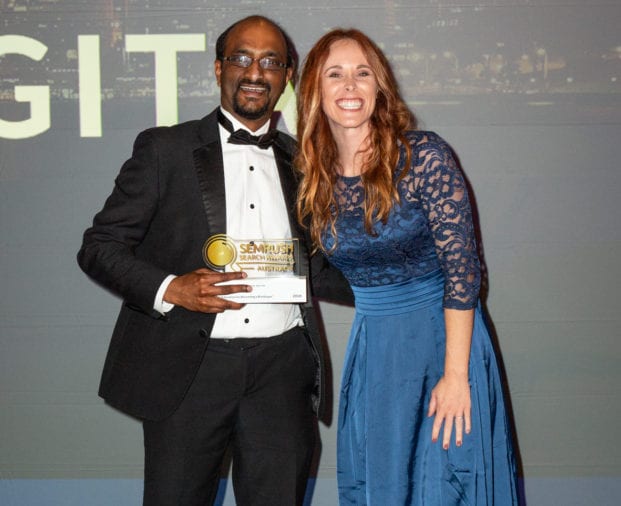 BEST LOW BUDGET CAMPAIGN
DataCraft Digital – Payless Promotions SEO Campaign
Go Broad & Go hard – Ice Jewellery Long-Tailed SEO Campaign
PN Digital – Peninsula Hot Springs 'Deals and Discounts' campaign
Pullman Adelaidea's "Mum and Me" Campaign
Rocket Agency & Jamesons – Local SEO and Content Amplification
Webfirm – Social Campaign
StudioHawk & LearnMate – Lessons in SEO [WINNER]
Yellow Octopus – 'Not Safe For Work'
BEST USE OF SOCIAL MEDIA IN A SEARCH CAMPAIGN
Impressive Digital X GT Works Loaded Results
Pullman Adelaide's "Mum and Me" Campaign [WINNER]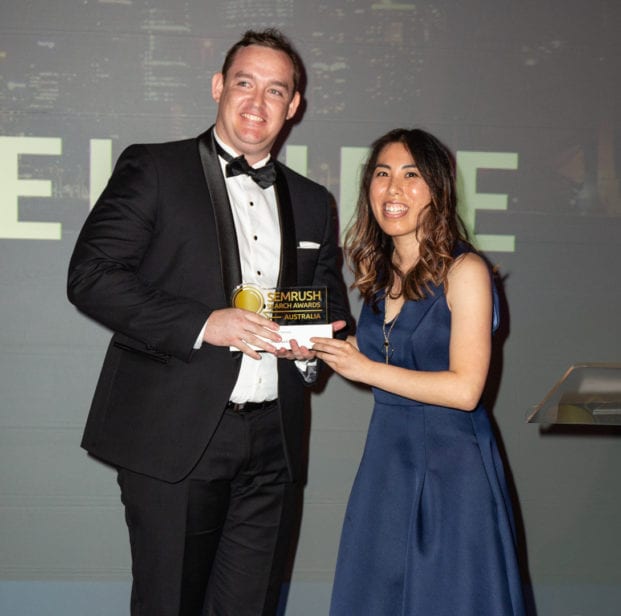 BEST USE OF DATA IN A SEARCH CAMPAIGN
30acres & Interiors Online – Best Use of Data in a Search Campaign
Alpha Digital – Matt Blatt SEO & SEM campaign
In Marketing We Trust & Verisure – Search Awards Data Campaign
iProspect Brisbane & National Storage – Automated Occupancy Supply & Demand Optimisation
Jayride – Profitability at scale [WINNER]
One Egg & LegalVision use ML to drive leads in an ultra-competitive niche
Pullman Adelaidea's "Mum and Me" Campaign
Rocket Agency & Luna Park Sydney – Winterfest 2018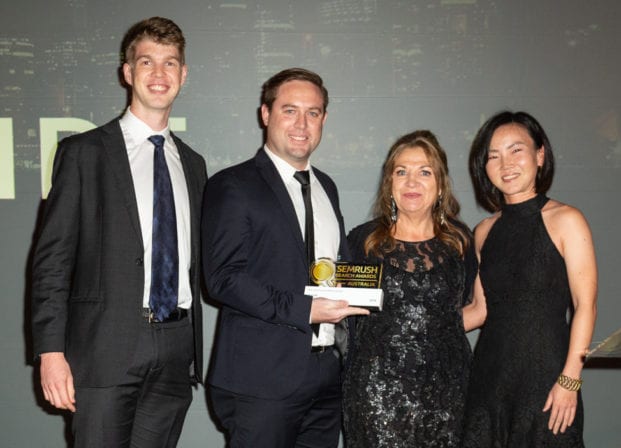 BEST INTEGRATED CAMPAIGN
Arrow Digital & The Packaging People – One of Everything Please
Dentsu Aegis & EnergyAustralia – Anytime Saver Campaign
FULLER – Maxima – I love Mondays Campaign
Impressive Digital X Billy J Boutique – Victory in Style
Salmat and JAX Tyres – working together to improve online shopping experiences
SearchTribe & InStitchu – A modern fit for a traditional industry
Web Profits & Aussie Broadband – Say No To The 6pm Slowdown [WINNER]
Yellow Octopus – 'The Living Room' Campaign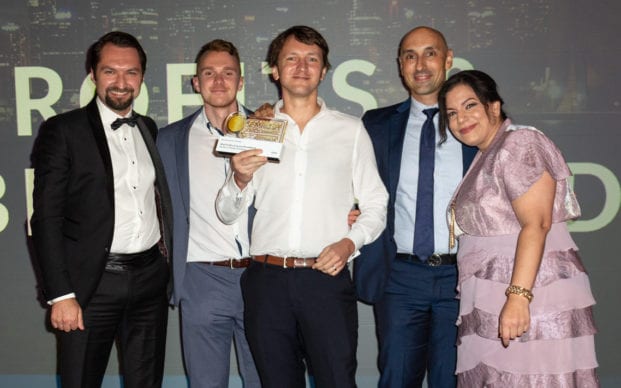 BEST B2B CAMPAIGN
Digital Rhinos / Instaclustr – 'Always on Campaign'
Digital Rhinos / Practera – 'Effective Experiential learning'
Digital Squad – "The Lead Agency SEO" Campaign [WINNER]
Reprise and Deputy – Data-driven SEO Strategy and Agile implementation
StudioHawk & Lisa Ellis Gardens – From a Tree to a Forest
Web Profits & Wideband – Enterprise Connectivity The Wideband B2B Campaign
BEST B2C CAMPAIGN
Baby Village & Yoghurt Digital – SEO Campaign
Dentsu Aegis & EnergyAustralia – Anytime Saver Campaign
Pullman Adelaidea's "Mum and Me" Campaign
Rocket Agency & Luna Park Sydney – Winterfest 2018
Rocket Agency & Plus Fitness – Get back into fitness with digital
Web Profits & Aussie Broadband – Say No To The 6pm Slowdown
Yellow Octopus – 'Olli The Octopus Breaks Out' [WINNER]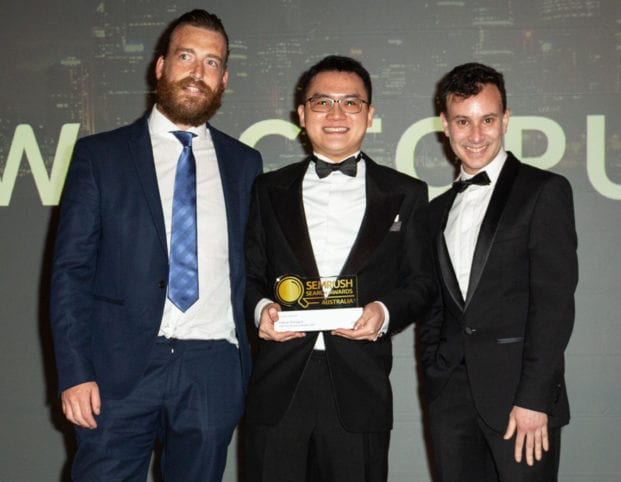 BEST LOCAL SEO CAMPAIGN
$40000 project to Dominate Nationwide Local Search – gotocourt.com.au [WINNER]
Living Online – Best Local Campaign
Local Web Experts & Australian Skin Clinics – Laser Skin Clinics Local Campaign
Localsearch & Oscar Oscar Hair Salons – Local Campaign
Optimising & Cycles Galleria – Focused Local SEO Strategy
Pullman Adelaidea's "Mum and Me" Campaign
StudioHawk & Jackson Motor Company – When Rubber Meets the Road
Web Profits & Platinum Electricians – Keeping Current A Local Electrician Campaign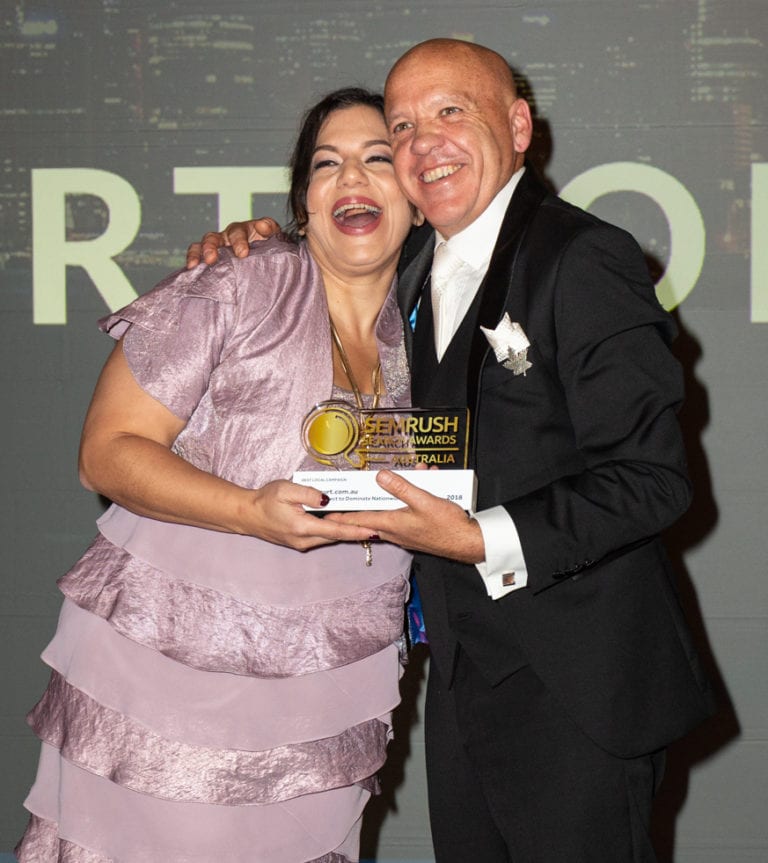 BEST SEO CAMPAIGN
American Express & CX Lavender. Project Gaudi New Zealand.
Baby Village & Yoghurt Digital – SEO Campaign
Contiki x twentysix – Improving indexation architecture and global targeting to facilitate growth
Croud and Michael Page – Delivering a 154% uplift in organic traffic
Go Broad & Go Hard – Ice Jewellery Long-Tailed SEO Campaign
Interiors Online & SOS SEO!
Orange Line & Avvo – Enterprise SEO Transformation
Overdose Digital & Adore Beauty – Breaking the Boundaries of Ecommerce SEO [WINNER]
Yellow Octopus – 'Not Safe For Work'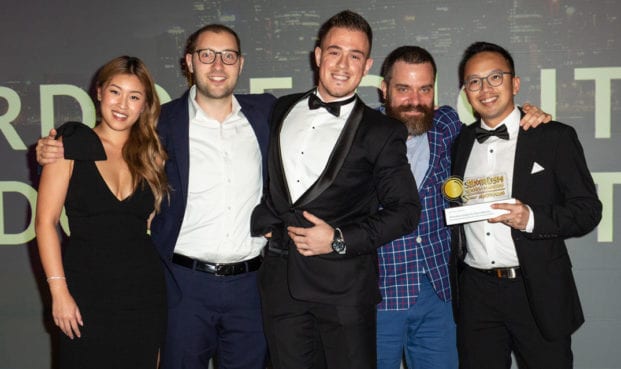 BEST ADVERTISING CAMPAIGN
DigitalMaas – Best Advertising Campaign
In Marketing We Trust & Globus – Search Awards Adwords Campaign
In Marketing We Trust & Point Hacks – Search Awards Facebook Campaign
Rocket Agency & Luna Park Sydney – Winterfest 2018 [WINNER]
Salmat and Alinta Energy – using paid search to defend and grow Alinta Energya's market share in Australia
The Wired Agency & Pizza Hut – Paid Search Mission Digital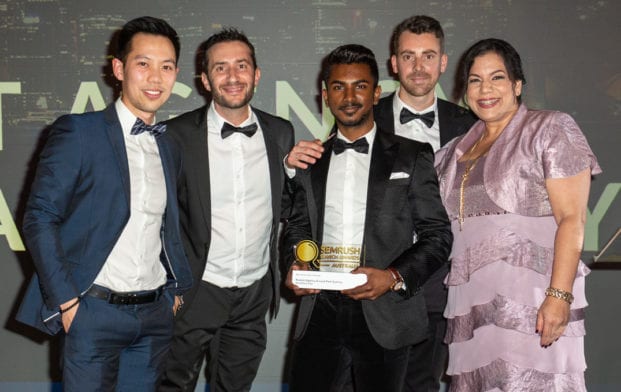 BEST CONTENT MARKETING CAMPAIGN
How Criminal Is Your Name Real data translated into viral sensation.
iProspect Brisbane & National Storage – The Store-y
LegalVision Article Day Marketing Strategy
Overdose Digital & Adore Beauty – Ecommerce Content Marketing Delivers Results
PN Digital – ABBTF 'Education on Becoming a Bricklayer'
Pullman Adelaidea's "Mum and Me" Campaign
Web Profits & Bellamy's Organic – Bellamy's Firsts [WINNER]
Yellow Octopus – 'Not Safe For Work'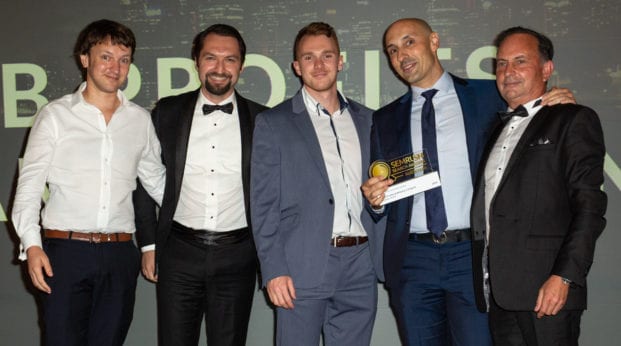 YOUNG SEARCH PROFESSIONAL OF THE YEAR
Brodie Clark, Senior SEO Specialist, Optimising
Juan Blas Gomez, Digital Strategist, iProspect Australia
James Hanley, SEO Account Director, Resolution Media
Dejan Mladenovski, SEO Specialist, Prosperity Media
Sachin Rajah, Rocket Agency
Nik Ranger, SEO Specialist, Webfirm
Harry Sanders, Director, StudioHawk [WINNER]
Andres Vargas, Founder & CEO, Swiftleads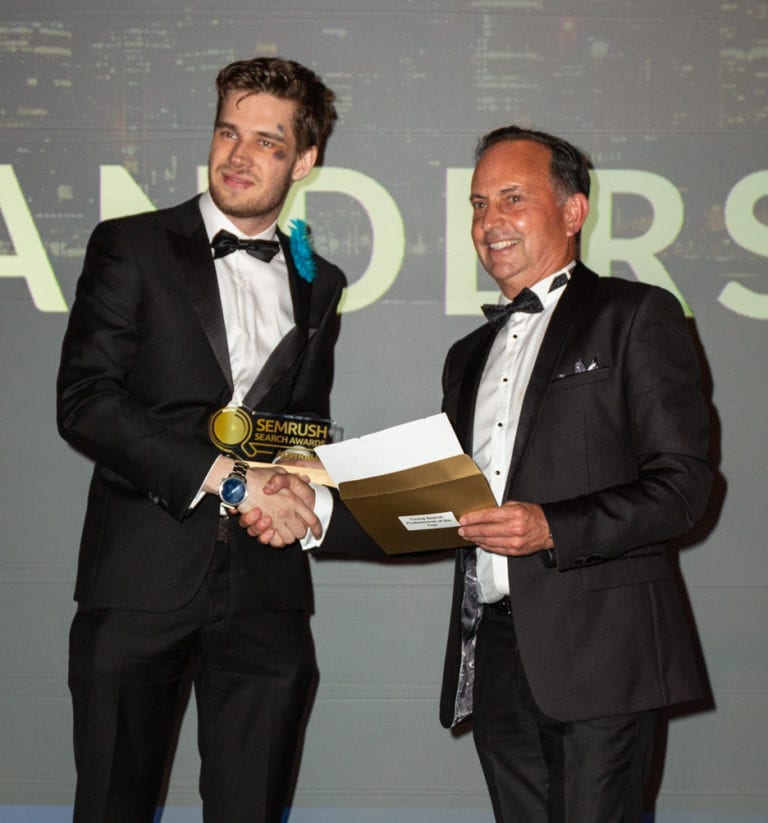 BEST IN-HOUSE TEAM
Businessary Marketing
Ice Jewellery [WINNER]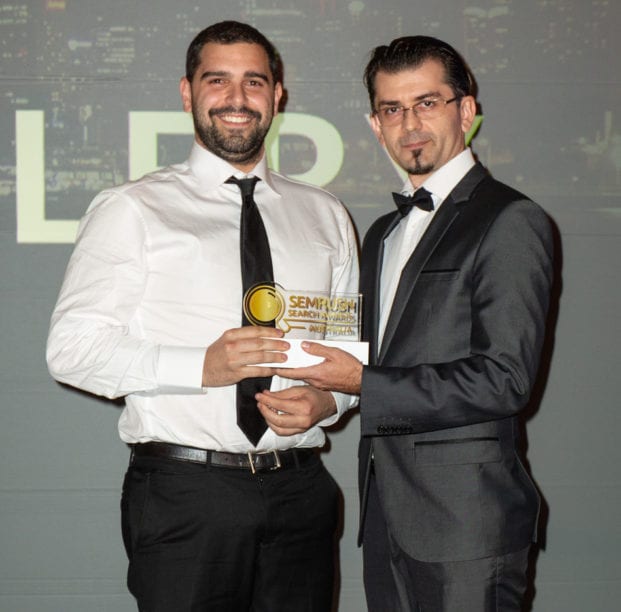 King Kong
Living Online
Online Marketing Gurus
Prosperity Media [WINNER]
Reprise
StudioHawk
White Light Digital Marketing
Whitehat Agency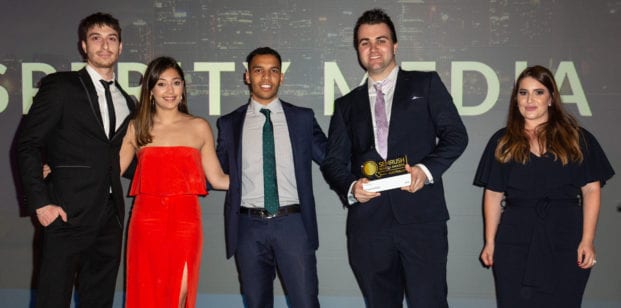 BEST CONTENT MARKETING TEAM
Croud
iProspect Brisbane – National Storage Team
LegalVision [WINNER]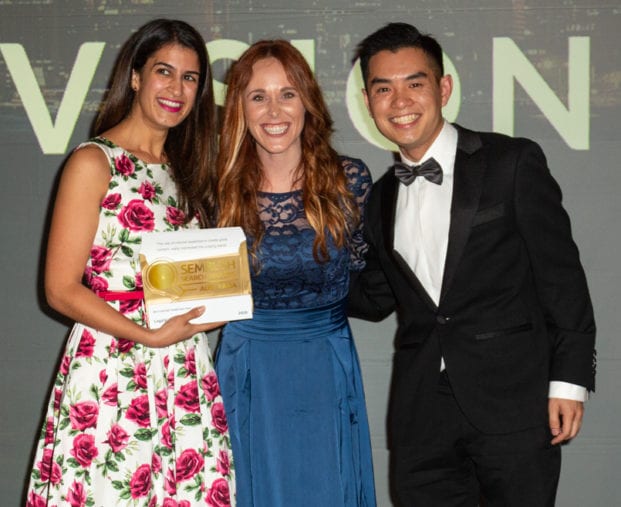 SEMRUSH SEARCH PERSONALITY
Aaron Agius
Allistair Lattimore
Jason Mun [WINNER]
Jim Munro
James Norquay
Kate Toon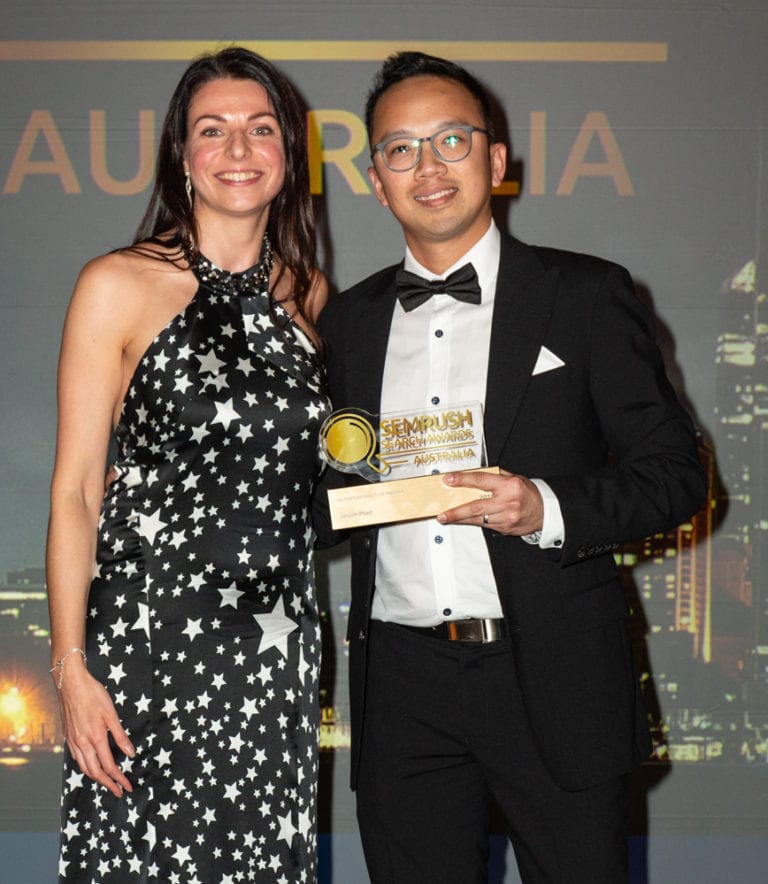 ONLINE PRESENCE BREAKTHROUGH
$40000 project to Dominate Nationwide Online Presence – gotocourt.com.au
Baby Village & Yoghurt Digital – SEO Campaign
Interiors Online & SOS SEO!
Jayride Group Ltd – Geospatial SEO
Prosperity Media & Spacer – The Leading Marketplace for Space SEO Campaign
Pullman Adelaidea's "Mum and Me" Campaign
Orange Line & Avvo – Enterprise SEO Transformation
The Township & Clarins – Online Presence Breakthrough
Yellow Octopus – 'Olli The Octopus Breaks Out' [WINNER]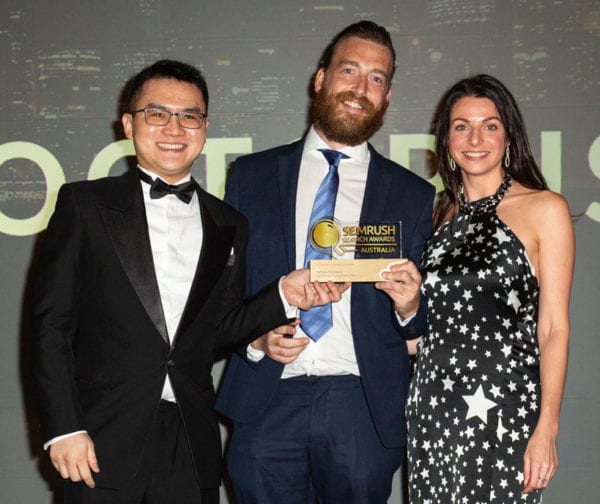 The Judges
"The awards are judged by an esteemed panel of industry leaders and experts, the judging is a rigorous two-stage process including pre-scoring to determine shortlists and a judging meeting where entries are discussed and evaluated in detail to decide the winning entries." Semrush
The panel of judges consists of industry leaders and experts from Australia, as well as those who have an international presence in the search industry.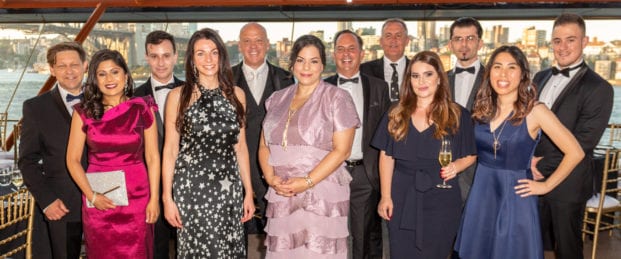 JUDITH LEWIS (CHAIR)
FOUNDER & CEO, DECABBIT |
Judith Lewis is the founder of the deCabbit Consultancy specialising in integrated digital marketing consultancy and execution. She is a specialist integrated online marketer with skills in SEO, PPC, and Social Media Marketing as well as other digital marketing techniques. She has been doing SEO since before it had a name and has worked both in-house and agency-side.
She has judged both UK & European Search Awards, is a founding everywoman Modern Muse and is the coordinator for London Girl Geek Dinners. Having both an in-house and agency background, her clients have included Google, Virgin, NSPCC, Zopa, Slendertone, the Guggenheim, SAP, Amadeus, Blue Cross, & ShareThis. She works from planning through to execution, integrating her digital expertise through research & analysis, design & build through to deployment.
DAWN ANDERSON
MOVEIT MARKETING / SENIOR LECTURER, MANCHESTER METROPOLITAN UNIVERSITY | @MANMETUNI
Dawn is researcher into search engine crawling and crawl efficiency. In her background were Carat and Latitude, where she was working on search marketing campaigns for major brands.
She speaks on the International Search Marketing Conference on SEO and Digital Marketing Strategy. Being international SEO Consultant to brands in-house teams covering ecommerce, sports, travel, food and nutrition, legal, finance and insurance, Dawn is in SEO for decade.
JIM BANKS
CEO, SPADES MEDIA | @JIMBANKS
Jim has over 17 years of digital advertising experience, establishing one of the first digital marketing agencies focused on paid advertising in 2000. Spades Media, the company that Jim set up in 2012 manage large scale pay per click campaigns for advertisers and paid social media campaigns as well.
On top of running Spades Media, Jim regularly keynotes top marketing conferences worldwide, and is an official judge of US, UK and European Search Awards.
LYNDON BARNETT
SEO & DIGITAL CONTENT MANAGER, VODAFONE AUSTRALIA | @VODAFONEAU
Lyndon currently manages digital content and search engine optimisation for Vodafone Australia. He devises content and search strategies that drive online, in-store and over the phone conversions. He's previously worked for Flight Centre, Groupon and the ABC. So far he's explored 76 countries around the world and he's currently deciding which country will be his 77th.
DOYLE BUEHLER
BEST SELLING AUTHOR, GLOBAL ENTREPRENEUR & INTERNATIONAL SPEAKER |
MBA, is a best-selling author, global entrepreneur & international speaker, specialising in strategic digital branding and marketing. He has mentored, coached, trained & inspired many in the areas of startups, digital leadership, digital innovation, disruption, transformation, social media marketing, online marketing, and entrepreneurship, highlighting the strategies business need to be competitive and survive in today's hyper-competitive digital worlds He has built multiple award-winning innovative online, ecommerce startups and digital media businesses around the world. He runs a worldwide strategic digital marketing consultancy, Dept.Digital for companies who want to transform how they do business in the digital age. Doyle's second book #Breakthrough – Unleash Your Remarkable Brand Value, Influence & Authority, positions business innovators to think in a clearer, logical, more strategic manner.
JEFF BULLAS
CEO, JEFFBULLAS.COM PTY LTD | @JEFFBULLAS
An entrepreneur, blogger, author and a speaker, Jeff Bullas works with businesses to optimise their online presence with emerging technologies, content, social media and digital marketing activities. Jeff's blog (www.jeffbullas.com) receives over 5 million visitors a year. He spent most of his business career in business of information technology and telecommunications.
Jeff is reaching heights with being listed as the 1st Content Marketing Influencer by Onalytica and ranking 1st as a Global Digital Marketing Influencer. "Run when you can, walk if you have to, crawl if you must, just never give up". His mission is to inspire and educate people to develop, grow and increase their sales on the social web.
JEREMY CABRAL
COO, FINDER | @FINDER
Jeremy is part of the founding team and the COO of Finder. Having successfully grown finder.com.au into Australia's largest comparison website, Finder is now expanding globally with the goal of becoming the world's largest comparison platform. Together with his incredible team of talented digital marketing professionals Jeremy have helped improve financial literacy in Australia and assisted millions of people in Australia to make better informed decisions.
NATHAN CHAN
CEO, FOUNDR MAGAZINE | @FOUNDR
Nathan Chan, CEO of Foundr Magazine, entrepreneur & dreamer. With a passion for entrepreneurship and people Nathan created Foundr, a digital and print magazine available on the Apple Newsstand and Android "Google Play Store" in 2013.
Since then Nathan has been fortunate to interview and connect with some of the most interesting, innovative entrepreneurs and business leaders in the world today including: Sir Richard Branson, Arianna Huffington, Mark Cuban, Seth Godin, Tim Ferriss, and many more to share their insights and stories with millions of monthly readers of Foundr Magazine.
KEVIN INDIG
TECHNICAL SEO, ATLASSIAN |
Kevin Indig has helped companies acquire +100M users over the last 10 years. He currently runs technical SEO @ Atlassian and mentors startups in and outside the German Accelerator in scaling growth. Companies Kevin worked with include brands like eBay, Bosch, Samsung, Dailymotion, Pinterest, Columbia, UBS and many others.
SHEFALI JOSHI
SEO SPECIALIST, MONASH UNIVERSITY |
Shefali leads the search engine optimisation for Monash University (largest University in Australia – 70,000+ student enrolments across 6 locations in Australia, Malaysia, Italy, India and China). She provides strategic advice and insights to business areas across faculties and international markets in reviewing their web and content strategy, with a strong track record of delivering improved online presence. She has 16 years of work experience specialising in the area of digital marketing, web development and optimisation. She has previously worked for companies like ANZ, Intelledox and BeyondBlue. Her interests range from web optimisation, data analysis and understanding the complexities of the mind.
PHIL LEAHY
FOUNDER & MANAGING DIRECTOR, RETAIL GLOBAL | @RETAILGLOBALAU
Phil has a deep passion for creating connections. That's why he ended up founding two major annual conferences for digital retailers on opposite sides of the world—Australia's Retail Global and the United States' Retail Global conference. Hosting conferences allows him to bring creative minds from around the world together to share their stories.
As the Founder and Managing Director of Retail Global, he hears 100+ speakers each year and loves finding people who can convey critical information to our industry in powerful ways that inspire audiences. Phil also spends significant time working with leaders in the retail world—helping them identify the big and small trends that will make the biggest impact.
IRENE LEE
SEM & PAID SOCIAL LEAD, CANVA | @CANVA
Irene Lee is an award-winning digital marketer with over 13 years of industry experience. As the SEM lead at Canva – Australia's fastest growing start-up – she works directly with the company's leadership and growth teams to increase revenue and maximise performance across key metrics. She has overhauled the company's SEM, optimising ads for an international audience and creating a new foundation for success. Irene's diverse career has established her as a sought-after expert on growth marketing. She's helped improve conversion rates for prominent organisations like Fitness First, the University of Sydney and the University of New South Wales. Irene has been featured in the Sydney Morning Herald, The Age and Smart Company. She is an in-demand speaker on the topics of gamification and leadership.
PETER MEAD
HEAD OF SEO, BITCOIN AUSTRALIA | @PETERMEADIT
Peter Mead is Head of SEO for Bitcoin Australia and a WordPress SEO Consultant at petermeadit.com with a focus on Technical SEO and Content Marketing. He is a speaker and presenter for several groups and events. Peter is active in the SEO community including being a co-organiser of the Melbourne SEO Meetup. Peter is appreciated for his analytical and strategic experience combined with his strong work ethic and friendly demeanour. Peter is endeavouring toward a genuine, authentic, quality contribution to the broader SEO industry.
DAN PETROVIC
MANAGING DIRECTOR, DEJAN | @DEJANSEO
Dan Petrovic, the Managing Director of DEJAN, is Australia's best-known name in the field of search engine optimisation. Dan is a web author, innovator and a highly regarded search industry event speaker.
LEONARDO SARONI
SEO & GROWTH MARKETING, BOOKING.COM | @BOOKINGCOM
Leonardo Saroni is an experienced digital marketer with 10 years' background of heading up multiple digital marketing and product development teams for Booking.com. He has also been leading the global SEO team, which contributed to the success of the third biggest e-commerce worldwide.
DENISE SHRIVELL
MEDIASCOPE | @DENISESHRIVELL
Grant Simmons leads the Consumer Marketing team at Homes.com, helping drive brand awareness and traffic to one of the nation's top real estate sites.Grant has over 24 years of agency & brand experience serving industry-leading organizations such as; Paramount Studios, Red Bull, M&M/Mars, Disney, Napster, Warner Bros., UPS.
ALEYDA SOLIS
INTERNATIONAL SEO CONSULTANT & FOUNDER OF ORAINTI | @ORAINTI
Denise has been an active member of the Australian advertising, media and publishing community for decades. She is contributing to the community by creating and curating a range of resources, services and speaking about industry issues. In 2010, she launched MediaScope – a solo-run business, which helps the Australian media and advertising sector stay informed, up to date and connected with this fast evolving landscape. Denise is an official judge for the Mumbrella & ADMA Awards.
GRANT SIMMON
SVP OF SEARCH MARKETING, HOMES.COM | @SIMMONET
Aleyda Solis is an International SEO Consultant, service that she provides with her boutique consultancy, Orainti; a blogger (Search Engine Land, State of Digital and Moz), speaker (with more than 100 conferences in 20 countries in English and Spanish) & author (of "SEO, Las Claves Esenciales").
Awarded as the European Search Personality of the Year in 2018, included in Forbes top 10 online marketing experts to follow in 2015, in Entrepreneur as one of the 50 online marketing influencers to follow in 2016 and in Hubspot as one of the 59 Female Marketing and Growth Experts You Should be Following, Aleyda has also been interviewed in publications such as The Huffington Post.
JIM STEWART
CEO & FOUNDER, STEWART MEDIA | @STEWARTMEDIA
As the CEO and founder of StewArt Media, Jim has built the company into one of Australia's leading digital marketing firms. His two decades of industry experience has seen StewArt Media awarded with a coveted Google Premium Partner certificate for outstanding success in the industry. Jim has vast experience in all aspects of digital marketing, from SEO and Paid Advertising, to CRO and site migrations. He has helped thousands of businesses both locally and internationally achieve sustained business growth through the implementation of trusted SEO strategies. His blogs are ranked in 'Australia's Best Business Blogs' by SmartCompany, and he is the SEO subject matter expert for ProBlogger.
MICHELLE WILDING
HEAD OF SEO & CONTENT, THE TELEGRAPH | @OHMISHY
Michelle is an Australian award-winning journalist turned digital marketer who specialises in content strategy, natural search and media creation.
She graduated with a BA in Communication Studies (Journalism) and is armed with more than a decade of experience across marketing and publishing for both big and small brands and publications. Having moved to London from Sydney in 2016 for a new challenge, her current appointment is Head of SEO & Content at The Telegraph Media Group.
LUKASZ ZELEZNY
HEAD OF ORGANIC ACQUISITION, USWITCH.COM | @LUKASZZELEZNY
Lukasz Zelezny is the Head of Organic Acquisition at Uswitch.com, a UK based price comparison website with offices in London. Leading his team, he is responsible for the uSwitch.com brand's organic visibility, conversion rate, traffic and engagement. Lukasz is a hands-on person; he spends lots of his time keeping up to date with the changes in the technology of online marketing.
In 2015 he traveled 75,000 km speaking at many SEO and social media conferences including ClickZ Shanghai China, ClickZ Jakarta Indonesia, SiMGA Malta, SES London in United Kingdom as well as conferences held in Europe; Marketing Festival in Brno, Brighton SEO in Brighton, UnGagged in London. Every year he is actively participating in 10 to 20 events as a SEO/Social Media keynote speaker. Additionally, he organizes workshops where he is sharing tips around SEO, Social Media and Analytics.
Photography by Don't Panic Events
Photography by Nik Ranger
Video by Nik Ranger