Over the past 2 decades or so – since major search engines like Yahoo and Google started directing insane amounts of traffic around the Internet – Search Engine Optimization (SEO) tactics have been constantly adapting to keep up with searchers behavior, as business owners aim to direct as much traffic as possible to their websites.
From the shift toward quality topic focused content from keyword dominance, to the recent focus on mobile ranking factors – understanding the changing landscape of how people are using the Internet is vital to remaining relevant in search, and thus capturing website traffic.
So, what's next?!
Though we unfortunately don't have a magical SEO crystal ball to peer in to… we do have powerful data showing the rapidly increasing trends of voice search, which must undeniably change the way we optimize for search.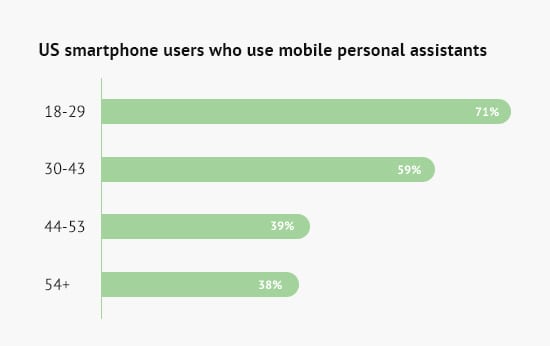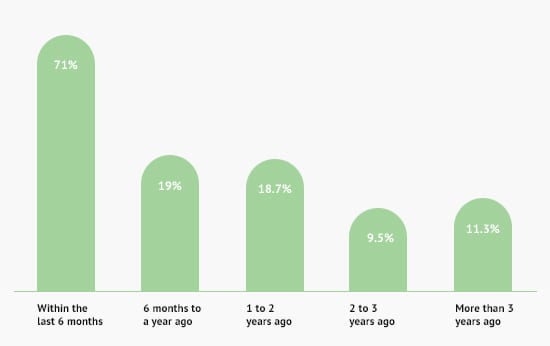 But first, what is voice search…?
Voice search is the process of interpreting orally voiced requests and delivering relevant responses via your computer, tablet or smartphone. Services such as Google's Voice Search use a combination of Natural Language Processing (NPL) and Text-Speech (TTS) technology to analyze a users voice request, and come up with a direct response to the query to return to the user, as opposed to a list of search results you would get from a traditional Google text search.
The most popular voice searching tools, such as Google Voice Search, Apple's Siri, Windows Cortana and Amazon's Alexa, are becoming more and more advanced in understanding the human voice, with Google's speech recognition error rate dropping from around 25% two years ago, to 8% currently. As a result of being understood, people are naturally resorting to more casual realistic speech in the queries, for example: "What is the weather like in Melbourne?" vs. "weather Melbourne."
The Changing Landscape of Search
On the back of Google confirming mobile search has overtaken desktop search in over 10 countries (including USA and Japan), and with more than half the worlds adult population now owning a smartphone, we are becoming more and more comfortable and feeling less silly about speaking in to our phones and expecting a response.
As of 2014, Google let us know that 55% of teens and 41% of adults were using voice search on a daily basis… and with virtual assistants like Siri and Alexa, plus improving voice recognition technology from Shazam and SoundHound, these percentages are only going to increase as we become more familiar with the advancing technology.
This familiarity has changed the way we approach search, so that we are much more inclined to use natural conversation language when voice searching. For example, where a text search might only target the keywords "Coffee Shop Melbourne," a voice search would more likely be something along the lines of "Where's the closest coffee shop?"
This more conversation tone created by voice search does not as heavily focus on keywords, but focuses more on providing the real information –Who, What, When, Where, Why and How. As such, you need to adjust your SEO focus to ensure you capitalize on the query language that is changing the way we search.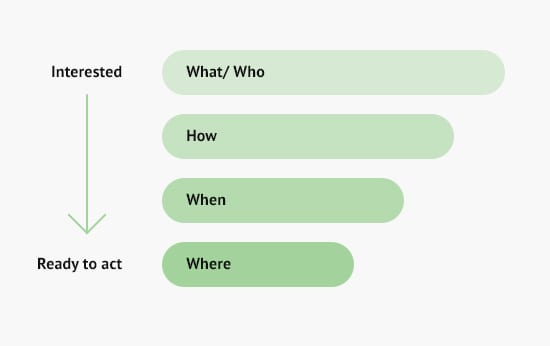 4 Tips to Capitalize on Voice Search Growth Through Your Website
1. Humanize Your Content
Adjust your content to suit the language of the searcher by adopting a more conversational tone and natural phrases, eliminating heavily keyword-stuffed language that is jarring to read.
Where text queries for a restaurant may be something like – "restaurant Melbourne eastern suburbs," and repeating those keywords could be of benefit… Voice search may be closer to – "places to eat nearby." Your content should be tweaked to ensure it catches both avenues of traffic.
2. Question Words & FAQs
Humanizing your content will naturally lead to including more question words, as this is the way we speak. For example, if you were searching for the PM of Australia, you might type "Australian Prime Minister," but you would probably say "Who is the Prime Minister of Australia?" Including sentences in your content that address the 'Who, Why, When, What, Where and How' questions related to your business will help provide direct responses to voice search.
Example: A travel agent that includes a subtitle stating, "How much does it cost to fly to Sydney" is more likely to provide the direct answer in a search query then a site that only has "Sydney Flight Prices."
The best way to hone in on these question-formatted search queries is by ensuring you have a 'Frequently Asked Questions' page on your website!
3. Location Location Location
Voice search is generally something that is done out of convenience… it's easier to speak than type when you're on the go… and as such, mobile voice search is proven to be three times more likely to be local-based than text search.
What does this mean for a business website? It means that if your business has a physical presence, a shop front, you need to sharpen your location settings and make sure your website mentions all relevant location terms.
For example: Think about how people describe the area… Yes, you might be a Hardware Store in Melbourne, but remembering the conversational tone of voice searches – you could benefit from including phrases like, "Hardware Store near the MCG," or "Hardware north of the river," or other significant area defining landmarks.
Also, with Google revealing that 40% of adults use voice search for directions, it's never been more important to make sure location specific data is accurate and easily accessible on your website, in order to ensure you're found through voice-activated search. This includes making sure big online business directories and local listings have your correct location details. These sites can hold a lot of power if delivering a direct result for a voice search.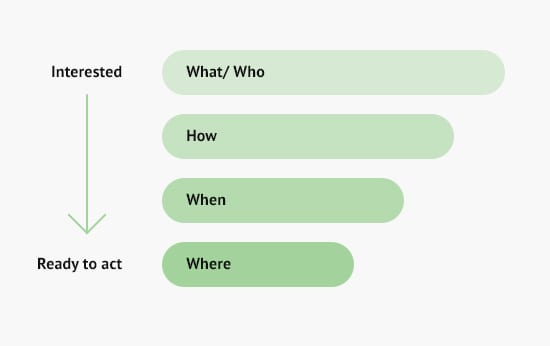 Identifying which voice search phrases are more likely to correlate directly to people looking for your business website means you can optimize your content to meet those requirements. You could for example tailor landing pages targeted directly at the highest value question phrases.
In conclusion…
Keeping on top of the ever-changing way humans are interacting with the Internet is critical to staying on top of your digital marketing tactics, and SEO strategies are constantly evolving to ensure your website remains relevant to the ever-popular search engines.
Data predictions on voice search shows how quickly this feature is becoming a popular function, and optimizing your content to capitalize on voice search growth through your website can and should be done by:
Humanizing your content with a more conversational tone
Including increasingly popular question phrases and FAQs
Ensuring your location information is completely accurate, accessible and up-to-date across the board
Thinking about users intent and identifying, then maximizing efforts on most valuable phrases
Of course, for many business owners, keeping up to date with digital marketing and SEO trends can seem like adopting another full-time job on the side. For more information or assistance in making sure you're capitalizing on a strategy that is evolving with searchers behavior, contact one of our digital marketing experts at Webfirm today.