Results
Cave Hill Creek have seen remarkable growth across a number of key performance indicators since engaging the Webfirm team to implement their digital marketing strategy.

Most of the increase was attributed to the success of the ads campaigns being run through Facebook, as well as refinement of content strategy boosting overall organic results though blogs on and off site. Blog posts in the creative strategy were then posted through the Facebook page allowing for even greater amount of visitors per blog.
Additional tertiary benefit through NAP referral and reset up of the 'Cave Hill Creek' Facebook page with appropriate CTAs and guidance on how to post.

Most of the traffic increase is through on page and technical SEO changes to the website. This was later further improved through the new site launch, once launched was easily being crawled by Google, blogs were easily picked up and served higher in the SERP.
Keyword analysis of competitors ensured that Cave Hill was aiming for high volume low competition keywords which resulted in a steady increase of traffic month to month.
This included terms focused on 'Summer Camps' and 'Country Wedding Venues'
Keyword rankings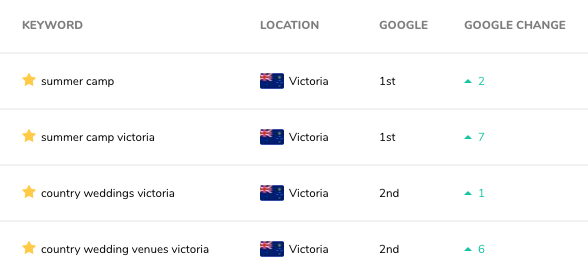 #1 ranking in Victoria for 'summer camp' and 'summer camp victoria'
#2 ranking in Victoria for 'country weddings victoria' and 'country wedding venues victoria'
+200 changes across all ranking keywords (calculated as 'Increases to relevant keywords' – 'drops in position.')

Reworking the tracking on the site allowed for more robust recording of primary goals within the site. This addition data formed the basis for expansion into new types of markets and audiences through our channels. Leading to greater ROAS.
Later in the year, as tracking became sophisticated, we added some additional goals. These additions have contributed largely to the large uplift in conversions since Nov
Social Metrics