Google remains the force in search engine market share, and local search is critical to businesses. Often, local search results display before organic pages, so it's not unreasonable to say it's the 'new frontier' of ranking competition.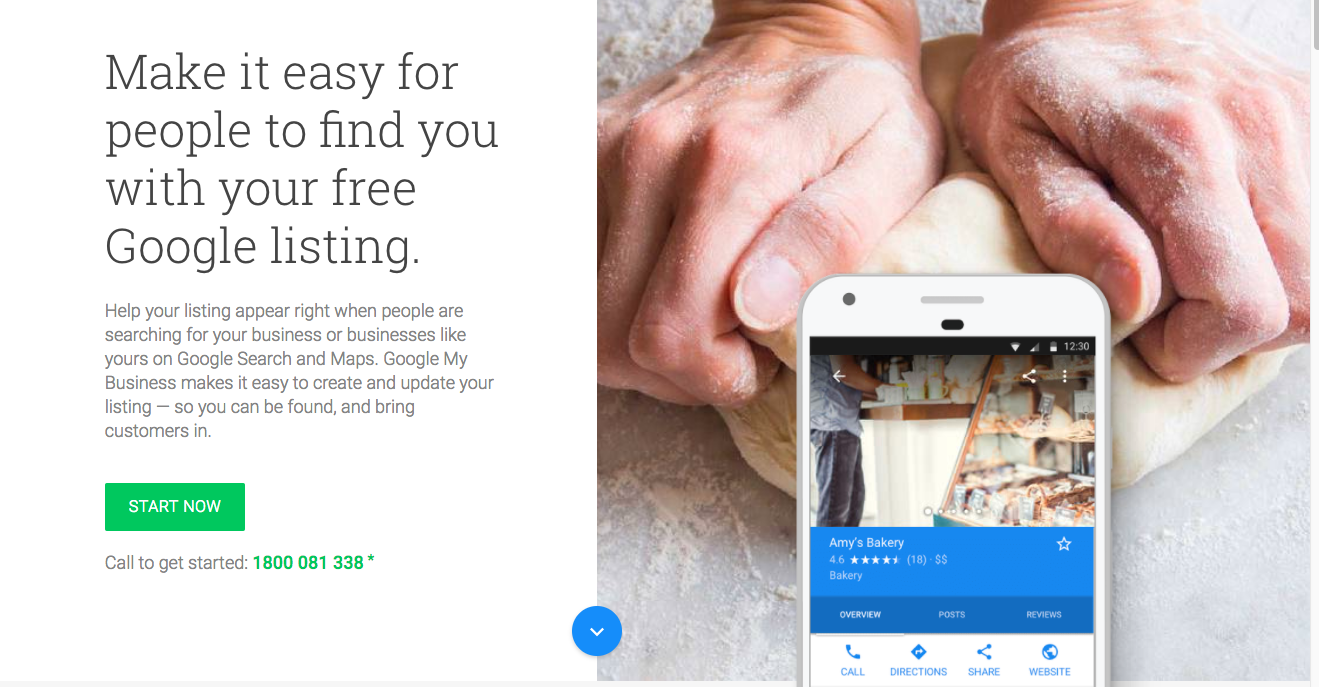 Optimising your Google My Business profile isn't all that different from optimising your website. You always want an attractive presence, accurate information, and an engaged audience. However, many business owners overlook the importance of these strategies.
Optimising Your Listing for Local Search
Claim or Create Your Listing
To start, you need to have control of your Google My Business listing. Google sometimes creates a listing of local businesses automatically. Unfortunately, this automated system often has limited info at best, and incorrect information at worst.
To see if a listing has been created for you, search for your business using Google Maps. If you find your business, open that listing and click "Own this business?" Google will then guide you through the process of claiming that listing.
If no listing is found, you can create one by following the step-by-step instructions that are available on the Google My Business home page.
Accuracy Matters
Once you have full control of your Google My Business listing, it is important to make sure everything is up-to-date and accurate. If the information on your website is different from your Google My Business listing, it can confuse Google's algorithm and may negatively impact your online visibility.
These items include your phone number, website URL, opening and closing times, etc.
Google has custom fields for certain businesses. Restaurants can put in a direct link to their menu. Doctors can list if they are accepting new patients or not. Making sure your profile is 100 per cent complete and accurate for your type of business will increase your likelihood of ranking higher.
Special note on Holidays: Always update or confirm your business hours on holidays. If you don't, Google will put a warning next to your listing that day that your opening hours may be affected. It's best to keep Google and your customers from wondering if you're open or not.
Use Keywords in Business Name
Keyword stuffing could get your listing flagged or blacklisted by Google, but using appropriate keywords in your business name can be beneficial. For instance, if Webfirm had five regional offices around Australia, their listing name for Melbourne might be "Webfirm – Melbourne Office". By using additional keywords, visibility will be improved for other search terms like "Digital Marketing in Melbourne".
Use Professional Images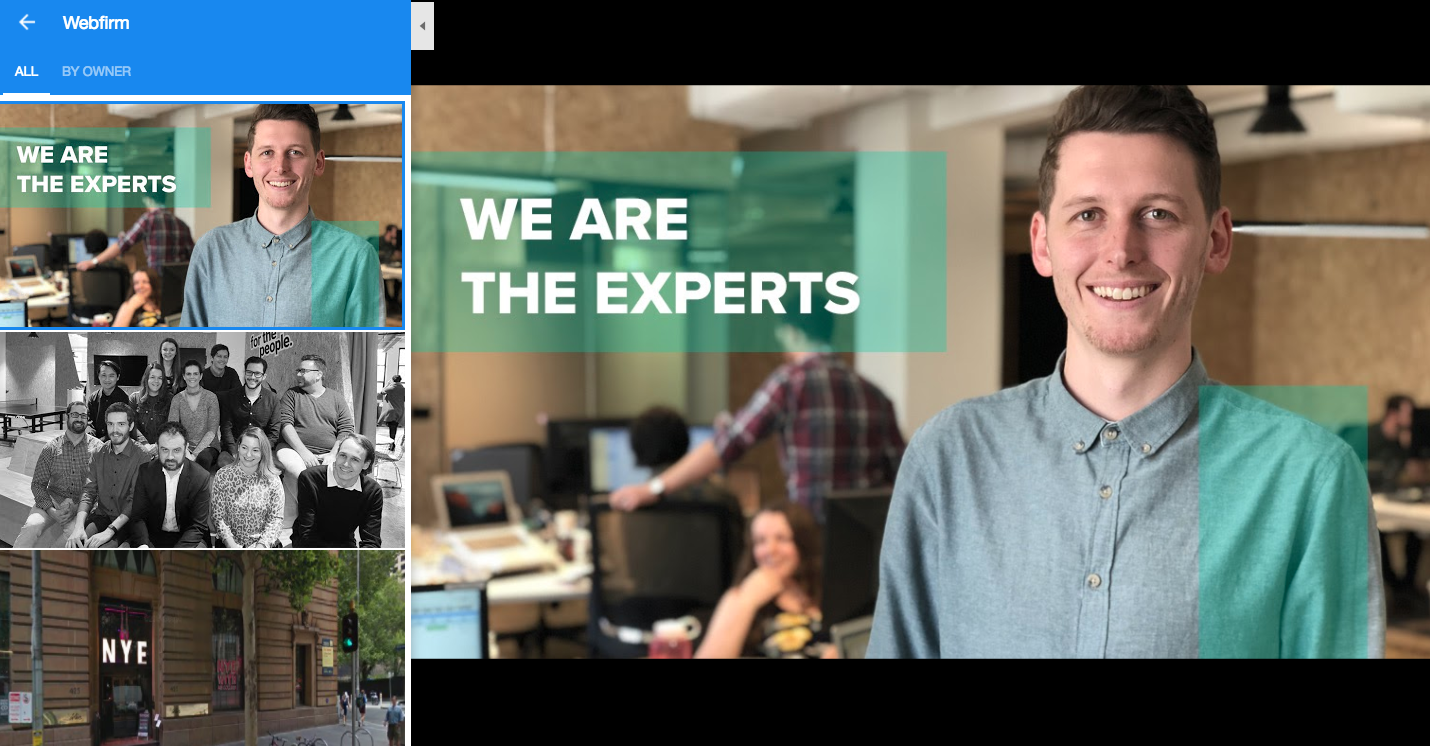 Google recommends uploading various types of imagery for your business – interior, exterior, the team, branding, etc. Using professional images will increase user engagement and ranking potential, especially when used for your cover and profile picture. These show up first on Google My Business listings. A recent development is the addition of video upload for a business page, and given Google's ownership of YouTube and propensity to give favour to websites using video, it's safe to say including a business video is best practice.
Be Proactive in Reputation Management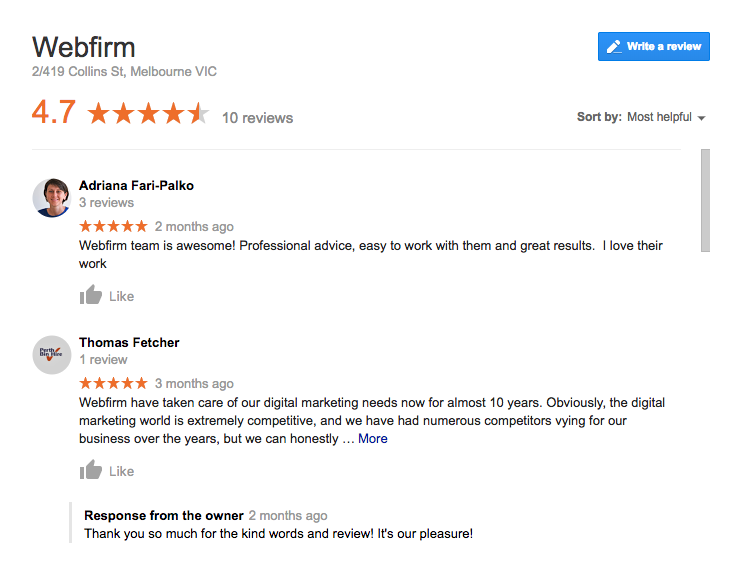 Part of ensuring your business looks appealing is making sure you have reviews for your business. It's human nature to seek out the opinions of others before making a decision, and Google makes those opinions obvious. If you aren't taking an active role in harvesting positive reviews for your business, your competitors may begin to dominate local search.
Resolve Updates
Occasionally, Google will ask for clarification on your listing based on other information it's collected. It may be from other users or web content that is contradictory to information in your listing. It's best to resolve these updates as quickly as possible, so Google knows it has proper information.
Making sure your Google My Business profile is optimised will allow more people to find you and your business. For a single business location, the initial process shouldn't take very long, and updating it is easy and hassle-free. From a return on investment standpoint, there is little else that can increase your business as much as optimising this listing.