A new trend in Business-to-Business (B2B) marketing mentality is changing the approach to social media campaigning – with tremendous results!
Traditionally, the benefits of social media for businesses were thought to be limited to Business-to-Customer companies. Surely businesses selling to other businesses and SaaS providers didn't have the same ability to engage and benefit from the social-media-masses… right? Wrong!
Some big name B2B companies (listed below) are leading the charge in an innovative approach to social media that focuses on connecting, engaging and communicating with a broad audience, not directly selling products or services.
These companies are proof that social media can be just as effective (if not more so!) for B2B marketers as B2C marketers, and is not limited to traditional 'businessy' forums like LinkedIn and Google+, but inclusive of Facebook, Instagram, Twitter, Pinterst and any other content sharing platform – because they all help to:
1. Heighten Brand Awareness
There's more to promoting your brand via social media than just making post about your business, and while its easy to fall in to the trap of one-way stream of content, the most successful companies use social media to engage and involve their followers. Asking questions, replying to comments and creating posts that encourage followers to think and react, cultivates an enthusiastic sense of community around your business. This promotes loyalty, trust, familiarisation and word-of-mouth advertising – greatly increasing your brand awarene
2. Humanize B2B Companies
Even though B2B companies are targeting businesses rather than individuals, there's still a lot to gain from getting to know you're the people behind the business. Interacting and communicating with social media connections can help you generate a better idea of who your customers are. Social media is a platform where a business can establish a unique understanding of their customers likes, dislikes, lifestyles and interests – allowing you to develop new products or services based specifically on needs/demand, and tailor messages that are guaranteed to resonate with a well-understood customer group.
3. Establish Yourself as a Leader
Social media presents a wonderful opportunity for businesses position themselves as industry experts. Using social media to share useful information and content-rich material increases your web presence, and will help your audience to grow. Content doesn't have to be selling or promoting your product/service. Content that is interesting and helpful to people in your industry serves to establish your company as an expert, and a go-to force for information. You may even attract journalists or bloggers to your expert opinion, which could present massive exposure.
4. Connect with Prospects, Clients and Industry Influencers
Obviously B2B companies have a smaller base of potential social media followers than their B2C counterparts, but that's not necessarily a bad thing. B2B companies have a more concentrated follower base, and a more likely to either know their followers personally, already be a business partner, or have an industry connection. Engaging with these partners and building a rapport through social media – likes, comments, shares – forges a deeper understanding/relationship, and helps alleviate perceived risk when entering in to business deals.
5. Search Engine Optimization
Everything in the digital world is interconnected – and search engines like Google analyze your company's presence on the 'world-wide-web' to rank the quality of your site for search results. Social media presents an opportunity to engage a massive audience, drawing people to your website, as well as promoting all sorts of shares, comments, links and likes. High website traffic, as well as other sites linking to your site, tells Google that your website is important, and present major ranking implications to help you get found by searchers.

3 B2B companies leading the way in successful social media marketing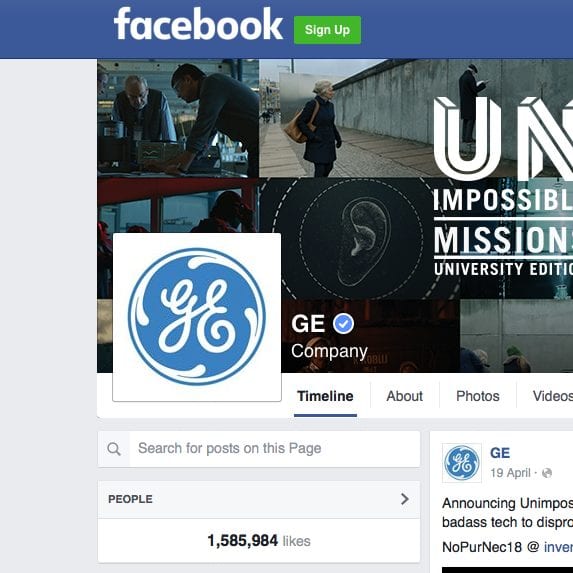 1. General Electric (GE)
GE has earned the title of 'most exciting boring brand' due to their playful, educational and informative social media presence. GE social media mission statement is focused on community engagement and brand awareness:
Facebook Tagline: We love science, technology innovation and hearing from you! So, say hello!
"This page is meant to provide a positive, engaging community where forward-thinking individuals can join the conversation around innovation in energy, health, transportation and infrastructure, as well as GE and its products."
They use questions, images and video campaigns to create interesting posts that relate to a wide range of topics and audience. For example: one hugely successful campaign was a video collection of 'firsts' – Zeng's First Flight; Kumiko's First Ultrasound; Moon Power in Scotland – which combine the power of their products with the impact they have on those that use them…
"GE works on things that matter. The best people and the best technologies taking on the toughest challenges. Finding solutions in energy, health and home, transportation and finance. Building, powering, moving and curing the world. Not just imagining. Doing. GE works."
–
GE does work, as social media marketers, because they turn what could be potentially dull content about their products and services into engaging videos that people can relate to.
Ultimately, they've turned a multinational conglomerate corporation that caters to the needs of Energy Management, Home Appliance, Financial Services, Medical Devices, Life Sciences, Pharmaceutical, Automotive, Software Development and Engineering industries, into a trusted household name associated with forward thinking innovation and 'curing the world.' This greatly increases their brand awareness, establishes them as an industry leader, and plants the seed of positive familiarisation in the mind of potential clients they haven't even met yet.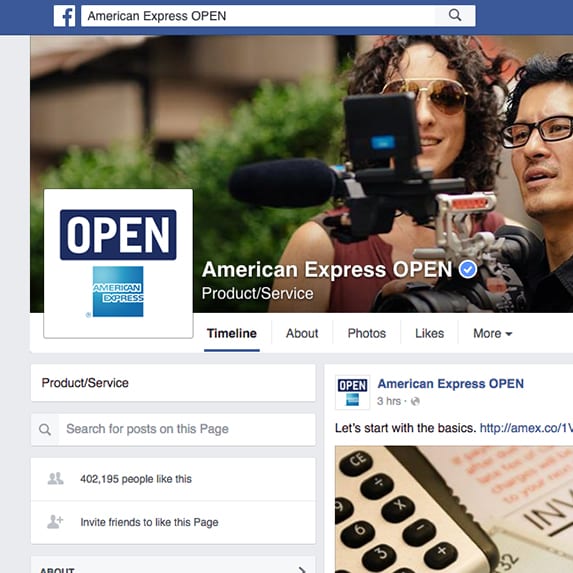 2. American Express OPEN
Tagline: Helping businesses do more business.
American Express OPEN is a specific sector that provides different types of company credit cards to businesses of all shapes and sizes. But rather than try to sell credit cards to companies, they use social media platforms to share and discuss insights, and engage with business owners on how to be successful…
"American Express OPEN is where you can discover insights, make connections and get exposure to help you grow your business. Tap into the collective ingenuity of other business owners as they discuss and share ways of doing business."
AMEX uses social media to promote their 'OPEN Forum', which is basically a forum focusing on ideas, insights and tips – dedicated to helping businesses stay in business by connecting owners with prospects, skills and knowledge they need to succeed. In a similar way to GE, AMEX OPEN looks beyond their product to focus on the people behind them, incorporating quizzes and contests to foster a sense of community and support.
For example: their US contest "Big Break for Small Business", to better connect and engage with their online audiences.
The winning businesses received extensive marketing and strategy sessions from Facebook and AMEX industry leaders, along with the money to make what they had learned a reality. One winning business cited a 30% boost to their sales as a result of the contest.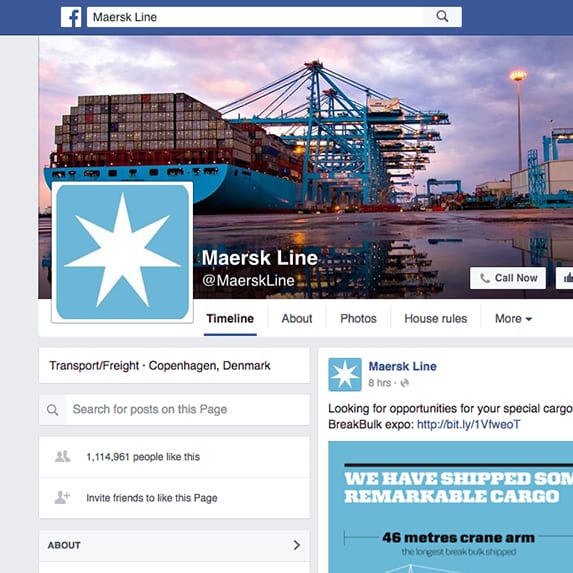 3. Maersk Line
Maersk Line is a container-shipping giant… not a service you'd generally associate with being highly engaging on social media… yet In 2012, Maersk competed alongside 500 other companies, including popular B2C brands, to win the Social Media Campaign of the Year and Community Presence Award at the European Digital Communication Awards. Their social accounts include: Facebook, Twitter, Vine, Google+, Instagram, Pinterest, LinkedIn, Flickr, Tumblr and a blog.
Maersk Line state their social media goal as "to get closer to [their] customers," but through their campaigns they've also been able to:
Gain major press coverage
Creating higher employee engagement
Developing brand awareness
Invite insight and intelligence from industry experts around the world through their campaigns
Rather than using social media to garner sales or drive new leads, they use almost every single social media platform in its own special way to engage their employees, customers and general public. By incorporating entertaining, engaging content such as questions, photographs, game, links and more they are fostering conversation rather than advocating their product and service.
For example, on Instagram, Maersk created a "spotting trend," where followers who spotted a Maersk star ship or logo could take pictures and shared them on Instagram with the hashtag #Maersk – their Instagram currently has over 50,000 followers.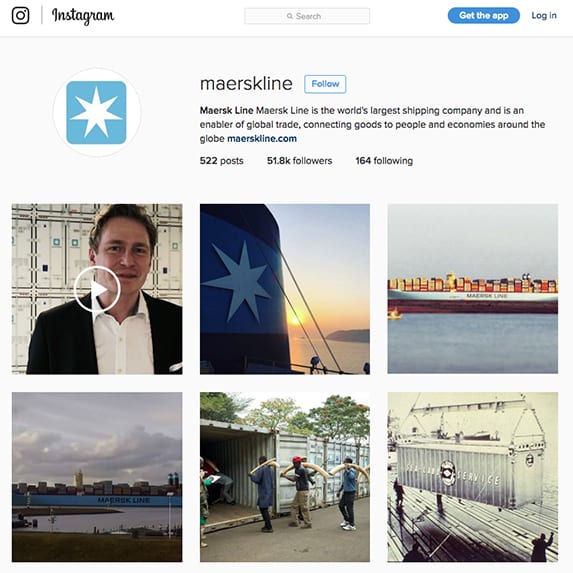 Similarly, they answer questions with creative, informative responses – like when somebody questioned how ships handle storms via Twitter, and they responded via Vimeo…
Hurricane Sandy: How do we ride out the storm? from Maersk Line on Vimeo.
–
Maersk have even created campaigns revolving around 'bad' press, when one of their ships accidently killed a whale… they addressed the incident, posted an announcement on Facebook, and created a Pinterest board in memorandum of the whale.
Maersk, as well as GE and AMEX OPEN, are prime examples of how changing the approach to social media can benefit B2B companies. Though admittedly large-scale examples, they've paved the way for B2B companies of all shapes and sizes to justify an investment in social media campaigns that focus on engaging and communicating with their followers, as opposed to trying to directly sell their product or services.
With this marketing mentality, any B2B or SaaS company – no matter how boring the product or service may be – can use social media to successfully increase brand awareness, reach-out to and relate to a wide range of people, establish themselves as an industry leader, connect with more prospects, attract media and industry attention, and improve their search engine optimization rankings… as explained above.
If you're a B2B company owner struggling to get a grasp on this highly lucrative evolving landscape of social media, request a free consultation with professional digital marketers at Webfirm today – and allow us help you realize your potential online.