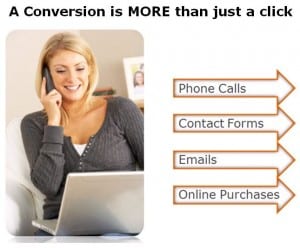 Google AdWords is a major factor in driving traffic to both new and established websites.
It generates more than $1 BILLION per month in revenue for Google – hardly pocket change – and is still their #1 source of revenue.
More importantly, 100s of thousands of businesses rely on the traffic they get from AdWords to drive targeted visitors to their website. Without it, most of them would not be in business, or at the very least, would be struggling to survive.
Probably one of the biggest mistakes I see from businesses who use Google AdWords Pay Per Click (PPC) advertising is not measuring the ROI of the campaigns. They just pay for the clicks and keep a (VERY) rough idea of results by monitoring new sales and leads.
The danger of this approach is that you actually don't really know what's working and what's not. You could be spending big dollars and actually losing money, but because you aren't properly measuring conversions & ROI, you have no idea.
Conversion tracking is not as difficult as most AdWords users believe, BUT, the biggest challenge for business owners is effectively tracking enquiries that come to their business from phone calls. Whether it's a person that rings in for more information, and then eventually converts to a sale, or not, it's extremely difficult to measure those enquiries against your AdWords campaign.
As a consequence, the business may eventually cancel their campaigns that don't appear to be profitable. However, this means they then miss out on the leads that come via the phone, which has the obvious negative effect on sales.
At the end of the day, many AdWords campaigns do not perform to their best simply due to the inability to properly measure conversions & ROI across all contact points (phone, email, online sale, etc). Hence, they miss out on sales and profits which are going to someone else (your competitors).
At Webfirm, we now have a solution for this challenge that faces many clients. We've introduced a new system to manage paid search (PPC) campaigns for clients. Not only does it give us a lot of other major advantages over the standard setup you might have created in AdWords for your business, but it also has phone call tracking integrated into the platform.
This functionality (which is included at no additional cost to our clients) allows all phone calls originating from a visitor that clicked on your ad to be recorded and measured as part of your conversion & ROI calculations.
That way, you can measure all points of contact with a potential client and track them through to a "yes" or a "no." In other words, you can finally measure your ROI properly – the "holy grail" of Paid Search Advertising.
If you'd like more information on how this system works, and how it can do a better job for your PPC advertising needs, call Webfirm (1300-932-347) and ask to speak to the PSA (Paid Search Advertising) specialist, or click through to our Search Engine Marketing product page and complete the enquiry form on the top right hand side of the page.