Reporting from the ground – Conference live blog
This week I've had two things on my mind: what constitutes as a reasonable expenditure for a company expense claim and going to my first ever search marketing conference.
I'll not trying to be biased here, nor am I getting paid to say this, but the Search Marketing Summit was easily one of the best weeks of my career.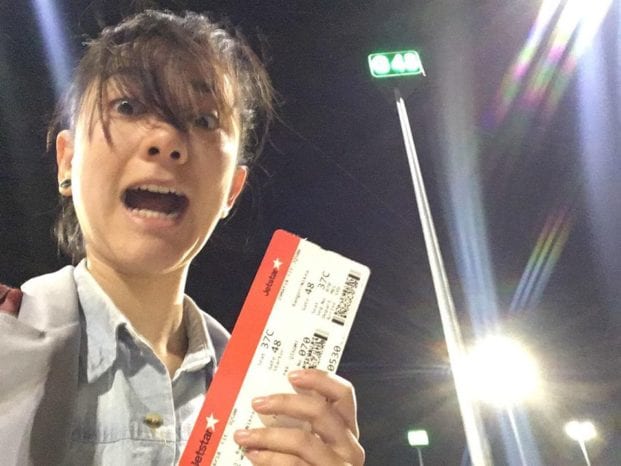 For the first time I was able to hang out with a bunch of nerds (or like-minded individuals) who care about digital marketing just as much as I do. They're the experts, the authority for everything SEO, PPC, SEM, social media marketing, content marketing, UX, web design, you name it.
These are the people who are responsible for positioning your competitors ahead of the pack.
When I mentioned experts, I really meant it.
The list of illustrious keynote speakers is a compendium of incredible talent, with global notoriety. If you're wondering why I'm using such flamboyant language, it's because these people are my personal heroes.
I have been able to position my career in SEO to what it is today by following the results of their work, so to be in the same room is wonderfully intimidating.
That's all well and good, but what does that mean for you?
Why spend all that money to go to one of these conferences?
Well, I'll break it down for you.
Conferences are great for digital marketers like me
I would consider myself a complete nerd when it comes to SEO. When Rand Fishkin rolled out Sparktoro trending, it has literally become a part of my morning ritual.
I'll share my three main takeaways I think you should consider.
1. Earn your company some incredible backlinks
Honestly, I started writing this blog because I was asked by Barry Smyth, the host and I was exceptionally flattered. So naturally my first go-to was to figure out how I could get the most SEO value out of it (work smarter, not harder).
I stumbled upon this great article written by Jennifer Sable Lopez titled, "5 Ways to Build Links at an SEO Conference". It basically outlines a few key points, in that if you're willing to speak at one then absolutely do it. Being a speaker gives your company incredible live links from their website and anyone knows if you're getting a do-follow link from a site with high domain authority, you're laughing.
It's great for building a social media audience.
Live blogging or live tweeting is a great way to get people in the know potentially to follow you and maybe even retweet your posts! If they're sharing that within their audience that's a big impact for your business that companies actually hire people solely to do. Photos and video are also great ways to build engagement.
If social media is your thing, the top trending hashtags from the event were #SMSSYD18 but also #thankssemrush which garners a lot of great press for SEMrush giving conference goers incentives like sweets, notepads, pens, t shirts and other great branded merch (great idea!).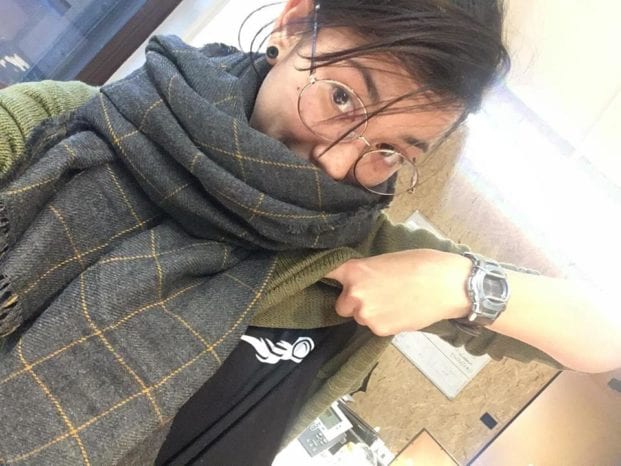 2. I was able to learn from SEO veterans who have real experience
"If you're wanting to stand out, understand the history. That way you'll have an edge recognising what to focus on for the future." Advice from Cindy Krum, Mobile Moxie.CLICK TO TWEET
Part of what makes a great strategy is understanding trends and what to pay attention to when algorithm changes take effect. The majority of keynote speakers had decades under their belt in SEO and PPC, they've seen it all. This was affirmed by other veteran SEO evangelist, Jenny Halasz in her piece for Search Engine Land.
An example why this is important is the recent changes to the meta description length. About a year ago, the character limit went up from approximately 150-160 to 290-320 characters. That's almost twice as long and a great opportunity to further convince users to click on your link.
I remember this vividly because I was in charge of optimising our top pages across our clients and re-wrote every single commercially viable page.
Chuckles from the well-seasoned reverberated around the room when I mentioned this, later being reinforced in John Mueller's keynote speech (refer to cycle graph below) that character length isn't important to focus on, search intent is.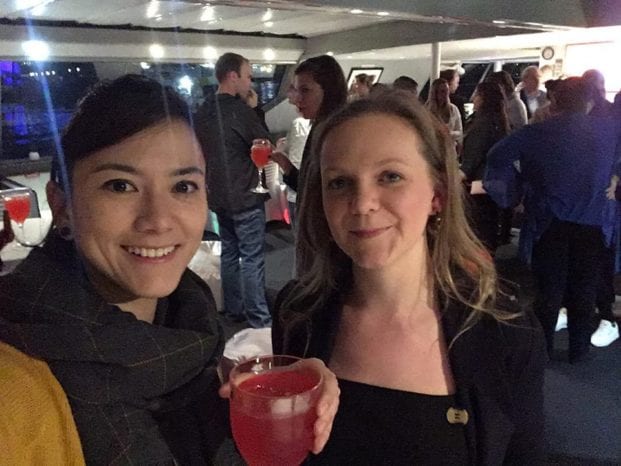 3. Initiation into the digital marketing community
Initiation implies some kind of hazing ritual. There was none of that (thank goodness) but I've been working in SEO for three years without mentorship and only in the last week did I ever get to hang out with other specialists in my field for longer than a few hours.
It honestly feels like you're sometimes working in a bubble so to be able to have real humans to ask questions to, share tips, tricks and ideas is incredible. Having mentorship and community are essential to build successful careers, I don't know where I read that but most of the people who I look up to have all said similar introspection.
At the end of the day, although I'm mining for some sweet do-follow backlinks on this blog, the incredible friends I made is worth their weight in gold.
(Gold is trading at $41,654.48/kilo or $1,295.60/ounce for my American friends)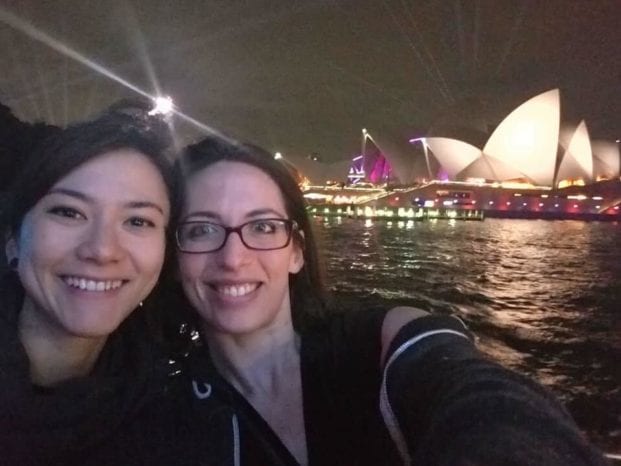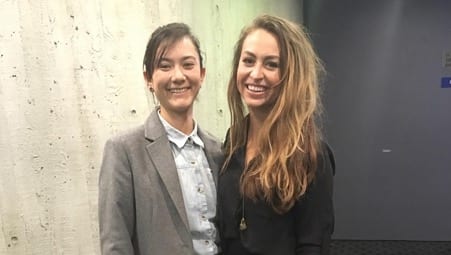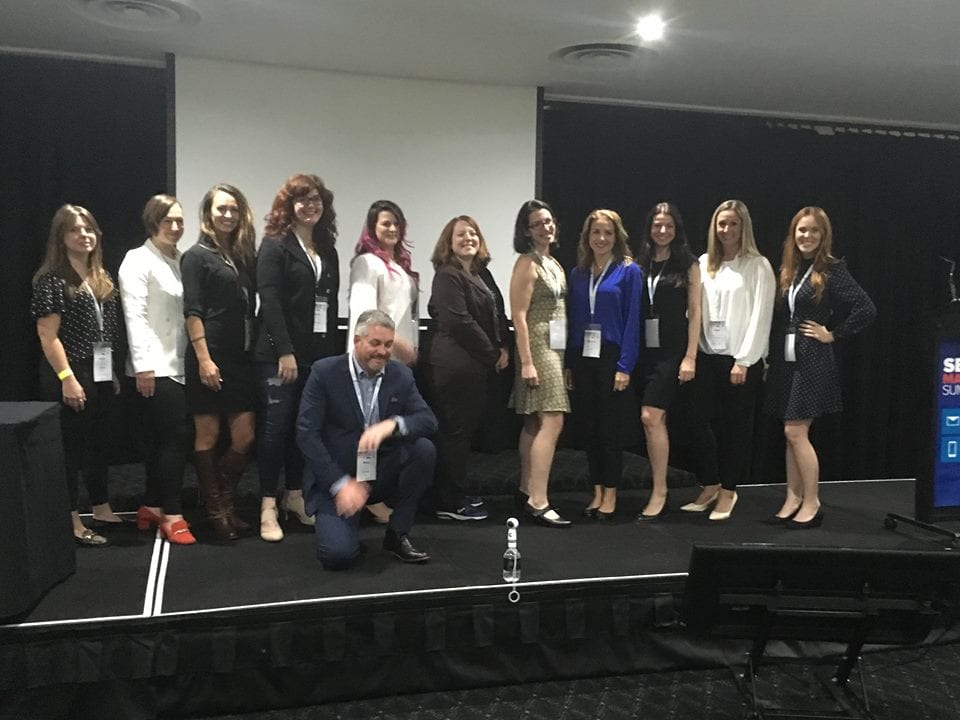 Why conferences are great for business owners and in-house marketing managers
It's great for three key reasons.
1. Learn exactly what you need to do in order to get your website ranking
If you're a small business owner, your website is like your baby – building it from scratch is no easy feat and it's the best way of getting customers other than word of mouth.
Figuring out how to make it work is an extremely daunting task if you're using your precious spare time to look it up online or pay a digital marketer loads of your hard-earned money to fix it for you.
Conferences like SYSSYD are a great way to meet the best of the best, digital marketers who work with the best companies, or even for your competitors who can give you great advice, show you what's available, what's next and more importantly how to do it.
Barry Smyth, the co-founder of Consistently, hosts and curates content that serves all spectrums of the online business. From the initial web design to SEO and PPC campaign building, each topic is allocated an hour dedicated to intensive workshops and keynote speeches.
While it would've been great to have had each topic listed in order of their SEO and SEM value, for instance if it were aligned by order of initial website architecture planning, most of the important aspects are covered.
For example, Robyn Lodge did a great job of walking us all through site quality by explaining the basics of site architecture, while Mark Randall walked us through WordPress optimisations, which is a great web builder for improving SEO.
I made a full list of topics and the speakers towards the end of the blog, so scroll to the bottom if you're curious about the full list.
Other noteworthy keynotes included:
An intersection of customers and search by Casie Gillette
Advanced audience re-marketing tips by Christi Olson
Future focus and winning in the moments that matter by Guy Jarvie
Making hreflang manageably Nichola Stott
Canonicalization by Adam Orchard
Reusable content, how to extend the life of your content by Ashley Ward
Next level SEO by Jenny Halasz
Technical SEO for e-commerce sites by Jason Mun
High competition SERPs and how to gain an edge on your competition by Matt Corke
These I would especially recommend if you're a business owner or in-house marketer, super informative keynotes worth your time to check out.
2. Get your website audited by SEO experts for free
Technical audits are the bread and butter of keeping your site foundation functional, but understanding the basics of web design, SEO, SEM, PPC and social media is hard enough, what do you even do with all that information?
If you have a website, you can submit it for a live audit and have the experts paw through it and lend their expertise on what you should do next, where you're going to get the most value.
Scheduled Wednesday, mid-week in the conference, this was by far one of the most noteworthy sessions for business owners and in-house marketing.
In teams of two, experts from SEMrush, Moz, JLH Marketing, LoSoMo, Wave Interactive, Komarketing and Bespoke meticulously outlined short term and long strategies on how to optimise the site, how to market core products and pointing out any serious red flags.
None of the websites audited were problem free.
No matter how pretty a website looks, unless you're in position zero or one for your most commercially viable keywords, there's a lot under the hood that can be fine-tuned.
Feedback from one business owner said the free site audit was 'the best part of the conference, I now have actionable fixes that I can work on when I get home'.CLICK TO TWEET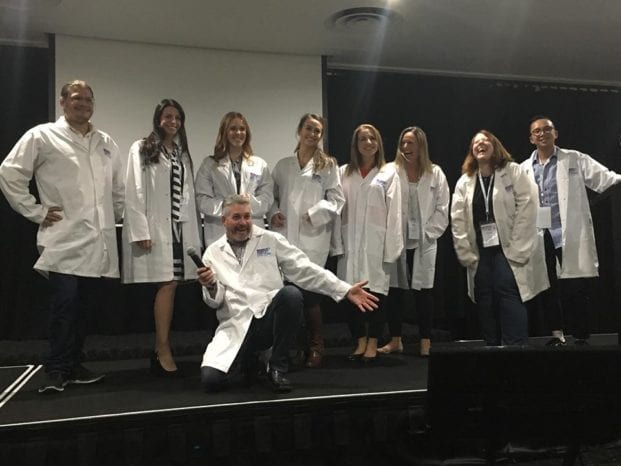 3. Find out how to get ahead of your competition
Not all industries are the same, for instance if you're an insurance broker, your strategy is going to be very different to that of a small business selling water bottles.
While every presentation offers clear advantages, not all are going to be relevant to you. However, there were definitely some stand out keynotes that transcended this barrier.
Matt Corke, the group publisher from finder.com showed a great in-depth analysis on high competition SERPs and how to gain an edge on your competition.
Using military terminology as an analogy to 'flank' the competition, he walked us through how to do define who your competitors are (some aren't all that obvious), deep dive targeting your customers, using old school tactics with new ones and focusing on customers by incentivising online engagement and how to turn that into conversions.
Other noteworthy presentations I thought business owners and in-house marketers would have found extremely useful was:
Jenny Halasz's presentation on killer analytics for mobile SEO and next level SEO
Local search ranking factors overview by Britney Muller
Digital marketing for the local ecosystem by Veronica Romney
Managing mapping and local listings by Barry Smyth
Everything that Cindy Krum had to say
Cindy Krum presented both a keynote and intensive workshop on the Friday, SEO for Google's mobile-first index and mobile-friendly world. As Google is transitioning to a mobile-first world, you might have seen those notifications come through your email (if you've set up your website with Search Console, then keep an eye out for it).
If you're wanting to be competitive, it's important to have a great website foundation to work from, she's arguably one of the best at transitioning your site to mobile friendly for the next generation of search.
Plus, she even gives you a free step by step 'how to' spreadsheet to make your website mobile first and mobile friendly with links and examples to practice later on.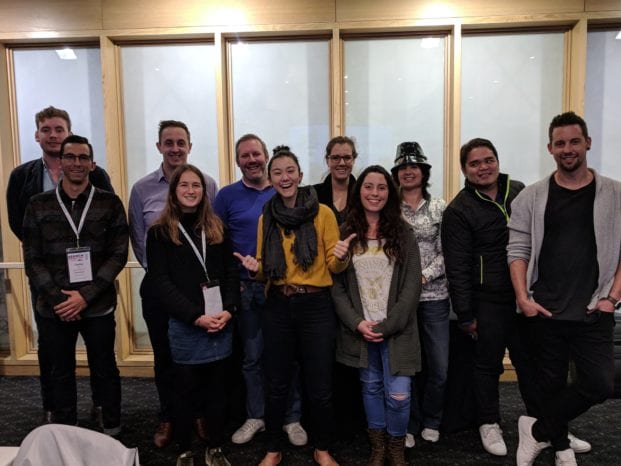 The full list of keynote speakers and topics covered
(in no particular order)
You can purchase tickets for select days or for the full five-day conference but in total there were 54 keynotes and two workshops. View the full agenda here.
John Mueller @JohnMu (Senior Webmaster Trends Analyst, Google) via LIVE Video Link from Google Switzerland.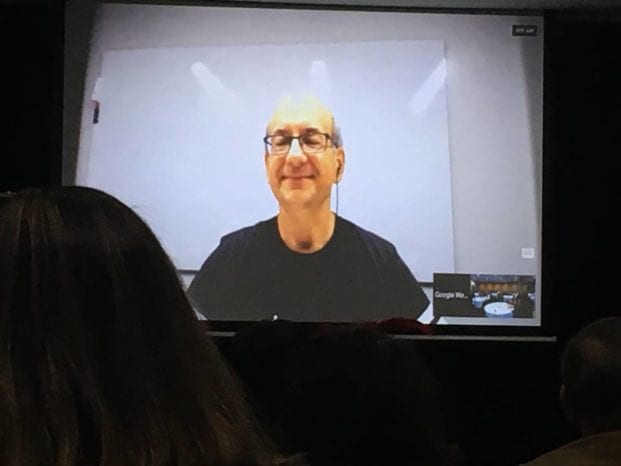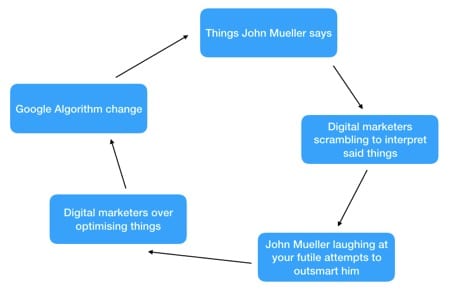 Cindy Krum @Suzzicks (CEO and Founder, MobileMoxie) SEO For Google's Mobile-First Index & Mobile-Friendly World
Christi Olson @ChristiJOlson (Head of Evangelism at Microsoft, Bing) Advanced Audience Remarketing Tactics, Unchatted Territory: Search Optimisation for Conversational Agents, Bing AMP & The Truth Project
Britney Muller @BritneyMuller (Senior SEO Scientist at Moz, Founder of Pryde Marketing) AI, Voice & Machine Learning, where to next in Search & Local Search Ranking Factors overview
Navah Hopkins @navahf (Services Innovation Strategist at Wordstream) Keyword Planning in a Close Variant World: Auction Auditing & Budget Optimisation
Jenny Halasz @jennyhalasz (President of JLH Marketing, #AsktheSEO on Search Engine Journal) Mobile Readiness That Isn't About Speed, Killer Analytics for Mobile SEO, Next Level SEO, Optimising for Position Zero
Olga Andrienko @Olgandrienko (Head of Global Marketing at SEMrush) SEMrush Ranking Factors 2.0
Ashley Ward @ashleymadhatter (Digital Marketing Strategist at SEMrush) The Good, The Bad, and the Ugly: Advanced Ad Copywriting Tips for Social Media Ads, Working With Influencers: What To Do and What Not To Do, Reusable Content: How To Extend The Life Of Your Content
Veronica Romney @vromney (Co-Founder & President of LoSoMo) Advanced Approaches To Social Media Advertising, Content Marketing for Google's Mobile First Index, Digital Marketing for the Local Ecosystem
Merry Morud @MerryMorud (Associate Creative Director, Aimclear) Advanced Enterprise PPC Strategies for Any Sized Business, Uber-Optimised Breakthrough Performance PCC (Insights From The Inside)
Barry Smyth @searchsummitau (Co-Founder of Consistently) Host, Managing Mapping and Local Listings
Angeline Michelutti @microsoft (Business Development Lead, Microsoft Australia) Amazon + Search: eCommerce and Amazon
Frederick Vallaeys @siliconvallaeys (CEO of Optmyzr, former Google Adwords Evangelist) Automating Pay Per Click, Introduction to AdWords Scripts, Advanced AdWords Scripts, What New AdWords Functionality You Cannot Afford To Miss, Managing Shopping Ads, From The Perfect Structure To The Perfect Bid, Intro to Automation with AdWords Scripts, The State Of Artificial Intelligence in PPC
Casie Gillette @Casieg (Senior Director of Digital Marketing, Komarketing) The Intersection Of Customers and Search, 15 SEO Mistakes You're Making Right Now, Defining Content With Data: Identifying Gaps In Strategy
Mark Randall @wpengine (Country Manager of WP Engine) WordPress Optimisations for Improving SEO & Conversions
Amye Saunders (Co-Founder and Director of AMIRE Strategic Digital Marketing) Giving Credit Where Credit's Due: Analytics, Conversions & Attribution
Nichola Stott @NicholaStott (Founder of Erudite) Making Hreflang Manageable, Progressive Web Apps – Take Your Mobile Performance to The Next Level
Robyn Lodge @robyn_lodge (Senior SEO Consultant, Builtvisible) Addressing Site Quality, PPC Cost Analysis
Guy Jarvie @iProspect (National Head of Experience, iProspect) Future Focus: Winning In The Moments That Matter
Selina Gough @iProspect (Senior Paid Media Manager at iProspect) Balancing Online and Offline Conversions Through Device Targeting
Adam Orchard @NewburyNewbie (SEO Director, Zenith) Canonicalisation
Michael Motherwell @waveactive (Co-Founder at Wave Interactive) Successful SEO Using Markup & Structured Data
Matt Corke @finder (Group Publisher, Lending for Finder.com) High Competition SERPs: How To Gain An Edge On Your Competition
Jason Mun @jasonmun (Co-Founder and Search Director of Bespoke) Technical SEO for Ecommerce Sites
Max Prin @maxxeight (Head Of Technical SEO at Merkle) AMP for E-Commerce: Why and How?
Chris Thomas @hibermate (Director of Hibermate Limited) Voice Search – Optimising Content For Voice Search & Virtual Assistants
Lucio Ribeiro @lucio_ribeiro (Managing Director of Online Circle Digital) Lessons of the Most Efficient SEM Campaign In Australia
Duane Brown @duanebrown (Founder & Head Of Strategy, Take Some Risk) Video: The Next Frontier In Marketing
About Search Marketing Summit Sydney
The Search Marketing Summit in Sydney has been hosting some of the world's best and brightest thought leaders from Google, Bing, Moz, Wordstream, SEMrush, WP Engine, JLH Marketing, Mobile Moxie and more. Founded by Barry Smyth of No Drama agency, the summit was initiated to bring together a community of Australian and New Zealand business owners, marketing managers and agency specialists to share ideas on how to dominate the current market and provide insight into what's next.
Nik Ranger is Webfirm's SEO Specialist who loves to nerd out discussing search intent nuances, trends and disruptive technology. She is also an award winning electric violinist in a band called Dada Ono, a prominent surrealist illustrator and amateur vlogger.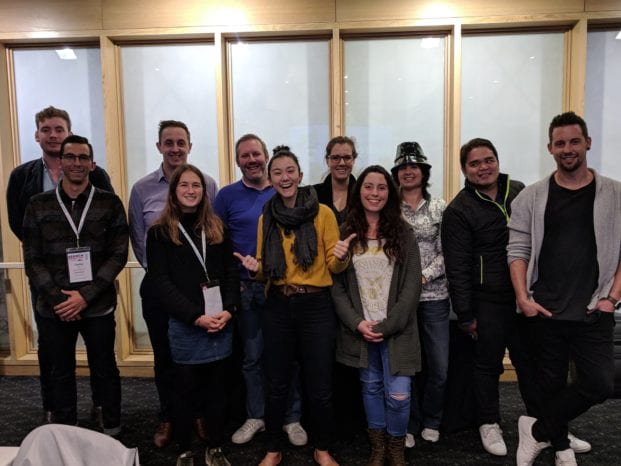 Are you looking to find all the insider SEO, SMM and PPC tips before anyone else does?
Want to know how and why your online competitors are beating you?
We'll go through your website with a fine tooth comb with a full technical audit and show you where you're missing out.
Want to know the best part?
We're available to chat via phone, email or you can drop in to have a one-to-one chat. Contact us today.
Learn from the experts – the best in digital marketing