Tech Giant settles into new Collins Street Hub-
Tech giant, Google has recently opened the doors of its new Melbourne office on the city's Collins Street, after months of speculation and planning talks with both NSW and VIC State Government representatives.
The Silicon Valley-based company walked away from plans to convert the White Bay power station in Rozelle, SYD in mid-2017, with Google citing reasons of ' poor transport and access' to the site, in a statement which was sure to embarrass the state's Infrastructure Department.
The development of the headquarters would have been a huge win for the state's tech and innovation sector and would have created an estimated 19,000 jobs for the NSW innovation sector.
The urban developer, MIRVAC, was first in with a proposal to revamp the site, with Google as the primary tenant, however, the proposal failed the state's 'Uniqueness Test'; a state-government standard for all new development projects in the inner-city.
An unnamed government source recently spoke with the Sydney Morning Herald, stating that 'some ministers were working to salvage the deal', however, industry analysts appear doubtful'
Earlier this year concerns mounted, as after two failed attempts a developing a new tech hub, the possibility of Google abandoning Sydney all together became a near reality.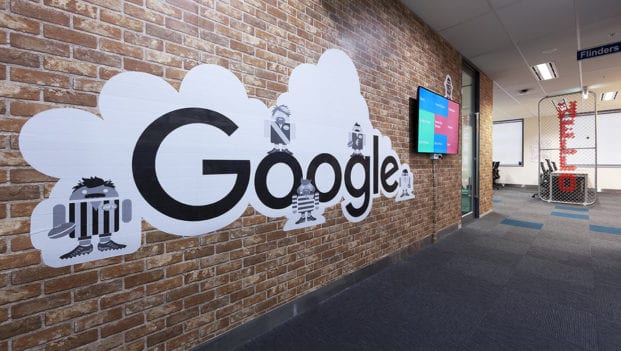 After news of the rejected proposal hit, Victorian Minister for Innovation, Phillip Dalidakis was reported to have travelled to Sydney for talks with Google to discuss the possibility of expanding their operations in Melbourne, and it looks like Dalidakis may have struck a chord- as, shortly after those talks, Google executives announced plans to open a hub on Melbourne's coveted Collins St District.
Google is the latest global technology company to open an office in Melbourne, joining the ranks of other ubiquitous web giants Alibaba, Amazon, LiveTiles, Mimecast, Slack, Zendesk and Square.
Google's 'Site Lead' Mr. Sean McDonell said recently in an interview with the Sydney Morning Herald, that 'there are currently 50 people working in the office- two-thirds of whom are in sales and marketing'
McDonell stated that Google's Collins Street office is closer to its client base and reflects the focus of the local staff, in response to the question; 'Why not Richmond?', as the fringe-CBD suburb has become known in recent years for becoming a thriving tech hot-spot, with companies such as carsales.com, REA Group and Seek calling it home.
When quizzed about the news that Google is still looking for a Sydney-based HQ despite serious planning and approval setbacks, Victorian Minister for Innovation, Phillip Dalidakis remained undeterred; "If New South Wales doesn't appreciate what they've got in their backyard I'm happy to show Google what they've got over the ditch here in Melbourne," Mr. Dalidakis said.