We all know SEO is constantly changing, but if you can get across the constant evolution there are opportunities. Structuring data, answering questions, and expanding your content around your specialist areas to build your authority should be high on your list of priorities. There are both short term and long term wins to be had, and investing in creating and organising your content is the path to success.

With search engine optimisation, you're building an asset rather than paying to play. But as any marketer with experience in SEO will tell you, it's more competitive than ever. Solid execution can free up your marketing budget over time, from a reliance on paid media to focus on other opportunities, but executing well means keeping up with the constant change of the SEO space.
We've pulled together what we see as the key SEO developments that marketers should understand when planning your activity in 2020:
Structured Data and Schema Are Worth The Investment
The key opportunity for businesses in structured data and schema, is the potential to contribute to the knowledge graph to try and answer questions that your customers might want answers to. Through doing that, you get the additional upside of demonstrating a link between your business and the topic of the information stored in that knowledge graph which can help with your SEO more broadly.
Additionally, there's the opportunity to try and control what goes into the knowledge graph or fill in the blanks. If you just leave it to Google, you can get unexpected results.
What is Schema?
Schema.org was started by a coalition of Google, Microsoft, Yahoo and Yandex as a way to communicate information in a structured way.
Over time it has grown into a project that maps out the knowledge of the world into a structured database largely drawing on Wikipedia, Wikidata and Freebase. You can think of it as a database of knowledge that includes business contact information, FAQs, products, recipes, how-to information, and much more.
By structuring your website in the correct way, SEOs can help Google use your website as one of these sources of authoritative knowledge.
One of the reasons it's so important is the rise of the combination of voice search and zero click queries.
Voice Search and Zero Click Queries Are (Still) On The Rise
As we'll go over in a second, voice search and zero click queries are on the rise. You might say, who cares if people are asking Google what the weather is today? But the reality is that, if the perception in the knowledge graph has been built that there is an authoritative answer to a query, Google will start delivering that answer instead of a set of search results. Case in point:
We might not care to influence the answer for who the sexiest man anywhere is, but there are surely questions around your business, your products, your customers and their problems that you would want answered in your way.
In the interest of being as seamless and useful for people as possible, Google is moving full steam ahead into trying to answer your query with an authoritative answer. According to click stream data from JumpShot and SparkToro, in the June Quarter of 2019, 50.33% of Google searches conducted in the US resulted in no click.
The opportunity for marketers is to try and be there with that answer where we can.
Voice search and the awareness that Google can understand our natural language is also influencing the way that people search using their devices. Knowing that you can ask a question and receive an authoritative answer gives users confidence in this new way of searching, gradually pulling users away from the high volume high competition seed keywords and growing the importance of long tail keywords.
The BERT update improves Google's understanding of natural language
Google has been putting serious engineering effort into solving for this challenge. They have recently launched (in the US, for now) its biggest major update in five years, nicknamed BERT (Bidirectional Encoder Representations from Transformers) which is a landmark development in how well it understands longer queries (especially those phrased as questions) and the text content around the web.
If you're interested in understanding this latest development, take a look at this commonly cited example: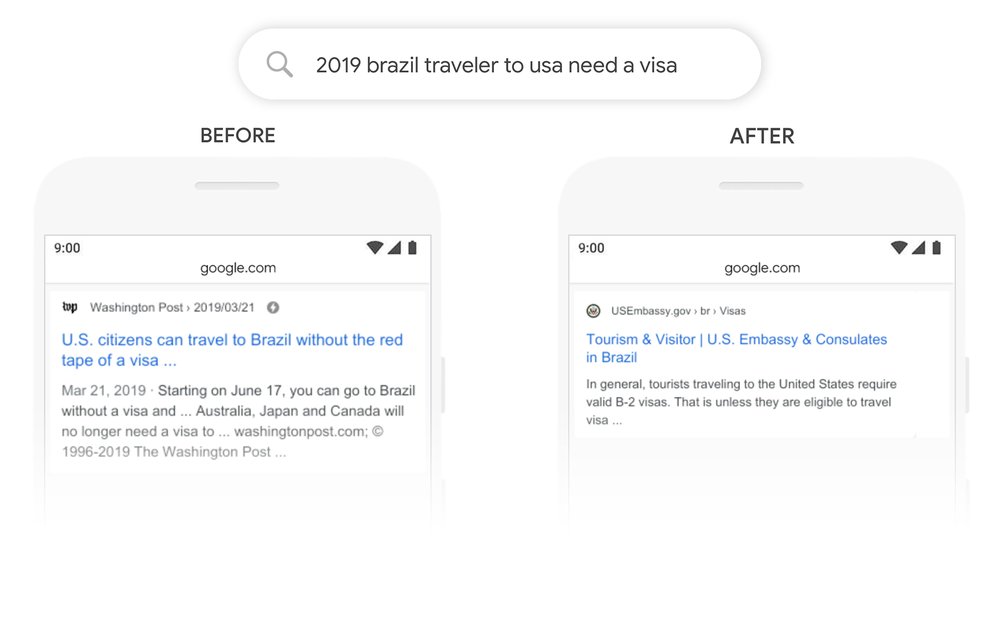 The BERT update is all about understanding the relationships and shifting context that words in a phrase give the other words. In this example, we can see that the query '2019 brazil traveler to usa need a visa' was being incorrectly interpreted previously as a query on whether US citizens needed a visa to travel to Brazil. Previously, the word "to" would have been seen as unimportant. The BERT upgrades give Google's algorithm the ability to understand the meaning of "to" in the phrase, which is crucial to understanding the intent.
What does this development mean for marketers? Not heaps, in terms of optimisation, but you can assume that people will be getting the correct answer from Google more often, so solid rankings and being found as the answer will be even more important. Answer the questions your customers have in very clear language that both your users and the algorithm can understand.
Keep Local Search and Personalisation in Mind
According to SEMrush at October/November 2019, a local pack displayed on around 14% of search result pages in Australia on mobile searches, and 11% on desktop.
What's a local pack, I hear you ask?
There are a number of factors that affect local search rankings which I won't go into here (see our Local SEO guide here) but I will summarise by saying it's critically important to stay on top of your Google My Business listing, your reviews and the consistency of your contact details around the web.
Marketers should also understand that different search results are being served to different people all the time. It's important to understand that checking your local search performance while sitting at the very geo coordinates that your business is listed at, will deliver different results to what your customers are seeing. Your customers will also be getting served different search results based on a number of personlisation factors which we go into on another post.
Rankings change person by person, location by location, device by device. Relying on the rank that you or your rank tracking software saw at a particular moment as your campaign KPI is not a good plan.
Precise Analytics Measurement is Super Important: But Focus on Rankings at Your Peril
Ranking your site's pages on Google is obviously the thing that gets you traffic, but as outlined above, think about all the permutations of location, user, intent, spelling mistakes – you can't track them all – and the complexity is always rising. Although it is possible to track rank (and we do it as a guide for ourselves when working with clients), you shouldn't be using rank as your KPI.
Organic traffic is a better measure, but you still need to think about whether that traffic is relevant and likely to result in new customers over time.
Measuring conversions (or goals) are the best measure but you need a skilled data analytics professional to implement properly so that you conversions are aligned with your business objectives.
We see many clients with fundamental issues in this space – it's worth getting someone experienced to take a look if you are unsure. Remember, not all conversion rates are created equal.
You Need a Content Strategy that Incorporates NLP and Entities
Whereas in the past a website of modest size could rank competitively by doing a bit of optimisation, in 2020 a modern site successful from an SEO standpoint is a well structured, authoritative information resource.
Marketers should be aiming to expand your content and associate it around your topics to build your authority.
In good news for marketers everywhere, Google's understanding of natural language (BERT and it's preceding technologies) has led us to a point where you can truly write for humans. So long as you are staying relevant to the topic at hand, and adding value, write away!
Something to keep in mind, relevance has expanded to mean that Google expects to see content around the concepts and entities associated with your chosen topic.
Hold on, what's an entity?
An "entity is a thing or concept that is singular, unique, well-defined and distinguishable."

From Google's patent on answering questions using entity references in unstructured data
Google tries to understand and match web pages to search queries. To do this, they need to understand the subjects of these pages and queries – what are they about? They could be about places, dates, things, organisations, people, products, and much more. All of these are referred to as entities.
Your content should be written to demonstrate your understanding of the subject, the entities associated with it, and adding your unique perspective on it. With your perspective and knowledge there is always a way to be uniquely useful when writing about an entity.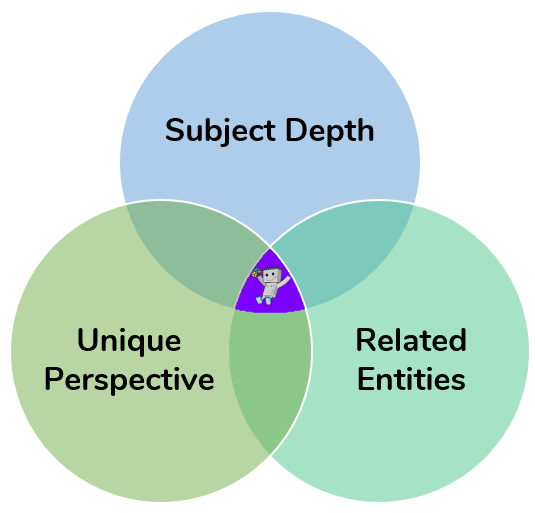 Additionally, you should match your content to the needs of the customer performing that query. Try to understand their needs, what they are looking for, their pain points – and work in your potential solution if appropriate.
Lastly, don't be afraid to link your content out to the authorities about an entity where applicable to demonstrate association with that authority. In the past this might be seen as the potential to lose a visitor. With a modern content strategy you should be looking to demonstrate your understanding of the entities in question (by deferring to the authority), and provide as much value to the end user as you can, including external links.
Technical SEO: Is Your Old Website Technology Holding You Back?
We come across a lot of sites that are still using old web technology (in some cases very old) that is harming performance in search from a technical SEO standpoint.
Technical SEO is a field of SEO work that involves optimising sites to be as crawl-able and index-able as possible. If you're not intimately involved in either SEO or coding and website development, it can seem like a challenging area to delve into, but some of the common issues we spot are:
accidentally sending Google the wrong signals about whether to index or deindex or all of your website (there are a couple of ways this can happen)
having your website code so bloated that Google can't understand what your site is about amongst all the markup, or so unstructured that the relationships between elements can't be determined
Using too many or the wrong type of redirects within the structure of how your site works
The same website being duplicated many places on your website, forcing Google to choose one page to index over the others.
XML sitemaps that don't automatically regenerate when content is added, removed or changed.
The list goes on and on – there's lots to keep track of!
Sometimes, the solution will be as straightforward as identifying the issues and having a developer versed in technical SEO make improvements, but often we find businesses will choose to take the opportunity to redesign their sites at the same time and switch to a new CMS like WordPress.
Non-Negotiables Are Still Super Important: SSL, Speed and Mobile
Just because there are new considerations in SEO, doesn't mean the old parts of the algorithm don't matter. The things that you can easily control still do make a big difference, and if you haven't covered them already you need to. They include:
Your site needs to be secure, works on all mobile devices and load as fast as it can
Your site should be SSL secure. If you need to find out how, check out the SSL checker at whynotpadlock.com.
Your site must be mobile friendly. More people are using mobiles than desktops and that has been the case for a while now. Check if your site is mobile friendly in Google Search Console, or if you don't have that, use Google's Mobile Friendly Test.
Your site should load as fast as possible. You can check your site using Google's PageSpeed Insights, or GTMetrix provides a summary score based on a few tools.
If there's a problem – get onto that straight away.
In Conclusion…
SEO is still a long term play at its heart.
You should view time spent on SEO as an investment.
Short term tactical wins are still out there – including in schema.
But the most important work is in thinking about the longer term – implementing a solid, data driven content strategy now will hold you in good stead.