Originally posted on 03/11/11, Updated 05/05/2016
A lot has changed since we originally posted this "SEO vs PPC: Why don't we have?" blog in 2011. Google Plus didn't exist and the SEO landscape was completely evolved by Google's constant algorithm updates since then. I have updated this blog to keep it relevant for 2016 and beyond:
I often see blog articles titled SEO Vs PPC – Search Engine Optimisation Vs Pay Per Click  (PPC, which is another name for Search Engine Marketing – SEM), covering which is better and what one your business should go for. I see a lot of bloggers pitting them up against each other, Apple Music vs Spotify, Apple vs Windows, Xbox vs Play Station style, where there can only be one victor. But like the girl in the Old El Paso ad famously says "why don't we have both?"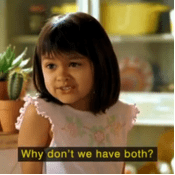 She presents a very strong argument here; why would you not want to increase the chances of being found in search engines? Why not increase the leads coming into your business by simply having both? – Especially when the two can work so well together. So why do we have to sit on either side of the fence? I've come up with a couple reasons why we should be sitting "on top" of the fence and hitting that balance between the two.
Identify converting keywords faster.
You can identify converting keywords quicker by setting up a SEM campaign, identifying the converting keywords immediately  and then utilising those converting keywords for your SEO strategy. This is a much better alternative than waiting 6 months for your SEO campaign to become effective only to realise your targeted keywords aren't as good as they could be.
Finding which meta descriptions convert.
Similar to the point above, you can analyse your SEM campaign to find which call-to-actions are the most efficient at generating clicks and conversions before even beginning your SEO campaign. Doing so will allow you to create perfect meta descriptions that will boost conversion from your organic search engine listing.
Long tail keyword goldmine.
Without professional SEO consultants, it would be nearly impossible to find converting lengthy search terms (that no one else is targeting) that drive visitors to your site. What most people don't realise is that a SEM campaign is a long tail keyword goldmine. The best thing about these length search terms is that they have a higher average conversion rate than shorter search terms and they are NON COMPETITIVE. What you can do with these long tail keywords is integrate them into your site's copy or create blog posts for  these specific terms to get your site easily ranking organically for these non competitive terms.
Dominating the SERPs* – The more times you show up on page one of the search engine the more likely you're going to win the click –  With your site sitting in the Sponsored Ad position, The Google Map and Organic search results your giving your site the best possible chance to gain the click.
So to maximize your ROI why don't you have both? SEO and SEM should go hand in hand to complement each other on exposing your business to not only as many people as possible but to as many of the right kind of people.
Contact our Melbourne SEO agency today to discuss how you can have both – phone us on (03) 9111 5386 or email us at info@webfirm.com.
I'd like to thank Dave Davis for his article http://www.redflymarketing.com/blog/seo-and-ppc-should-be-friends/ for the inspiration.
*SERPs: Search Engine Results Pages