With such a strong focus on social media these days a lot of business are forgetting about the power of a mailing list, Email is not dead! It's a valuable tool that is easy to use and if used well can drive people to your website and help with customer satisfaction.
Quick Facts:
95% of online consumers use email and 91% check their email at least once a day.
48% of emails will be read on a mobile phone.
Small to medium business average a 20% open rate per send.
What should I send to my customers?
You don't want to bother people… you want to engage with them. Email your customers when you have something to say that you feel would be beneficial to them. This could be when you have a new blog on your website, a new product, a sale coming up or some relevant news about your industry.
How do I drive people my site?
Every email you have should serve a purpose and an action that makes people want to head back to your website for them to take a further action.
If you are emailing out a product, make sure you link to that product page on your website. If you have a special on, include a coupon code that they will need to enter on your website for a discount. If you want them to read a blog, have a snippet of the article and then a 'read more' link taking them back to your website. I think you probably get the idea.
As well as linking to your website, don't forget to add and link your social media accounts too.
How do I manage a mailing list?
Managing a mailing list is not a job for outlook! There is a lot more involved than just sending an email. You will need to select a platform that will manage your contacts, be spam compliant, offer automation, keep track of your unsubscribes and most importantly provide you with valuable insights and statistics so you can track the performance of your email.
Your chosen platform should be easy to use and will let you create desktop and mobile friendly emails with an easy template or drag and drop editor.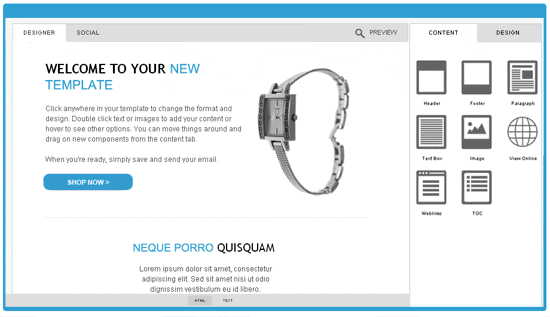 If you would like to chat more about email marketing and how it can help you drive leads and increase customer satisfaction, please don't hesitate to get in touch. We can set you up with a fantastic marketing platform called Accelerator, With Accelerator you can design, create & send awesome emails in minutes. We use this ourselves and would be more than happy to give you a demonstration and set you up with a free trial account.